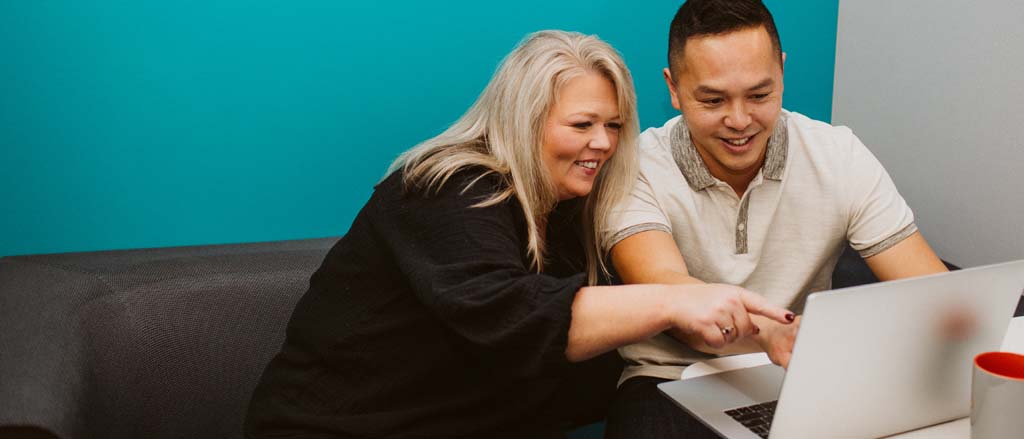 Leading by listening: why zero pressure from us equals better solutions for you
Apr 28, 2023
Resources Payworks
If you're looking to free up some of your precious time when it comes to payroll, employee time management and HR, what's holding you back from making a move? Is there any chance it's hesitation to make that initial connection?
We agree: that time you're spending on hold or explaining and re-explaining your questions and challenges to different representatives could absolutely be better spent. That's why it's time to reach out to Payworks' talented Sales Team! They're going to take the time to get to know your business, properly understand both your challenges and goals, and help navigate through features and functionality of workforce management solutions that will make your work life a little easier and more efficient, because we approach things differently – right from the start.
"We have a philosophy," shares Sales Manager Patrick Daniels. "If a business meets with five companies, we want them to say that, of those five conversations, the Payworks rep understood their business the most; that we asked the right questions; that we understood their challenges and unique requirements."
This is a special, behind-the-scenes look at what you can expect when you connect with a member of our knowledgeable Sales Team. They're going to be the first dedicated point of contact that will listen, advise and (most of all) really care about you and your business! Exploring workforce management needs with our team means you can count on timely responses, transparency, and everything else needed to find efficiencies that help your business and set you up for success.
First impressions
If you've reached out to sales@payworks.ca or been referred, you'll hear from a member of our Sales Team via phone or email within 24 hours.
"One of the biggest compliments we hear is 'you call back so quickly!'" says Corporate Sales Consultant Brenda Newcombe. "They feel relieved to know we respect their time and sense of urgency."
Getting to know your business and accurately and effectively assessing your unique needs
You can expect these first conversations to be all about you (as they should be; we're here to listen!). Your Sales Consultant's goal at this stage is to simply understand your current workforce management functions and processes.
Here are some topics about which you can expect to be asked:
How your business processes

payroll – such as manual payroll process and/or automated processes, along with tactical elements like payroll deductions, taxes, compliance, online payroll options, and more
How your business manages employee time – how information is collected (like on pieces of paper or physical calendars for time capture, or time off requests submitted via sticky notes, or more foolproof solutions you may have in place, like punch clocks or web app time capture)
How your business stores and distributes important HR information – if you're using a digital or physical filing cabinet, and if you have digital Read and Acknowledge capabilities
If you have an employee policy handbook

,

plus

any other important payroll and HR legislation that applies to your business
You can even chat about partnership programs and integrations if applicable!
"Businesses differ greatly in matters far beyond head count and industry," explains Patrick. "We don't assume what their requirements are and we have thorough conversations with everyone. It doesn't matter if a business has one employee or 800 employees - their business is unique, and of equal importance."
You'll be in the driver's seat as your Sales Consultant gains a deeper understanding of your current processes, and can really get into your frustrations and headaches when it comes to workforce management. We promise - there's likely a relatively simple solution!
This conversation can and should also be strategic. You can chat with your Sales Consultant about your business' future goals and which solutions can empower your business when it comes to:
Costs and distribution
Workforce demographic
Recruitment and retention
Employee engagement
Much, much more!
"Asking the right questions and listening attentively is crucial," says Sales Manager Jonathon Murray. "Having empathy for what the client is going through is the most important key to working together to solve the issue. At its core, our team is full of good people who like to help others. We have empathy and aim to exceed expectations."
Throughout these conversations, your Sales Consultant will be diligently taking notes and – most importantly – listening. They'll take away all of the great information you provided and do a Needs Analysis - a critical step in helping us to do right by your business.
Letting us show you how we're different
On the foundation of all this knowledge they've gathered, your Sales Consultant will build a custom demo of the solutions within our payroll, time management, and HR suite that can address the challenges you're experiencing today and help you get to where you hope to be tomorrow. A demo can be done in-person or over a video call, with extra time built in for you to ask questions along the way.
"We have two ears and one mouth," explains General Manager Eric Aubry. "We should listen two times as much as we're speaking. Clients do not have the same needs, so they do not get the same demo."
Let's talk numbers
There's one topic that likely will have been on your mind this whole time: pricing! Your questions on costs can actually be answered at any time, but if they haven't already covered it, now's the time that your Sales Consultant will go through our transparent pricing structure with you.
They'll also share any additional information you might need – videos, brochures, proposals, extra resources… even another demo, if you'd like! They're there to help you solve your biggest workforce management challenges and keep answering your questions until you're feeling confident and ready to tackle the next step.
Payworks pro tip: Curious about getting a head start? Visit https://www.payworks.ca/quote anytime for a free, no-obligation quote.
What happens with this great relationship when you've become a Payworks client?
It changes, but only ever so slightly. At the point that you decide to proceed with any of Payworks' solutions, your Sales Consultant will initially come along for the ride as your business goes through implementation. You'll be introduced to your Implementation Specialist, who will serve as your primary contact to get your business set up and running in the Payworks application. Behind the scenes, your Sales Consultant stays involved and works closely with your Implementation Specialist to ensure everything you had discussed is passed along and integrated into the setup process.
"I take a lot of notes and give those to the Implementation Specialist," says Eric. "I share that information so the client feels secure and so that implementation has all of the background information they need to know."

"I let my clients know that I'm in the background, working with our amazing team to make sure things are running smoothly," says Brenda. "They're taken care of every step of the way."
Your Sales Consultant will still check in – to learn how your implementation process went, and how your first few pay runs, months or first year with Payworks have been serving your business. You'll also have made a new Payworks bestie and have a direct line (phone and email) to your dedicated Client Service Representative to chat about any and all of your questions. They'll know you by name, and you'll know theirs!
"Any company's biggest asset is its people," says Brenda. "At Payworks, we're dedicated to people and relationships – it's a part of our company culture. Our service model is a reflection of that; we have dedicated Client Service Representatives for each of our clients. The way we treat our staff, the way we treat our clients and give back to the community, our commitment and belief in that really resonates with customers."
While this is a general outline of what to expect during the Payworks' sales process, every client will have a customized experience to best address their business' unique needs and preferred method of communication. Rest assured, our Sales Team is always there to listen and answer your questions about modern workforce management solutions!
If you'd like to connect with one of our caring and talented team members, email sales@payworks.ca.