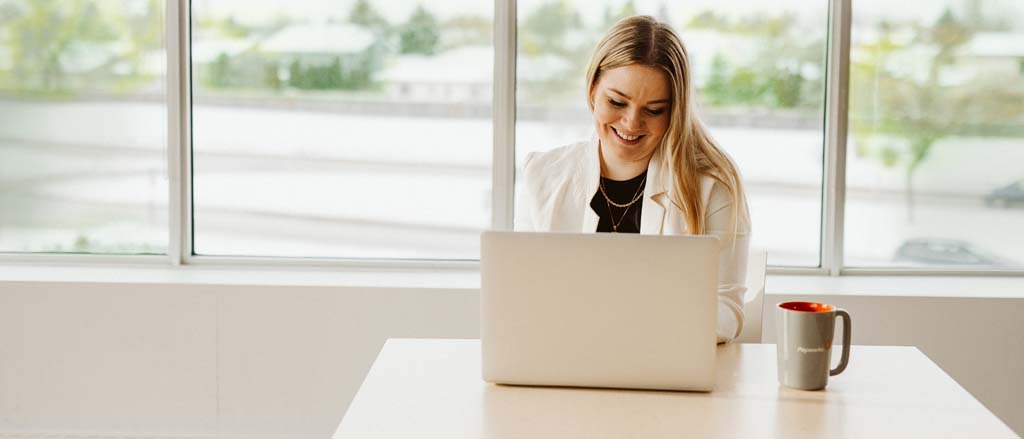 Myth-buster: payroll software doesn't replace your accountant
Jun 16, 2023
Resources Payworks
Think that leveraging a payroll and workforce management solution would mess up or confuse things for your accountant? Think again. We're addressing this common misconception, because the truth is that those solutions won't replace your accountant; rather, they're a tool your accountant can use to ensure accuracy and create efficiencies for you both. In truth, there are many benefits for businesses and accountants alike!
We understand the suspicion… but here's what you should know about why your business – and your accountant – should use a payroll and workforce management solution:
Accountants are dependable experts; why is further expertise needed?
We agree - accountants are financial wizards! They've earned your trust as your go-to for financial reporting, record keeping, taxation, auditing, and financial planning and analysis. If they use the right payroll partner, it's simply another lifeline of experts at the ready – especially a workforce management provider with a superior customer service model. They can provide accountants (and subsequently you, as their client) with specialized knowledge and insights in the fields of payroll and tax regulations. That all helps to ensure compliance and the avoidance of costly errors.
Speaking of compliance, that's already a top priority for my accountant – what's the difference?
The right workforce management and payroll provider will have the same top priority as your accountant, especially when it comes to compliance. Your accountant has a vast breadth of knowledge and view of the holistic picture, helping to ensure your business complies with all legislation. A payroll solutions provider is a specialist when it comes to payroll and employment laws and legislation – which are complex and subject to change. Pairing up your accountant with a third-party provider can help ensure compliance in those areas and reduce the risk of penalties. As they say, "teamwork makes the dream work!"
Government remittances are always a hot topic when talking payroll compliance. Top payroll providers will offer auto filing, meaning both you and your accountant can enjoy the bliss of having tax remittances, WCB premiums and records of employment completed and submitted directly on your (and their) behalf.
It sounds like this can increase efficiency for accountants. How does that benefit my business?
Yes, a payroll solution can save an accountant a significant amount of time… and that can translate into some major perks for you as their client! The time that otherwise was spent calculating taxes, preparing paycheques, and ensuring compliance with payroll regulations can be focused on other important tasks – like providing financial advice and analysis!
Related to that financial analysis… workforce management solutions that include payroll can also have a deep bench when it comes to reporting. Your accountant can totally "nerd out" when they have access to a robust solution that not only offers easy-to-understand reports, but also flexibility and ad hoc reporting. A full suite of reporting capabilities that brings together data from payroll, HR and employee time management meets everyone's needs (and then some!). Plus, you'll be delighted in getting answers to your questions in a fraction of the time.
Last, but certainly not least, an efficiency that brings joy to everyone's work life – synced journal entry. Accurate and timely information for you and your accountant: it's possible with a third-party payroll provider that has direct integrations with accounting software like Xero.
Will using a payroll software change my process for year-end?
Using a payroll solution might not change your accountant's preferred methods for processing year-end tax forms, but with the right partner it will become more consistent and efficient. This overall continuity goes a long way during year-end processing – consistent deadlines and requirements are an accountant's nirvana. When choosing a payroll solution, consider one that offers specific, custom reports and/or integrations. This eliminates the need for everyone to learn multiple systems, and ultimately will result in better support for you, especially during those busy year-end months.
There's also the possibility that by using a third-party payroll software, your business can incur some cost-savings. The time your accountant will gain from using a seamless and integrated workforce management system during year-end could mean that you're delighted with receiving the best value for your hard earned money. It would also be worth your accountant considering a payroll application that offers the ability for third party billing.
The sound of savings is sweet – is there more?
We're glad you asked! Here's what you can expect when your business (and your accountant) decide to partner with Payworks:
Right from the start, our experts work alongside your accountant to identify both of your businesses' unique needs
A quick and consistent onboarding from a dedicated team that will make sure everything is set up and runs smoothly
A personalized customer service experience. Primary account administrators are assigned the same dedicated, NPI-trained Client Service Representative for their client accounts. Enjoy bilingual, convenient, and unmatched support
A platform that is intuitive and easy to use
The ability to have multiple users with custom permissions and user-defined access
In addition to great products and support, we supply Canadian accountants with dedicated resources like partner materials and personalized, one-to-one walkthroughs. We also offer a transparent and predictable pricing model (with preferred rates) without any upgrade or license costs.
It's true – a payroll and workforce management solution does not replace accountants (your business still needs one!). Payroll, HR and time management solutions are purely a tool at the accountant's disposal that creates efficiencies, saves time and offers consistency and savings to their clients (that's you!). To learn more, visit: https://www.payworks.ca/solutions/partnerships/accountants.