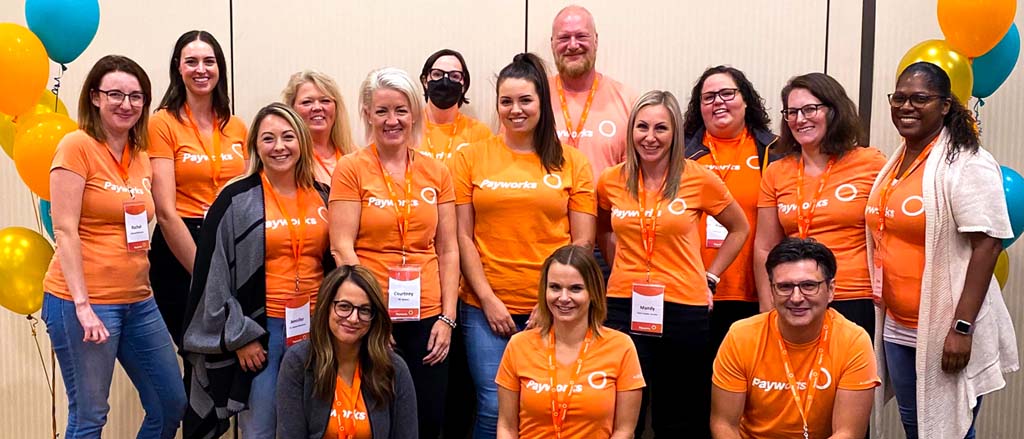 Increasing employee retention and satisfaction with accurate, professional payroll
Sep 18, 2023
Resources Payworks
It seems like common sense that payroll accuracy would contribute to your team's engagement and sense of security – hello, employee retention! However, the opposite is also true: errors in an employee's paycheque can make them feel undervalued and ultimately drive them to depart for a new career.
It takes time and resources to recruit new employees, and the lower an organization's employee retention rate, the more they're spending on searching for and training new staff. According to research by The Workforce Institute, it may take just one payroll error for staff to consider seeking new employment, and recruiting new employees.
Today, we're taking a deep dive into why payroll is so important… and how payroll professionals can play a key role in employee retention.
Getting paid is why employees work
Payroll is at the center of the employee-employer relationship. Accurate and timely pay helps to create a trustworthy and strong relationship that improves employee retention, engagement, productivity, and efficiency. Whether organizations are using a third-party processing software or have a designated payroll professional who handles paying employees, it's true: payroll management is an additional expense. But when it's done correctly and professionally, the rewards are far greater than the expense.
The alternative is that payroll can be neither timely nor accurate if proper provincial or territorial legislative requirements are not being followed or pay is being dispersed inaccurately or unreliably (all of which can have serious implications for your team and your business).
A National Payroll Institute study shows a consensus that employees would have significant concerns if their pay was inaccurate:
64% of employees would trust their employer less
59% would caution others about joining the company
51% would have concerns about how much their employer values them
The same study also stated that payroll errors caused 38% of employees to feel unease about their ability to manage expenses.
Those statistics are especially relevant in the context of the current state of the job market. Not only are companies struggling to find employees according to a survey from The Harris Poll; they're also having a difficult time keeping the employees whom they already have. In today's landscape, Canadians have more employment options and there are more apps and resources to assist in finding job opportunities.
How payroll professionals can make a difference
There can be a multitude of reasons for an employee's departure, but payroll inaccuracy shouldn't be one of them. Here are the steps organizations can take to improve their retention rate through accurate, timely and professional payroll.
Don't underestimate the importance of backup.

Organizations should ideally designate more than one payroll administrator. This way, someone trained and knowledgeable is always on-hand to process payroll, in case of an emergency, unavailability, or anticipated time off.
Leverage proper software to increase employee engagement

. Providing employees with easy access to transparent information regarding their pay through cloud-based solutions like

Payworks

can

have a

positive influence on engagement.

Statistics from the National Payroll Institute

highlight that it's extremely important for employees to be able

to

easily view their pay statements,

tax forms

, schedules/

shared calendars

, and more.



A great way to get started on the right track is to let new employees know when they can expect their first paycheque. Many new employees feel shy about asking, but could also be feeling stress and uncertainty in not knowing if they'll be able to pay their bills on time! It's equally important to show new employees where to access information like their pay statements. Actions like these help to build trust and a feeling of security in the employee-employer relationship.
"One advantage of using Payworks' Payroll software is that it's meant to make it so much easier for people to pay employees on time and accurately," says Payworks Team Leader, Payroll, Megan McCall. "We're on top of wanting to have good governance, and doing things in a way where our clients and employees are confident in us. They know they're being treated fairly."
Talk to your employees about their vacation.

The Expedia Vacation Deprivation Report states that nine out of 10 Canadians feel regular vacations are a basic right, but 62% of working adults surveyed felt vacation-deprived. In their education and conversations around employee pay statements, organizations should also talk to their employees and address questions about vacation.

Reviewing this information with new employees is a great time to inform staff of what reflection of their vacation they'll see on their statements

, if it's accruing or vacation each pay, and

how that translates into vacation entitlement in terms of days or weeks. It's also important to communicate when employees are entitled to take time off, if/how many personal days they have, how sick days work, and any other types of time off. Plus, encouraging employees to use their vacation time so they can re-charge helps with

employee engagement and retention.
Ensure employee benefits are set up correctly.

It's important for all employees' benefits to be set up correctly; however, it's especially worth taking a second look when an employee is going on leave. Regardless of the type of leave - medical, parental or otherwise – it's important to have a conversation with that employee about their benefits. If it's possible for their benefits to continue while the employee is on leave, and advise the employee and review what their options look like.
The research makes it clear that adhering to payroll legislation and guidelines and paying employees on time and accurately increases your company's retention rate. You're not just telling your employees they're valued, you're showing them they're valued and an important part of the team.
Stay informed and connected with the latest news and tips with theWorks. Subscribe now: https://www.payworks.ca/landing-pages/campaigns/subscribe-to-theworks-blog.