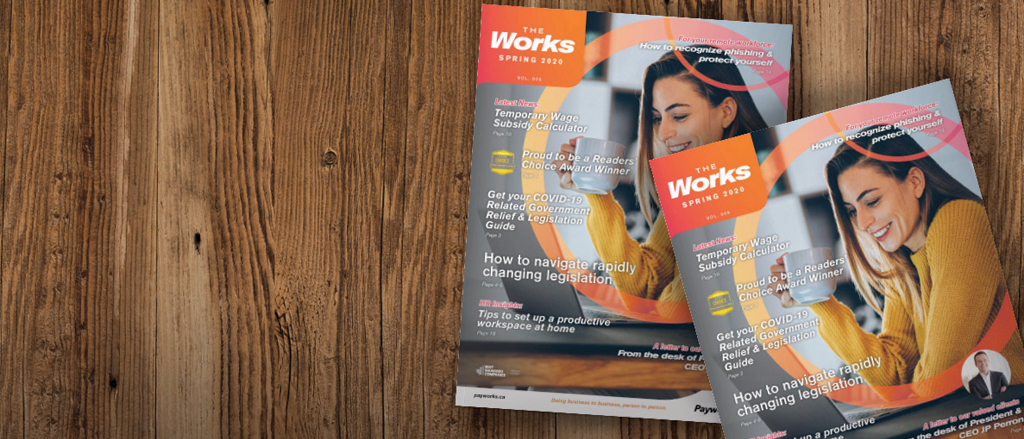 Get your copy of The Works Newsletter today
May 14, 2020
Media
--- Payworks
---
The Works Newsletter is Payworks quarterly publication that offers news, articles and useful payroll resources to help you develop and manage your business in Canada.
Our Spring Edition (available now!) has 24 pages full of insightful articles and information relevant to Canadian Businesses, payroll practitioners and HR professionals.


Here is a snapshot of what you can find in the latest edition of The Works:


Five ways you can set up a productive workspace at home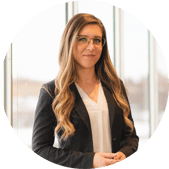 By Vanessa Nelson
Human Resources Partner
Vanessa has almost 15 years of broad HR experience across a wide range of private industry employers and takes a holistic and human-centered approach to HR that adds support and value to each employee's unique experience.
"The key to work-from-home success is to create an environment that allows you to focus, which we know is easier said than done with distractions around. That's why we've compiled five ways to set up a productive space for those of us who are now working from home."


How to recognize phishing and protect yourself
By Daniel Dallmann
Team Leader, Information Security
Daniel has over a decade of experience in security product and service analysis, design and development and is dedicated to continuously evolving Payworks' security solutions to reflect ever-changing technologies in tandem with industry trends.
"With many companies choosing to practice social distancing as a result of COVID-19, our work environments have changed to the comforts of home, and we're relying on digital communication more than ever to stay connected with our colleagues. While working remotely, we need to be mindful that phishing scams still exist regardless of what our work space looks like. In fact, cyber-criminals may look to exploit these uncertain times and unfamiliar work environments. You and your employees can protect yourselves! Here's how."


PLUS...
Access to our comprehensive COVID-19 Related Government Relief & Legislation Guide
Canadian Payroll Association's resources & development seminars
2020 Canadian Minimum Wage updates
Payworks Temporary Wage Subsidy Calculator (10%)
Everything you need to know about ROEs
and much, much more!
Subscribe to receive your free copy of The Works newsletter today: http://info.payworks.ca/en-ca/theworks.
Sign up to receive this collection of articles delivering HR insights, emerging technologies, product, legislative and regulatory information - and so much more!
Key topics in this article:
Media