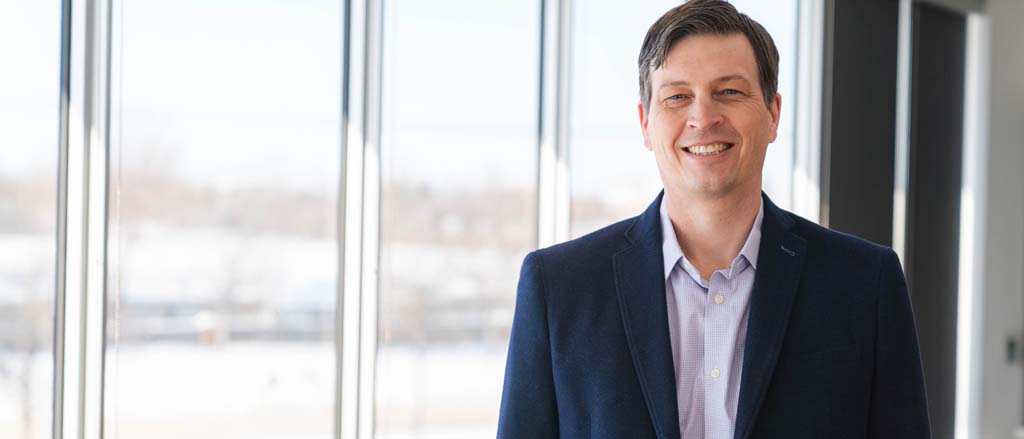 Introducing Derek Ward, our new Director of Development
Feb 17, 2022
Culture Payworks
Since the day he bought his first computer - at only 12 years old and with every last dime of his hard-earned paper route money - Derek Ward has been driven to discover how and why things work the way they do… and how to make them even better.
The joy he found in those early coding days propelled him straight through his Bachelor of Science degree in Computer Science at the University of Manitoba and onwards into a variety of roles in both the private and public sectors.
Now, with over two decades of analyst, development, system architecture, innovation and leadership experience, he's joined Payworks as our new Director of Development - and we couldn't be more thrilled to have him here!
It sounds like the feeling's mutual. "The more I learn about Payworks' solutions and the talented people that build them, the more excited I am to be part of this team," says Derek, whose time with Payworks began in January 2022. "I'm really looking forward to working together with groups all across the company to make sure we're consistently delivering the most useful tools in the most efficient and effective manner possible."
Having the right team in place is a key component of continuous improvement… "so keep an eye out! As we continue to grow, so does our development team," says Derek.
Initially drawn to Payworks by the organization's positive employer reputation and commitment to technical innovation, Derek feels his decision to join the team has been validated in part by our purpose of "doing right by people" - both inside and outside the organization.
"As a longtime supporter of United Way, I'm really glad to see Payworks' efforts there, and look forward to continuing to contribute," Derek shares. "But I can also see that same mindset in how we treat our clients. I believe our service approach is a core tenet of our success. There's this 'family' mindset, and if a customer is having a problem, we offer a clear-cut path to the solution from someone who's earned their trust."
Giving back is important to Derek and he brings his leadership and problem-solving skills to the community when he's off the clock as well - he's been coaching youth soccer and hockey for over 15 years.
"In general, I'd say I really enjoy tackling new challenges," Derek explains. "To me, problems are just opportunities to make something better!"