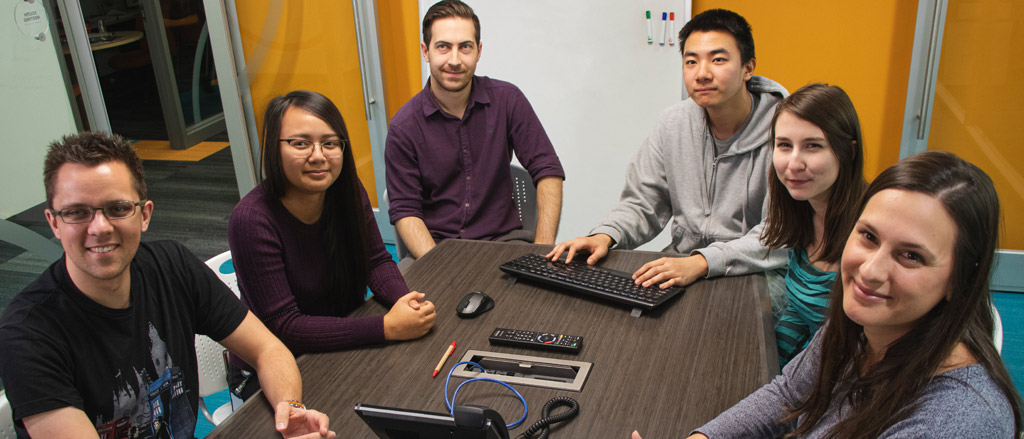 How imagination drives innovation… and why it's worth the investment
Apr 14, 2021
Innovation Payworks
The Labs team connects with all areas of the business to identify top-priority opportunities for exploration (shown here in 2019).
When you're attempting to keep up with an ever-growing to-do list (a daily struggle for most of us!), it can be hard to stay disciplined enough to set aside time to dream.
Albert Einstein is often quoted as saying that "The true sign of intelligence is not knowledge, but imagination." To best serve both our clients and our own internal teams, Payworks has invested in bringing this imagination to life by establishing our Labs team. This talented crew is dedicated solely to exploring, experimenting and innovating so that we can evolve our products and processes in a way that benefits everyone.
In 2018, Payworks' Chief Innovation Officer Kevin Sokolowski found himself frustrated with the time-consuming process of researching, identifying and implementing new technology.
"While the benefits were significant, the process was incredibly disruptive to the equally-important day-to-day development work that our teams were involved in," he recalls. "To not only continue offering forward-thinking solutions to our clients, but also better align our own teams, I proposed adding a brand-new team whose sole focus was innovation."
For President & CEO JP Perron, this was a no-brainer.
"Innovation is very important to our business and it comes in many forms," says JP. "The Labs team was created to accelerate the exploration of potential technologies and develop working concepts, which mature and are brought to market through our development and product management organizations. An effective organization doesn't leave innovation with a narrow focus, which is why at Payworks both ideation and innovation are evident throughout the entire business. Whether it's forging new ways for external or internal clients to get more value from what we do or streamline a process to make our departments operate more efficiently, activities of this nature take place on a routine basis within each department."
Since 2018, the Labs team has grown to four full-time developers, one of who was already a key member of the Payworks development team and another whose impressive contributions during her co-op placements at Payworks earned her a permanent role. "Each of us brings a unique mix of work experience and education within the field of computer science, and I think those differing perspectives are one of the reasons our team works so well together," shares Adrienne Pind, who shares the role of Labs Team Lead with Dale Brajczuk.
"Not only do our skill sets in data management, analysis and human/computer interactions complement each other; our combined experience in both the public and private sectors allows us to better understand the needs of our clients."
The seeds of ideas that the Labs team researches, evaluates and potentially brings forward to the rest of Payworks are planted through client feedback, wish lists from other departments and the creative curiosity of the Labs team members themselves.
"The Labs team's projects are a mix of problem-solving and identification of new opportunities," says Andrew Stevens, Payworks' Vice President of Development. "One of many ideas that took root was an internal project that turned the week-long developer system setup into a single-day process; these time savings have, in turn, empowered our developers to more quickly and efficiently prepare new and upgraded applications for our clients. The Labs team was also integral in supporting our Information Security team through the detailed process of defining and implementing our Two-Factor Authentication system for client data protection."
These days, the Labs team is hard at work on several client-facing projects.
"I can't get into details on specifics and spoil the surprise," says Adrienne, "but I promise our clients will be excited!"