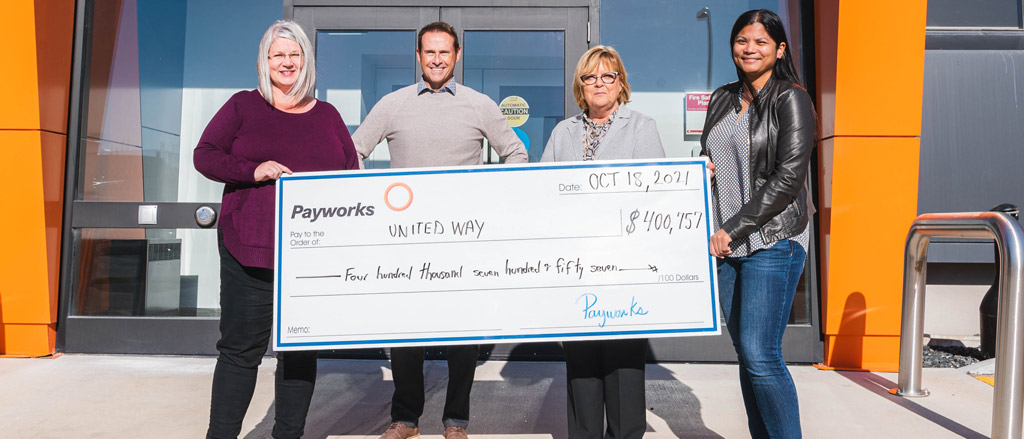 The BIG reveal: Payworks' 2021 United Way Workplace Campaign results
Oct 22, 2021
Pay It Forward Payworks
Photo: Payworks Employee Campaign Co-Chair Trina Huntley, President & CEO JP Perron, Co-Founder Barb Gamey, and Employee Campaign Co-Chair Dee dela Cruz.
On October 7, we virtually gathered to celebrate the wrap-up of our national 2021 Payworks United Way Workplace Campaign. There were heartfelt speeches, prize draws and more than a few dropped jaws (is there a Zoom emoji for that?!) as we were once again left speechless by the generosity of our people.
The objective set in mid-September was to collectively raise $375,000 – a lofty goal, considering the total funds raised in 2020 reached the generous milestone of $356,411.
"This was my first year on the United Way Committee as Employee Campaign Chair, and knowing what we had raised last year and what we decided on as a goal for this year was a little intimidating for me, to say the least," says Payworks Employee Campaign Co-Chair Trina Huntley. "Eighteen months into a pandemic and being mindful that our employee participation may be impacted made the numbers seem scary. When the final numbers started to come in, I was in absolute shock and disbelief. I'm so grateful to work with such compassionate, caring and generous co-workers."
We're honoured to announce that our employees from coast-to-coast blew our minds (there IS an emoji for that) by exceeding that goal by 7%, making this year's total donation $400,757.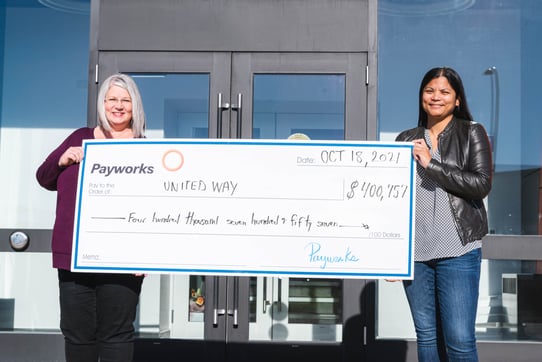 Photo: Payworks Employee Campaign Co-Chairs Trina Huntley and Dee dela Cruz.
"Ecstatic. Disbelief. Humbled," says Payworks Employee Campaign Co-Chair Dee dela Cruz in recollection of her reaction to receiving the final campaign results. "I'm so grateful to every single person who participated in the campaign – be it making a donation or attending our events. Our staff should be very proud of all the good these dollars will make in their communities."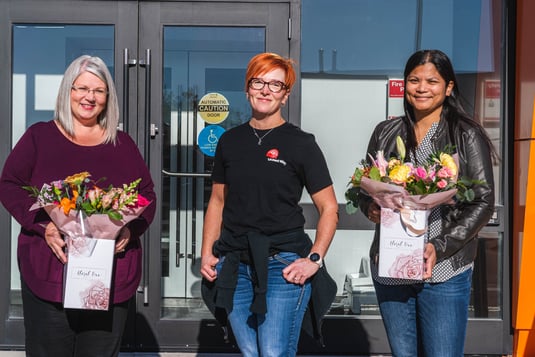 Photo: Payworks Employee Campaign Co-Chair Trina Huntley, Vice President, Human Resources Nicole Stewart, and Employee Campaign Co-Chair Dee dela Cruz.
"There were some emails flying around in the committee today as they got a sneak peek at the results, and I heard 'wowsers', I heard 'awesome', I heard 'floored', and I heard 'amazing'," shares Vice President, Human Resources Nicole Stewart. "These are all words that I absolutely agree with."
For the second year in a row, Payworks hosted a completely virtual United Way Workplace Campaign. We officially kicked off the campaign on September 16, 2021 with a company-wide launch celebration. Day two of our campaign brought just as much excitement as our staff participated in United Way Winnipeg's Walk this Way event, where every collective kilometre travelled was literally one step closer to a $100,000 donation from five event sponsors (one of which was Payworks).
"This was our second virtual United Way Workplace Campaign, and I'm really pleased with how it turned out this year," says Trina. "We added a few new committee members from all across Canada, which brought even more excitement and fresh ideas to the table. Our committee helped make our virtual campaign another success. Brainstorming and planning the campaign takes a lot of work, and having fresh ideas and volunteers that want to make a difference matters. I also believe the events we chose to showcase, the impact speakers and the virtual agency tours made a meaningful impact on our employees across the country."
Our entire Workplace Campaign spanned over two weeks before concluding on October 1, and featured numerous events, including four Impact Speaker sessions, four virtual Agency Tours, and a practicing mindfulness mental wellness session in tandem with other fun activities and games. All events were planned and hosted by the 33 members of Payworks' employee-driven United Way Committee.
"I think there are a few things that helped make our campaign successful," Dee explains. "Having a variety of events with a variety of topics being showcased, ensuring that the topics and speakers are relevant to our staff across the country, and having a hard-working, committed committee that was made up of staff from both our head office and our regional offices."
These virtual events throughout the campaign provide our staff with the opportunity to hear directly from those who've benefited from United Way-funded Agencies, and also from the Agency staff who are navigating and persevering through unique challenges.
"We knew that the pandemic has put a strain on people's mental wellbeing, so we wanted to make sure we had events that addressed that," Dee says. "We brought in the Canadian Mental Health Association (CMHA) for a virtual agency tour as well as hosted a mindfulness session. We also thought it was really important to host a session focused on reconciliation, since the National Day for Truth and Reconciliation fell within the dates of our campaign. The focus is less about the actual campaign results and how much money we raise, and more about kindness and generosity."
That kindness and generosity contributed to 2021 being Payworks' most successful United Way Workplace Campaign yet – a milestone made possible by our employees who've thereby made a significant and direct impact in the communities where they live and work. The national Payworks Workplace Campaign grand total includes the funds raised through our campaign efforts in Winnipeg as well as across all of our regional offices, and the company corporate match of up to $5,000 per employee.
"There are many different ways to support and contribute to a workplace campaign," says Dee. "I'm thankful for everyone who participated in this year's campaign – whether that be through donation dollars, attending events, or donating time, effort, anything they were able to give."

"During our campaign I was reading Brene Brown's book, The Gifts of Imperfection, and there's a section about compassion that really resonates with me," shares Trina. "Sometimes we need a little help, a little hand up," said Trina. Sometimes we can afford to give a little help and sometimes we can't, and that's absolutely ok. I'm humbled and so very proud of the generosity and care that our employees give back to our communities."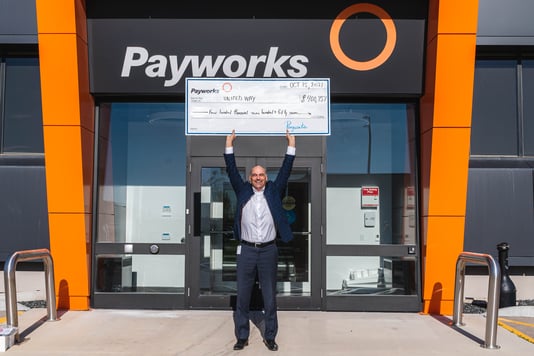 Photo: United Way Winnipeg's 2021 Campaign Chair Greg Bieber.