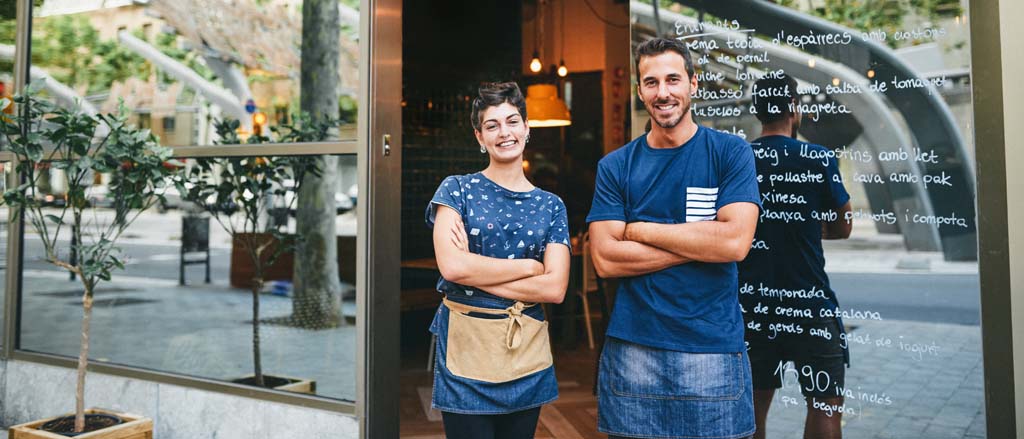 HR solutions small businesses actually need (and will use!)
Mar 14, 2022
Innovation Payworks
Today's small businesses are facing an increased and highly manual workload when it comes to managing their people – meaning there's a lot to do and a lot of paper to sift through! What if we told you there's a way to streamline HR – and best of all, to bid farewell to that mountain of paper?
Our response to our small business clients looking for a practical HR solution for their specific needs is HR Enable! Designed for Canadian employers who know that laying a foundation of good HR practices today will save them major headaches in the long run, Payworks' HR Enable ensures employee information is collected, shared and stored securely and electronically, empowering employees and eliminating the need for paper-based processes. HR Enable also allows admins to set up reminders when action is required.
Whether you've got just a few employees or a large team, small businesses like yours can benefit from a modern HR solution.
HR Enable is a collection of our most popular HR functions – all the must-haves businesses need to keep it simple and say goodbye to collecting and tracking employee information using spreadsheets and manual processes. It also allows information to be managed securely with user-based restrictions and is scalable so, as your operation grows and your HR needs increase, there's no need to go searching for a new HR platform. You've already adopted the process and technology to carry you into the future!
Here are the top ways to securely manage your employee information using HR Enable:
Embrace better document management
Your employees deserve (and expect) to have their personal info stored securely. HR Enable provides one place for all your employees' data and records, with information just a few clicks away when you need it. Our Employee Profile management system is a secure, cloud-based digital "file folder" to house employee records for each of your staff.
Company Documents provides your employees with access to important documentation and forms, either as a part of the hiring process or at any stage throughout their employment. You can leverage this feature to share information with all staff – like return-to-the-workplace procedures, health and safety documents, time off guidelines, and more. It also provides newly-hired employees with access to important documents and forms, plus the ability to digitally acknowledge they've read these documents and to upload completed forms. Both employers and employees will appreciate the convenience of finding and accessing what they need from a centralized location!
Use the Employee Documents feature to store and track documents related to a specific employee (such as training courses, certifications and licenses) to provide a precise view of completed designations and training. You can also further categorize the files and documents for easy reference. Uploads can even be classified as Restricted Documents, ensuring that only those who should be able to access particularly-sensitive information can do so.
Store and track vaccination documentation
In the Health Screen, track COVID-19 vaccination status and supporting documentation for each of your employees. To maximize employee privacy, these documents will be stored separately, and will only be available to approved users. It's compliance and confidentiality all in one!
Keep track of company assets
In the Company Property Screen, track the distribution and status of company-owned assets that employees are using offsite or keeping with them during off hours (like access cards, fuel cards, laptops, tablets, cell phones, tools and much more!). Company assets can be assigned to specific employees and the status can be updated to reflect when an item was assigned and later returned. Automatic email notifications can also be set up as a reminder to admins and/or managers when the expiry date for company property is approaching.
Stay on top of important milestones
Using the Notifications feature, schedule automatic email notifications for important dates most pertinent to your workforce. There's a variety of notification types to choose from, from expiring licenses to birthdays and work anniversaries, and from certification renewals to an added dependent or name change. Set up automatic reminders regarding checkpoints with your team and enjoy the ability to assign anyone at your business who needs to be in the know as a recipient.
Personalize employee orientations
Send new employees a Welcome Email when they've been hired and ensure they're all set up to have a great first day with everything they need to know - from where to park to who will be meeting with them when they arrive and if they need to bring anything specific with them. Paired with Employee Self Service (ESS), employees can also log into their account from any web-enabled device, update their own contact information, and read and agree to important documents before they start.
Payworks' HR Enable empowers employers with access to the right tools to better manage their workforce today and as they grow. For more information, reach out to sales@payworks.ca.