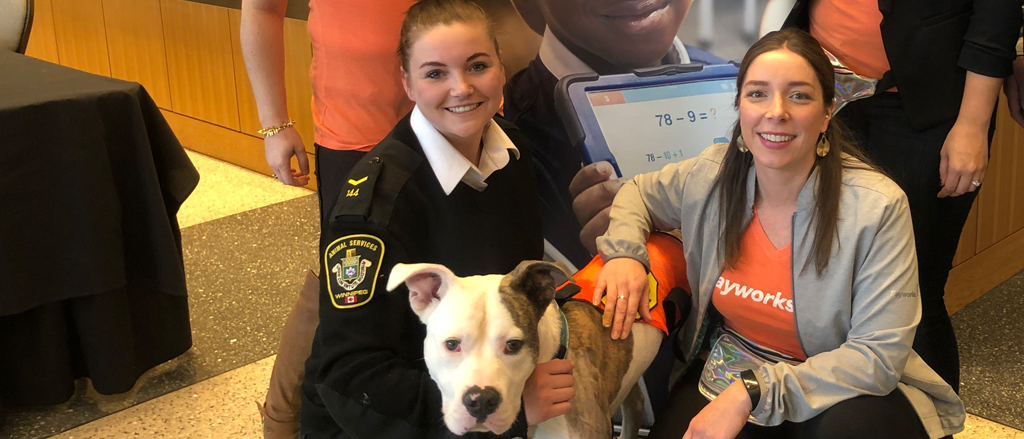 Watch: What do GenNext & dog adoptions have in common?
Nov 01, 2019
Media
--- Payworks
---
We're still in awe over the success of our first-ever Pay it Forward booth during the 2019 United Way Winnipeg GenNext Summit October 31, which resulted in the adoption of not one, but TWO dogs from Winnipeg Animal Services. How amazing is that?!
During out third year as presenting sponsor of the United Way's GenNext Summit we decided to participate in random acts of kindness throughout the day to Pay it Forward to the attendees of the conference. At the Payworks Pay it Forward booth participants could receive last minute Halloween costume suggestions, bring candy back to their table, receive a compliment or new restaurant suggestion, and they could even mail a greeting card with an inspirational message to a friend, family member, or co-worker.
Throughout the day the Payworks crew was also taking Pay it Forward requests from the audience that included everything from delivering a glass of juice and salty snacks to collecting socks and water bottles for a donation drive. We successfully fulfilled ALL of the requests received, including one that came in through Twitter - from Table 22 - who were seeking some puppy cuddles.
After a few phone calls and inquiries to their network of friends, family members, and co-workers, the Payworks booth was approached by one of the conference attendees who offered to reach out to a contact they had at Winnipeg Animal Services. Without hesitation, the answer was yes - that they would re-arrange their day to bring one of their adoption animals down to GenNext to fulfill the request - a lovely dog named Cesear.
Needless to say Cesear made a few new friends, quite possibly could've even been trending on Twitter, and at one point took a break from all of the pets to make an appearance on the main stage! We're so thankful to Winnipeg Animal Services for helping us fulfill this request, which is still continuing to Pay it Forward.
After making his appearance at GenNext, we're happy to report that Cesear found his FUR-ever home with one of the conference attendees. Another conference attendee also contacted Winnipeg Animal Services after GenNext and has since adopted a dog named Frankie.
It was certainly an exciting and inspirational day to be a part of. Watch all of the events unfold in our latest video:
Key topics in this article:
Media