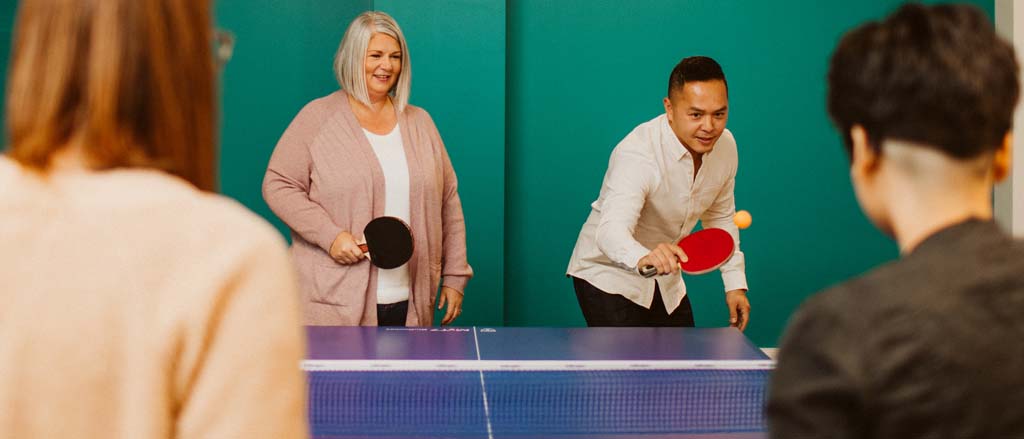 The Payworks perks: just one reason why you should choose to work here
Jul 28, 2023
Culture Payworks
What makes for a great workplace community? Great question! Ultimately, the answer is: a work environment you genuinely want to be a part of.
For Payworks, we've nurtured our workplace community by recognizing that our people are more than what they do for work and creating an environment that supports individuals in both work and life. Research tells us that exceptional employee experiences are centered around empathy, belonging, creating a sense of purpose, and seeing people as individuals. That's just one of the reasons why we strive to foster employee experiences that are both professionally and personally enriching, with a few distinctive benefits along the way that our people otherwise wouldn't have been able to experience.
With that in mind, we're going to highlight some of our #PayworksPerks - and why you should consider a fulfilling career at Payworks.
Compensation, benefits, and vacation time – oh my!
The first conversation many organizations have in the prospective employer-employee relationship is about the "standard" compensation package. Payworks absolutely offers competitive salary and benefits (so yes, you can go ahead and check that off your list!). Some of our benefits include an Employee Assistance Program (EAP), dental and vision care, travel health, critical illness, mental health benefits, acupuncture, physiotherapy, massage, chiropractor and much more. Two "fan favourites" among our own staff include employer-paid benefits and a pension plan with employer contributions. To help us better support a true work/life balance, we also offer parental leave benefits, flex time, and three weeks of vacation (to start!).
Who could forget about flexible work?
The ways in which we work have changed quickly – particularly over the last few years. While some organizations may still bristle to hear it, the fact is that remote work and hybrid options aren't going anywhere. We recognize that one size (and schedule!) doesn't fit all, and we love that our people are more than what they do for work. As such, we offer both hybrid and flexible work options to our staff to meet their unique needs, and through their feedback we know that flexibility remains important and of high value to them. In turn, it allows us to empower our staff to do their best work!
Providing enrichment through opportunities for career and personal growth
It's a commonly-referenced statistic that one-third of a person's life is spent at work… so we think that creating a workplace where individuals can achieve their goals and feel supported in becoming their best selves is of significant importance! We value learning of all kinds, and provide plenty of professional development opportunities for career growth. Our dedicated Learning and Development Team ensures that both the training and growth of our employees countrywide begins with an engaging experience from even before day one.
Once employees join our organization, our work as an employer is far from over. We get people leaders and managers involved in our professional development process, offer daily micro-learning opportunities, and give staff the tools they need to best sharpen both their technical and life skills.
In addition to supporting our staff's career growth, we also foster a workplace environment where our people are encouraged to give back. This philosophy is at Payworks' core and we provide many opportunities for staff to get personally involved in literally paying our good fortune forward, including two paid days off to volunteer. It's a wonderful way to support our local communities, and an opportunity for personal growth in experiencing first-hand the rewards of volunteering.
We also have several employee-led volunteer committees, including our United Way and Diversity, Equity, Inclusion and Belonging (DEIB) committees. They organize and host important learning activities, and research and share educational materials that range from insightful articles to book and webinar recommendations from which the broader organization can learn.
Through our community involvement and sponsorships, there are also many opportunities for staff to attend events featuring a wide range of notable and knowledgeable keynote speakers. We've hosted in-person and virtual "field trips" to local community organizations and also invite representatives from those organizations to speak at our offices. Through these experiences, we collectively learn more about our communities and others' lived experiences.
We've always found that having a mix of both professional development and life skill learning opportunities is an enriching experience for everyone… even more so when our staff is empowered to get involved in driving the direction of our organization's sense of purpose and values.
The importance of peer-to-peer recognition
Supporting one another is just as important as supporting our shared communities, and that's why we encourage a few different methods of peer-to-peer recognition at Payworks. We've developed a weekly process where employees can publicly recognize their peers for a contribution they've made – no matter how "big" or "small." They can distinguish a colleague for anything from leading a project and great collaboration to bringing them a cup of coffee, organizing a potluck or anything else that brightened their day and helped them feel valued. Reading through these acknowledgements is a feel-good moment for all!
Our Gold Star program is an additional peer recognition program that operates on a much grander scale. Throughout each quarter of the fiscal year, employees nominate their peers for living our company values in the areas of customer service, innovation, teamwork, community, and/or security. We publish those nominations on our intranet, and our employee-led Gold Star committee selects from among them several Gold Star winners each quarter. At the end of the fiscal year, all Gold Star winners are entered into a draw to attend our annual President's Circle trip. This trip is where our President and CEO selects an exciting destination and over 50 members of our team travel there for a few epic days of team building and a President's Circle awards gala. We were fortunate to host our 10th annual President's Circle in New York City in June of 2023, and to have so many outstanding team members to celebrate!
Fitness, wellness, and all the "cool perks"
At Payworks, our purpose is "Doing Right by People", and it stands to reason that the health and wellness of our team remains a top priority for us. In addition to the benefits outlined above, we offer an annual wellness subsidy to support individual physical and mental health and wellbeing. Usage ranges from personal training or organized sports fees to home gym equipment, athletic footwear, meditation tools, audio/visual materials, books, and more. Some of our office locations feature an in-office gym, and we offer weekly virtual fitness classes for employees to enjoy no matter where they're working from that day.
And don't forget the "little extras!" We receive continuous and positive feedback on the fun events we host in-office (like food trucks!), and the niceties of having perks like free parking, coffee and tea, a weekly fruit delivery, a lending library, bubble hockey and a ping-pong table, a Nintendo Switch, and Costco memberships available to staff.
At the end of the day, we're continually aspiring to be a top employer by nurturing highly-engaged team players: a talented group of folks who make work rewarding and fun! If you're looking for a flexible and progressive work environment, Payworks offers rewarding careers and lots of opportunities to use your individual talents for building awesome products and lasting client relationships… and the extra perks aren't bad either! When it comes to great people, there's always room for one more. To check out our current career opportunities, visit: https://www.payworks.ca/about-us/careers.