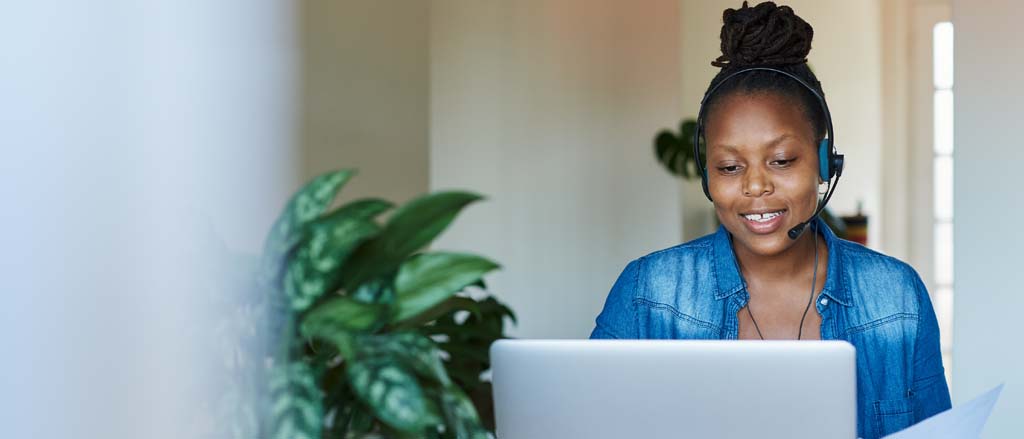 Five tips from our experts on how to deliver excellent customer service
Oct 05, 2022
Resources Payworks
By definition, customer service is "the part of an organization that answers customers' questions." But we all know that the right kind of customer service goes way (way!) beyond that. And for business owners like you, it can make all the difference to your success!
Our in-house experts define customer service as more "relationship management" than mere Q&A, explaining that customer service encompasses communication, support, action, problem solving and the ability to actually anticipate customer needs (rather than being reactionary). They view customer service as the everyday interactions that help build a positive customer experience and a long-term, trusted relationship. That's one tall order, and one to which we assign the highest value!
"Simply put, customer service is the act of 'treating people right, while getting it right'," says Courtney Bérubé, our Vice President, Service. "To get it right, you need to know your stuff, avoid making assumptions, understand what matters to your clients, and be complete in your follow-through."
Customer service… it's kind of our thing
We're known for having the industry's best service with a 98% client retention rate. We provide unlimited, dedicated and trained support for every one of our clients because they deserve better than waiting on hold and re-explaining their story for the umpteenth time. We could tell you that our "secret sauce" is answering all calls in under 60 seconds (by a human, not a machine), or that we're committed to taking the time to get to know our clients and their businesses - all true! But the key ingredient to our recipe is an attitude of accountability.
"There isn't actually a secret sauce here," says Courtney. "Just a recipe that needs to be followed consistently."
Five tips from our experts on how to deliver excellent customer service:
1. Be a good listener
"An important component of customer service is staying in the moment by giving someone your complete attention," says Courtney. "It's what our clients expect and what we would expect ourselves."
"Customer experience is the feeling a customer has after they've had an interaction with your business or organization," says Jill Baczynsky, our Director, Corporate Service. "If clients don't have a good experience, it's because they don't feel heard. We want to sit and listen to our clients; we want them to feel heard."
"You can't help a customer if you're not listening," says Cam Friesen, our Director, Small Business Services. "Customers want to be heard and not talked over. Listening to identify the customers' needs and trying to meet those needs; that's what helps build that relationship of trust."


2. Be patient and problem solve
"Anticipating client's needs without assuming you know best - that's the trick," says Courtney. "Have compassion in your understanding and kindness in your delivery, and always try to place yourself in the shoes of your customers. Start there and stay there."
"Customer service is not simply reacting to a client's questions," says Jill. "It's trying to anticipate and get in front of issues they might experience and to help them problem solve. That level of communication and support is what it all comes down to."
"Making sure our customer service reps are equipped with the right tools to make them successful is key," explains Cam. "Having the training and the knowledge to problem-solve helps reassure our customers, and it makes everyone more successful."


3. Take action
"In today's society, we can all appreciate that the demands on our time are not going away, and we share the frustration of wait times in our everyday lives," says Courtney. "Our focus is on responsiveness. It's being there when you're needed. Answering the phone and following through, every time."
"A big component of customer service is doing what you say you're going to do," says Jill. "It's about holding yourself accountable to what you've promised to your client. If you say you're going to follow up – follow up. If you say you're going to escalate – escalate."
"Follow up and follow through – that's critical," says Cam. "It's about getting things done and being timely because if a customer is reaching out to you, they deserve for their questions to be taken seriously. Being available to our customers when they need, and providing them with as quick of a turnaround as we can."


4. Be genuine
"A great customer experience is often about what happens in those subtle moments when we're relatable and genuine," says Courtney. "This feeling happens when you've taken intentional steps to leave people with the feeling like you get it. When you treat people so well they want to tell their friends and family about their experience, you're doing it right."
"It's important to connect when building relationships with our clients," says Jill. "To be genuine in our tone, by using the client's name, and sometimes a bit of humour, too. Basically, showing the client that they're important."
"Being empathetic to our customers' situation is the foundation of good service," says Cam. "We want our customers to know that we understand and we care. Ultimately, we're there to assist with their problems or challenges and our teams are invested in doing just that."


5. Support each other
"Customer service can set your organization apart, no matter your role in the business," says Courtney. "Service acts as a compass to guide our decision making, keeping clients at the forefront. Whether it's about supporting new or existing products, or arming our teams with improved technology and systems to help them be their best, it really does feel like we're in it together for our customers."
"Delivering a positive customer experience through excellent customer service is among our highest values," says Jill. "And that includes our internal teams as well. The service we're able to provide and our ability to meet our client's needs is also because of the support we receive from our coworkers in other departments, and that is what sets us apart."
"It's critical to our success to be exceptional and go above and beyond," says Cam. "Our one-to-one service model not only helps us build that relationship, but it helps to make phone wait times almost non-existent. We try to turn around answers to our customers' questions within the hour – that's the goal so that our customers don't have to wait very long before they get a call back. And if the dedicated rep isn't available or is on vacation, our clients can call into the queue to get immediate assistance from another member of our service team."
The key to excellent customer service is building a trusted relationship with your clients and not thinking of or treating them as "just a number." To learn more, visit: https://www.payworks.ca/about-us/service-onboarding.