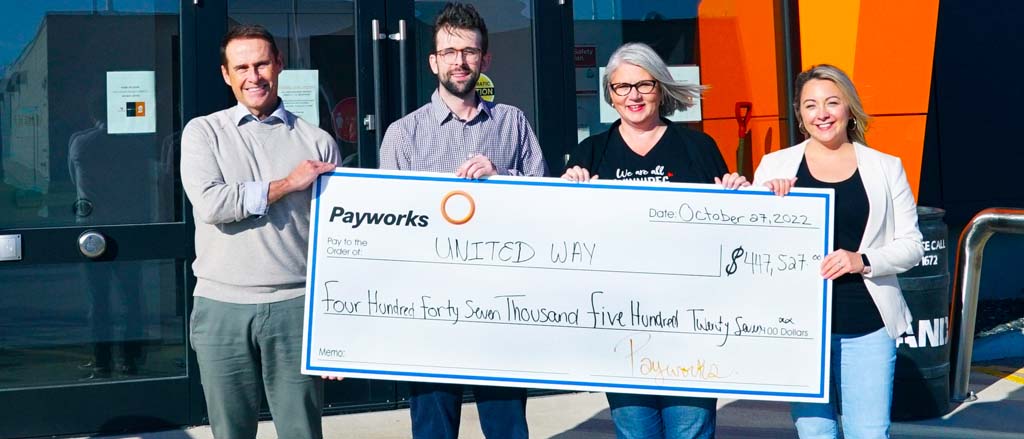 United Way Workplace Campaign: the 2022 results are in!
Dec 03, 2022
Culture Payworks
At the beginning of September, Payworks' 39-member, employee-led United Way Committee set a goal for the year's upcoming workplace campaign: to raise $385,000, with an 80% participation rate. Increasing funds raised demonstrates our employees' continued commitment to our communities in tandem with our company's continued growth. This was a lofty goal, to be sure, but also one that our crew was hopeful to reach since we always go so far when united!
Fast forward to just a few weeks later, and we once again found ourselves astonished at the team's response. We're honoured to announce that the generous hearts of our employees from coast-to-coast made it possible for Payworks to exceed our 2022 campaign fundraising goal, with a staggering total donation of $447,527 and an overall participation rate of 72%. The total funds raised are dispersed to local United Way organizations from British Columbia to Nova Scotia - supporting the communities where our employees live and work.
Yes, we keep saying this every campaign, but… that makes this year's campaign the most successful one yet!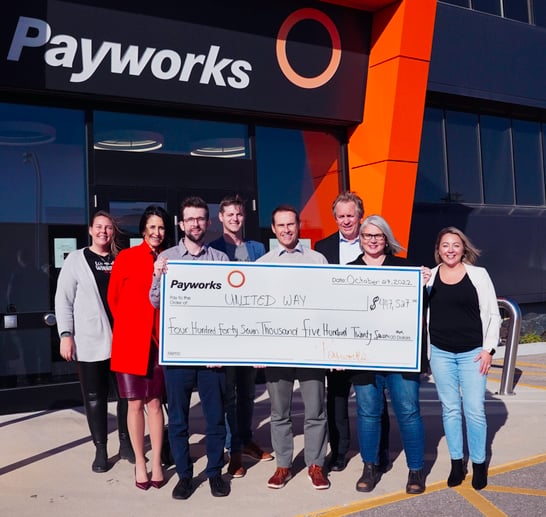 Photo: (L-R) Payworks' United Way Sponsored Executive Melissa Willard, United Way Winnipeg's 2022 Campaign Chair Dayna Spiring, Payworks' United Way Campaign Committee Co-Chair Kyle Desjardins, United Way Winnipeg Sponsored Executive Michael Rathwell, Payworks' President & CEO JP Perron, United Way Winnipeg's Associate Director, Partnership Development Rob Pierce, Payworks' United Way Campaign Committee Co-Chair Trina Huntley, and Payworks' Vice President, Human Resources Jennifer Johnston.
How did we get there? Payworks' 2022 company-wide campaign took place from September 12-23. From coast-to-coast, our teams gathered virtually and in-person to learn more about how United Way brings positive impact and change through its Agencies in all of our communities.
"Over the past few years, we've been running a virtual campaign," explained Payworks Employee Campaign Co-Chair Trina Huntley. "This year, we decided to run a hybrid campaign with in-person activities and virtual aspects to ensure all employees could get involved."
We kicked off our campaign by participating in United Way Winnipeg's Walk This Way. The Payworks team banded together to contribute to the event's overall goal of 100,000 kilometers travelled between September 11 to 16. And – spoiler alert! – after we collectively met that distance goal [insert cheering noise here!!], five event sponsors donated a collective $100,000 to United Way Winnipeg.
We also hosted an event at the Assiniboine Park Zoo's Gateway to the Artic for our staff in Winnipeg to learn more about the great work United Way does in our communities. We were honoured to meet Catherine Biaya, Community Health Facilitator & Pastor at local United Way agency Mount Carmel Clinic/World Mission Good Seed. Catherine joined us to share her story and accept a donation from Payworks for Mount Carmel Clinic.
Throughout the second week of our campaign, our employees in offices from Victoria to Halifax experienced virtual Agency Tours and heard from Impact Speakers - some of the most powerful events that take place during our workplace campaign, according to our staff. Our employees learn so much about the meaningful work local Agencies do within the community, and are introduced to first-hand experiences from those who've been on the receiving end of these services.
"I support the United Way because I believe that the work done by the agencies is making a difference and is having a positive impact in people's lives."
Marlene Drake, Payworks United Way committee member
Of course, there were also some fun, games and tasty treats to be had! Each one of our offices from coast-to-coast enjoyed a delicious United Way barbecue lunch. We also held an office Spirit Week from September 19-23, with prizes at stake for participation in Jersey, Decade, Tourist, Holiday and Superhero day.
"I support the United Way because of the number of organizations they support in the community. A single donation to the United Way creates a ripple effect, impacting numerous agencies and clients."
Heather Reid, Payworks United Way committee member
All good things must come to an end, with this year's campaign concluding in a virtual celebration on October 5. Some gathered around their computer screens; other joined as a group from an in-house sales conference in Toronto. We all enjoyed heartfelt speeches, excitedly anticipated the prize draws, and drummed our fingers as we waited for the grand total!
"It can be difficult when you set out your campaign goals each year - nothing is ever guaranteed," says Trina. "When we set the goal this year, we were cautiously optimistic that we would reach it. It's been a tough few years, and I'm truly grateful to every single employee who participated in this year's campaign. I'm really proud and so humbled by the generosity of our Payworks employees in surpassing our campaign goal again this year!"
The Payworks United Way Workplace Campaign's grand total of $447,527 includes the funds raised through our campaign efforts in all our offices across Canada, in addition to the company corporate match of up to $5,000 per employee. Any time we reach a milestone like this, it wouldn't be possible without each of the employees who made the choice to offer support, no matter the contribution amount. Together, they're the ones that make this significant and direct impact in our local communities.
"I would like to take a moment to express my gratitude and to thank all of our employees who made a very personal choice to participate in our 2022 United Way Campaign this year," says Trina. "It's about finding your own personal 'why' for giving and supporting our communities in a meaningful way, and by making the choice to get involved, the impact is enormous. I'm truly grateful and so humbled by the generosity of my fellow employees for standing up and doing right by our communities. We all want our communities to re-emerge a little kinder, more inclusive and more resilient. All of us belong here, and all of us have a role in making our communities a better place. I'm just so grateful to have this experience and to be part of something that helps make a real impact."
For more information on how Payworks' staff Pay it Forward, visit: https://www.payworks.ca/about-us/pay-it-forward.
"I choose to support the United Way because of the wide reach they have across people and places. The United Way brings services and people together to rally around communities, and we can achieve a lot when we work together – which feels great too!"
Leanne Jones, Payworks United Way committee member