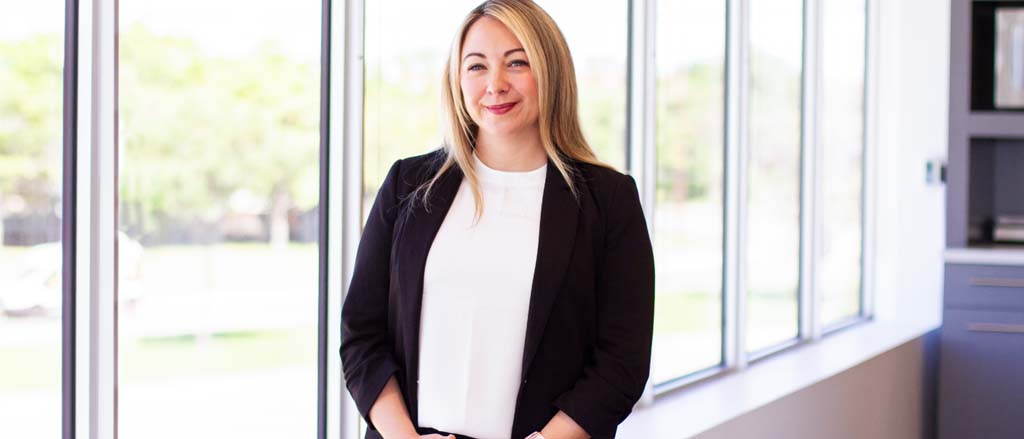 Introducing Jennifer Johnston, our new VP of HR
Jul 14, 2022
Culture Payworks
Growing up in a military family that moved from place to place, Jennifer Johnston developed an early appreciation for new experiences, diversity in thought and exciting challenges. This perspective turned out to be lifelong, and has propelled her all the way to her newest "home": as Payworks' new Vice President, Human Resources!
Jennifer (or Jenn, as she's known around the office) joined our team in the last week of May, and brings with her a wealth of knowledge and experience - both within and outside the HR sphere.
"As I approached the end of high school and started making my way through post-secondary, I was always of two minds career-wise," Jenn recalls. "I had thought at first that I wanted to pursue either police work or law, and followed that track from an education perspective. But from my teen years onwards, I was also working in an HR capacity for the military base where my family was located at the time. What started as a part-time job ended up capturing my attention wholeheartedly."
Noting the similarities between the two fields - the curiosity and desire to understand a big picture based on its small parts - Jenn shares that it was the diversity of the day in an HR department that ultimately won her over. "No day is ever the same in HR!" she laughs. "I really enjoy collaborating with teams, consulting with leaders and having fun. It's an honour and a privilege to work with employees and the business to make their 'work world' a better place."
After completing her Bachelor of Arts degree at Carleton University and her Master of Business Administration (MBA) in Strategic Human Resource Management and Executive Leadership at the University of Manitoba, Jenn has spent almost 15 years in HR business partnership, talent management and consulting roles across multiple industries. During that time, she also earned her Certified Human Resources Professional (CHRP) designation.
When the opportunity to join Payworks arose, she says she was most excited to explore it because of "what Payworks stands for."
"I smile every time I think about Payworks' investment in people and communities," Jenn elaborates. "I see it in the dollars and time donated, but also in how the teams interact with each other and the initiatives the leadership group supports. Diversity, Equity, Inclusion and Belonging (DEIB) is a particularly hot topic across all organizations right now - as it should be! - but I find that Payworks is unique in the Belonging aspect and really value how the organization recognizes the role of Belonging in driving true change. It's all about empowering people and creating an environment for them to thrive, and I couldn't be more excited to see how that continues to manifest."

"So many people I had spoken to about Payworks recommended them as an employer," she continues. "Right from my first day, I've been able to see why. 'Doing right by people' isn't just a purpose statement; it's the truth the people here have been living all along."
Jenn was thrilled to join an HR group that's "energized and enthusiastic", and looks forward to learning more and seeing how they can contribute to the growth plans of the organization. As she says: "it's an exciting time to join Payworks!"
Off the clock, Jenn's got just as much enthusiasm for learning, noting a teetering stack of leadership and business books on her nightstand. She and her husband spend much of their time racing from activity to activity with their daughter (sound familiar?), and she looks forward to feeding her lifelong wanderlust with some epic family travel in the near future.
Welcome to the team, Jenn! We're so glad your journey has brought you here.