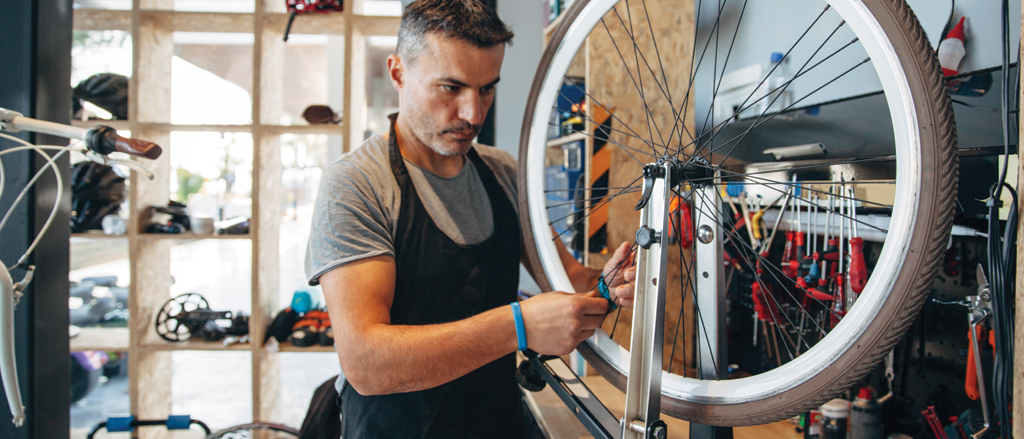 How to support local businesses while social distancing
May 15, 2020
Resources
--- Payworks
---
The impact of COVID-19 has been felt across the globe, and small business owners are among those hardest hit by the economic changes caused by the pandemic. Many businesses have been forced to temporarily shut their doors altogether, though some are now slowly opening back up as provincial restrictions are lifted.
While we don't know when things will go back to "normal," there is a wonderful opportunity right now to support local businesses while still practicing safe social distancing measures. Have you always meant to try that bakery down the street but haven't had the time? There's no better, more crucial time than now. Supporting your neighbourhood businesses boosts your local economy, creating jobs for your neighbours and opportunities for entrepreneurs to provide a service or products they're truly passionate about.
We know small businesses work hard to provide something truly special to our communities. Local businesses have always strived to make a difference, and now is the time to support them and shop local. Here's how:


Order Up For Take-Out!
Tired of cooking three meals a day? Consider replacing one home-cooked meal from a local restaurant. Make a list of the restaurants in your area, including your favourites and the ones you haven't tried yet. Check out their Instagram or Facebook pages and see what they're offering right now. We're seeing local shops answering the call to social distancing measures in innovative and savvy ways. There are lots of restaurants that have take-out options or will safely deliver right to your door. Maybe you can start a new "Take-Out Wednesday" tradition and support a different restaurant each time you order.
If you're having difficulties finding inspiration, check out our Small Business Directory for a list of Canada-wide small businesses stepping up during the pandemic in unique and philanthropic ways: https://blog.payworks.ca/small-biz-directory.


The Convenience of Curbside
While we're starting to see more and more businesses start to reopen, many small businesses have come up with creative curbside pick-up options and are continuing to offer those services. You can get just about anything curbside! Everything from pizza and beer to coffee and running gear have shifted to safe sidewalks pick-ups. Some businesses who were solely brick and mortar locations before (Parlour Coffee in Winnipeg, for example) have launched online stores to provide continuity to their faithful java-loving customers. Gotta get that cuppa joe! If you're going curbside, pick-up hours may be reduced compared to original store hours. It's best to check store websites or social media accounts for more details.
Business owners have recognized the needs of their customers and have quickly adapted to be there for them. There's no better time than now to reciprocate.


What About the Arts?
Part of our rich and vibrant communities is contributed by local arts organizations. So while their doors are closed, how do we continue to support them? Many theatre companies, orchestras and other arts collectives are offering a creative option that allows their patrons to give back. If you were looking forward to an event that was recently cancelled, you can donate your ticket back so the value stays put, helping ease the financial burden for these organizations (many of which are non-profits). Many of these organizations are also offering virtual tours or video concerts – meaning you can still continue to support and enjoy the arts from the comfort of home.
Think about what's getting you through the day - music, film, dance, painting. These artists and their unique perspectives and talents are extremely valuable to our mental and emotional health and wellbeing. As we think about shopping local and picking up curbside, we can also support our arts organizations in a big way from home.


Shop Close to Home
Another great way to support local businesses is to change up your regular routine. Take a look at your grocery list – is there something you can get from a nearby small business instead? A weekly loaf of bread from the bakery, a dozen eggs from a local producer, or cuts of meat from the butcher, corner store or deli down the street. You could try some of the great products made at a local brewery for a change in your weekly happy hour! You never know what new treats you might discover if you just go looking!


Every Little Bit Counts
If you're thinking a loaf of bread or one take-out meal every two weeks won't make a difference, it absolutely will. Plus, shopping local and trying new things is a great way to give your household some new, positive experiences during this time. You might also develop some meaningful relationships with the people in your area at the same time!
There's strength in numbers. You can lead by example and share ideas of how to have fun and support your community while staying home and safe. Encourage your family and friends to do the same. We're seeing the small business community's resilience, creativity and commitment to serving our communities. They're working harder than ever, and every little bit of our support absolutely counts.
Be well, stay safe, and shop local!