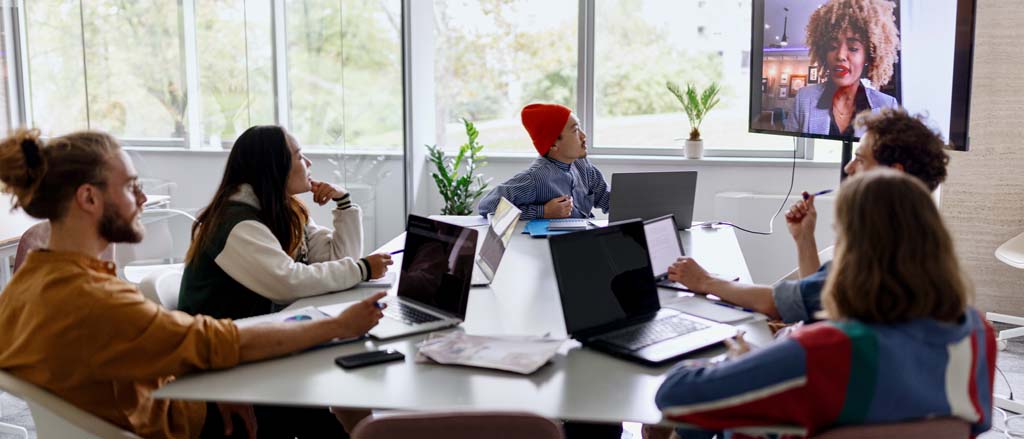 Want to hire (and keep!) the best team? Put flexibility at the forefront
Jan 13, 2023
Innovation Payworks
No matter the size of your team, "flexibility" is on their minds when it comes to work.
A key offering to attract new employees in a competitive market, flexibility doesn't just mean a mix of on-site and work-from-home days; it also includes the ability to apply for remote roles in any location, from their hometown to… well, basically anywhere else!
Of course, this can prove challenging for business owners who've already got their hands full. Maria's in the office on Tuesdays, but not Wednesdays; Taylor's working in a different time zone from the rest of the team. Nicole took the day off but works from home, so nobody saw that she wasn't there to deal with that urgent project until it was too late.
Stressful, yes; unmanageable, no (we promise)! Payworks can help, with a full suite of solutions to keep your team connected - even when they're not under the same roof (or even in the same city). Here's how:
Make sure you've got the best crew in place
One of the major wins when it comes to remote work: you can now extend your search to superstars from all across Canada! Payworks' Human Resources and Applicant Tracking solutions do the heavy lifting for you, making it easy to remotely collaborate with managers, post to national job boards (and manage all postings from one spot), reach more candidates and fine-tune your search to find the perfect complement to your already-amazing team.
All HR info is centrally and digitally stored, so that no matter where they - or you! - happen to be working that day, you've got access to data and documents from onboarding through the entire employee life cycle. No more couriering paper to their current location or waiting until the next time your paths cross means fewer loose ends, and that you can officially check "grow the team" off your to-do list (and speaking of to-do lists, did we mention we've got automated hiring workflows and templates already set up for you as well?).
Bonus: once you hire them, their candidate information flows directly from Applicant Tracking to Human Resources, and then onwards to Payroll. What will you do with the time you save?
Empower them to help you by helping themselves
A big part of making flexible work a success for all parties is trust. You need to trust that they're giving their best, whether you've got in-person visibility into their work day or not; they need to trust that you're setting them up for success (and that you believe they can make it happen!).
One of the best ways to earn and maintain trust is by making communication simple and clear. With Employee Self Service, your team can enjoy:
Secure, 24/7 mobile access to all things Payroll (statements, tax forms and more)
The ability to accurately and flexibly (there's that word again!) clock in and track their time from anywhere, and to submit scheduling availability through Time Management
Easy submission of time off requests and visibility into vacation accrual balances in Absence Management
This not only means an end to fielding random "can I have next Thursday off?" texts and finding sticky note requests days too late because you were away from the office; information in each of these solutions flows through each other and onwards to Payroll, taking more tasks off your plate. You'll know where your team is when, and they'll appreciate not having to track you down.
Happy employees + happy leader = a win-win!
Keep an eye out for ways to keep them close
When it comes to employee retention, you can't address problems you don't know about! And those problems can be harder to spot - and get ahead of - if you're not all in the same space.
In addition to keeping the lines of communication open, you can also count on Workforce Analytics to provide visibility and make it easier than ever to identify potential issues through trends in employee absences, departures and more.
Feeling a little lost on how to address a thorny HR issue once you've discovered it? HR Advisory Services offers guidance, resources and unlimited expert advice to business owners and HR practitioners alike. They can also connect you with legal professionals, financial advisors and more to help you stay both compliant and confident in managing your team, no matter where they're located.


The best part: each of these solutions is supported by a dedicated, NPI-trained Client Service Representative (CSR). You've got better things to do than waiting on hold and re-explaining your story for the umpteenth time. That's why you'll be assigned a CSR who'll provide consistent, expert support.
If you're ready to put flexibility at the forefront for your team, our Sales team is ready to answer your questions - connect with them at sales@payworks.ca.