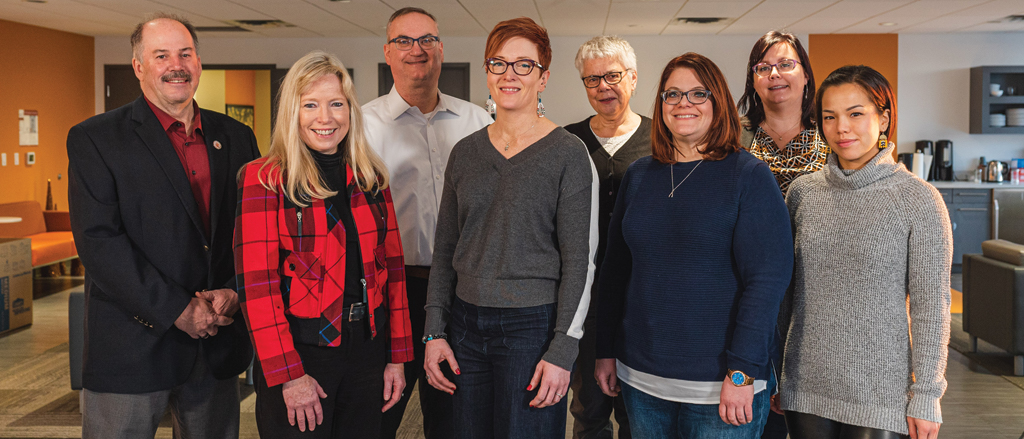 Building a more inclusive & equitable future: Truth & Reconciliation Commission Call to Action 92
Jun 16, 2020
Culture
--- Payworks
---
Photo above (left to right): Rob Read, Bison Fire Protection / Pam Sveinson, Winnipeg Poverty Reduction Council (WPRC) / Craig Goldstein, Birchwood Automotive / Nicole Stewart, Payworks / Erika Wiebe, WPRC / Marnie Jackson, Johnston Group / Sabrina Govier, Assiniboine Credit Union / Melissa Chung, WPRC. Missing: Alana Cuma, WPG Chamber of Commerce / Dave Angus, Johnston Group / Erin Sawatsky, Bison Transport / Jenna Buckley, Wawanesa / Kimberley Gray, Wawanesa / Kristin Tooth, Bankof Montreal.
In 2009, the Truth and Reconciliation Commission of Canada "began a multi-year process to listen to Survivors, communities and others affected by the Residential School system." In 2015, the TRC released several reports providing an unvarnished look at true Canadian history and 94 clear Calls to Action (CTA) for the future.
CTA #92 tasks Canada's corporate sector with several responsibilities around engaging, supporting and learning from Indigenous Canadians. As a business leader – and particularly as one headquartered in Winnipeg, home to the highest percentage Indigenous population of any major city in Canada – Payworks is committed to responding to the call.
We will face head-on the harms and mistakes of the past and acknowledge their multi-generational impacts; we will provide a platform for Indigenous voices and listen with open hearts and minds to what they choose to share; we will take action to build a more inclusive and equitable future.
Nicole Stewart, Payworks' Vice President of Human Resources, is playing a significant role in leading Payworks through our first steps in this process. Nicole is making connections with other corporate leaders here in Winnipeg, who in 2018 together formed an Employer Consortium through the Winnipeg Poverty Reduction Council (WPRC) that meets regularly to share ideas, best practices, encouragement and accountability in moving CTA #92 forward.
In addition to Nicole representing Payworks, the consortium includes representatives from Assiniboine Credit Union, BMO Bank of Montreal, Bison Fire Protection, Bison Transport, Birchwood Automotive Group, Johnston Group, Wawanesa Insurance, the Winnipeg Chamber of Commerce and the WPRC.
Payworks was pleased to host the consortium's December 2019 gathering, where the group focused on sharing our workplace progress on CTA #92 in a round table format and strategizing on methods of engagement for new employers, by either joining the existing group or forming a new consortium.
"Each time this group meets, I'm filled with a strong sense of hope for the future," Nicole shares. "I'm always impressed by the seemingly simple actions that contributors around the table have taken that can create a powerful impact. We commit a piece of our agenda to learning each time we meet, and our December meeting was no exception; in this case, we learned about land-based programs for Indigenous youth on Gitxsan territory in northwest British Columbia."
In the United Way Winnipeg and WPRC's Journey Toward Truth and Reconciliation: A Business Story video, consortium member and Johnston Group President Dave Angus speaks to the structure and value of the consortium in responding to CTA #92.
"One of the reasons we like the consortium model is that it's scalable," he explains. "The vision is to have a multitude of consortiums, of companies coming together, to learn together and to go through a journey together to provide opportunities for Indigenous youth."

He goes on to say, "the Truth and Reconciliation report and process is a gift to Canadians. As we look back on the release of that report, I think we'll look back at a real turning point for our country. So it's now our responsibility to be able to respond to the report in a demonstrated way, to be able to create this new relationship with Indigenous people based on respect and understanding. I've been given a gift to be part of this initiative. I've learned a lot through the process, and what I've learned most is that there is a will within the employer community but there's a real will in the Indigenous community as well to create the relationships that are necessary. I feel so privileged to be part of this."
Nicole and two other members of the consortium took the stage at CPHR Manitoba's 2019 Conference to lead a session on "Taking Action on Truth and Reconciliation: Essentials for an Impactful Indigenous HR Strategy" in front of a large gathering of Human Resources professionals.
"CPHR Manitoba is focused on providing resources and training on timely and relevant topics in the field of Human Resources," said Laura Haines-Morrisette, Director of Marketing, Partnerships and Membership for CPHR Manitoba. "Our conference is an opportunity to engage HR professionals in sharing best practices, and this session was included because it showcased how bringing people together allowed participants to work together to identify challenges, co-create innovative solutions, and implement systemic change that will support increased Indigenous employment in Winnipeg."
Part of Payworks' commitment to both CTA #92 and our team is to provide opportunities for development and education. Last year at this time (in the days before social distancing and remote work), Payworks held a week of events and workshops in recognition of National Indigenous Peoples Day. Our staff has also had the opportunity to participate in several blanket exercises, described by KAIROS Canada as "cover[ing] more than 500 years in a 90-minute experiential workshop that aims to foster understanding about our shared history as Indigenous and non-Indigenous peoples." As pandemic-related gathering restrictions eventually lift, Payworks looks forward to planning more events like this for our staff.
In a 2017 conversation sponsored by the Mosaic Institute and CBC, Senator Murray Sinclair shared, "We need to think of each other in a different way. We need to treat each other better than we do now. And we need to address racism. We need to do it in a way that's forceful to say this is not a country that's going to continue that past anymore."
"At this point, I'm immensely proud of how far we've come as a consortium and the level of education we've achieved," says Nicole. "The more we understand, collaborate and come together on this journey, the better prepared we'll be to take actions that will have the most significant positive impact."