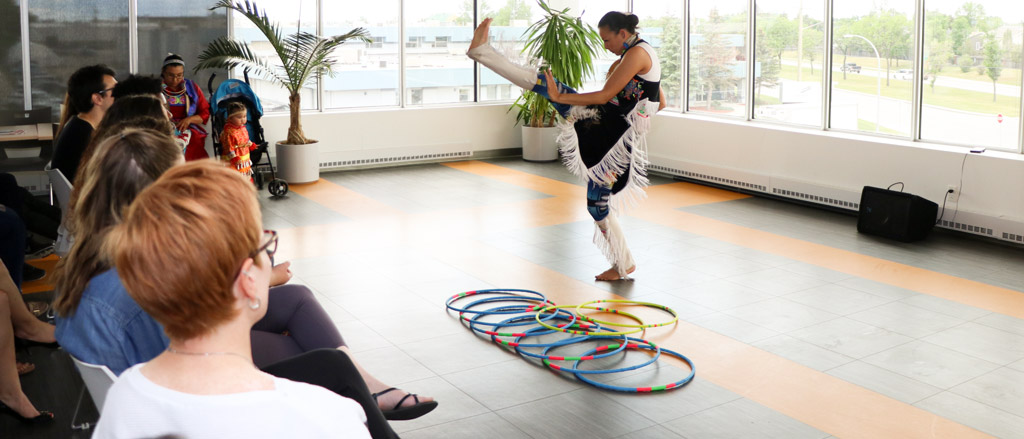 Celebrating National Indigenous Peoples Day
Jun 28, 2019
Culture
--- Payworks
---
From June 17-21, Payworks celebrated National Indigenous Peoples Day to recognize and celebrate the unique heritage, diverse cultures and outstanding contributions of First Nations, Inuit, and Métis Peoples. Celebrated on the Summer Solstice (June 21), Payworks employees participated in events and workshops all week long that explored Indigenous culture and examined the relationship between Indigenous and non-Indigenous peoples of Canada.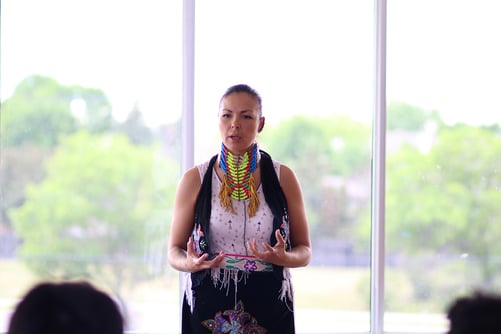 "I feel fortunate to work for an organization that has taken Truth and Reconciliation Commission call to action 92 to heart. For last year's National Indigenous Peoples Day, we brought bannock in for staff to enjoy. This year, we took it one step further and organized a full week of activities, which only seemed fitting since June is actually National Indigenous History Month," said Business Analyst Dee dela Cruz, who was one of the people at Payworks who helped organize National Indigenous Peoples Day activities. "It was wonderful to see staff participating and enjoying the various activities. It's another great example of the great workplace we have here at Payworks."
Learning and Development Specialist, Trina Huntley echoed Dee's comments.
"I'm grateful to be working for an organization that recognizes and wants to celebrate the unique heritage, diverse culture and outstanding contributions of our First Nations, Inuit and Métis peoples," said Trina.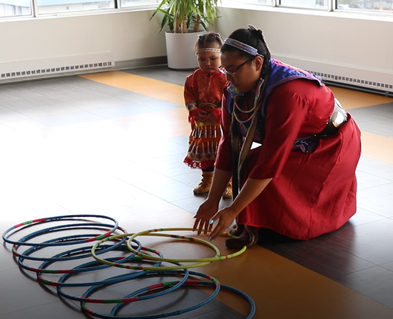 Activities kicked off with a performance of Indigenous Dance. The Aboriginal School of Dance shared traditions and knowledge while illustrating "the idea that there is a warrior inside all of us", as stated by the school. Rich with meaning, the dance included a depiction of the importance of bravery, self-discovery and the celebration of one's power. Employees were struck by the beauty and story recounted throughout the performance and its imagery, as an Eagle Dance, Jingle Dance and Hoop Dance were showcased.
"I loved watching the show put on by the Aboriginal School of Dance and the story they told through their dance. Watching the little one, who was not even two-years-old, participate in traditional dance was also amazing. It was both beautiful and inspiring," said Dee.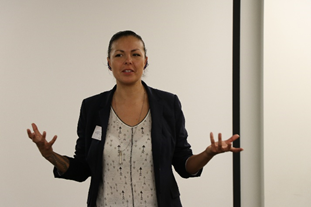 Founder of the Aboriginal School of Dance, Buffy Handel, led a 60-minute storytelling workshop Monday afternoon after the Indigenous Dance. Buffy captivated the audience as she shared her wisdom and experience with the group.
The following day, Payworks employees had the opportunity to learn the basics of Hoop Dancing in an interactive 60-minute workshop. Participants were encouraged to practice elemental moves, being given a hoop to embellish their strengths and develop a greater understanding of the tradition through this interactive medium. While our staff was learning and practicing with one hoop, dancers traditionally use upwards of 12 or more. Payworks staff did not lose sight of the intensity and coordination required to accomplish the Hoop Dances, as they learned from their instructor who's been practicing the art for nine years.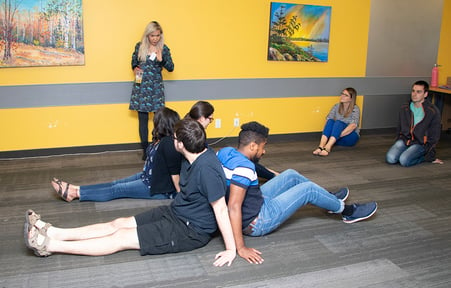 Mid-week meant it was time to learn about Inuit Games, instructed by Kelly Fraser from Sanikiluaq, Nunavut. Kelly explained the importance of the traditional activities, their purpose in recreation, the unified collaboration for increased strength, and to display and exhibit one's abilities. Through an interactive experience Payworks employees watched and participated in arm pulls, balance games, knee jumps, the woman and man airplane, the one-foot high kick and the muskox push. The competitive atmosphere interwove with a collaborative and supportive environment, as participants cheered on one another throughout the various games. Marking the first introduction to these games for many, all participants were eager to take part.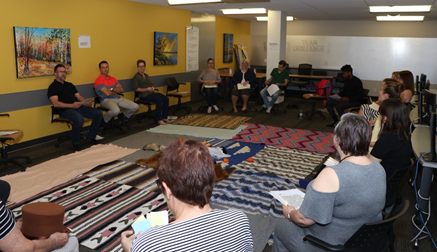 On Thursday Payworks employees had the opportunity to embark on a journey of healing and reconciliation through The KAIROS Blanket Exercise. This two-hour workshop explored the history and examined the relationship between Indigenous and non-Indigenous peoples of Canada. Participants were guided through this experience alongside educators and Indigenous Elder Betty. The workshop delved into the shared history of Indigenous and non-Indigenous peoples, with the aim to foster understanding and increase awareness and education as a step towards reconciliation, as is disclosed on KAIROS website.
The demeanor around the circle changed as the exercise progressed, with participants noticeably affected by the learnings and history. The exercise proved emotional and impactful, as participants gathered and shared their thoughts within the circle.
"I was humbled to be in the presence of Elder Betty – to not only learn about her experiences, but to be included as part of her healing journey. As a first-generation born Canadian I have benefited from a roof over my head, affordable food on the table, access to running water, and doctors when I've been ill. And yet, the same cannot be said for our Indigenous population. What has resonated with me is that I must not take for granted what has been afforded to me. I must educate myself about the wrong-doings of the past and present and do what I can to better the future," said Dee.
Trina explained that by literally walking through points of history, including pre-contract, treaty-making, colonization and resistance, that she now has better awareness and an empathetic view regarding the truth of Canada's history.
"What I learned through this exercise is not what I thought I knew," she said. "In the beginning I felt ignorance and shame that I was born in a country that didn't do a very good job of educating our citizens on what has been and still is happening in our own back-yard. A significant moment for me was listening to stories from the Elder that co-facilitated the Blanket Exercise. She is a residential school survivor and I appreciated her truth and elegance when sharing her impactful stories with our group. The Blanket Exercise was an awakening experience for me."
Another staff member who was deeply impacted by participating in the Blanket Exercise was Quality Assurance Analyst Maria Polishchuk.
"The Exercise has exposed me to issues that I had little to no knowledge of," said Maria. "Learning about the injustices that occurred during my lifetime and are still happening today left me with a heavy heart and a commitment to better understand the true history of indigenous peoples."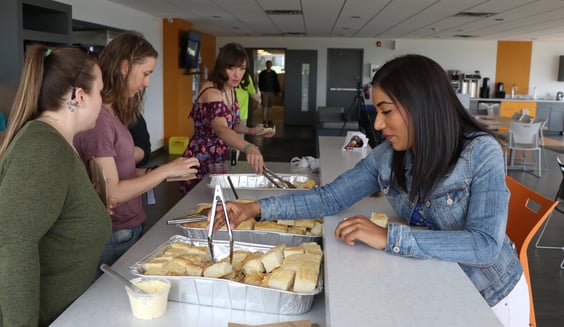 The final day of activities was June 21, National Indigenous Peoples Day, which also marked the day of the Summer Solstice. Payworks celebrated by treating employees with bannock and frybread from Feast Cafe, an establishment bringing a modernized twist to traditional First Nations food. This was an excellent way to conclude a week of celebrations, with staff gathering in the lunchroom and sharing a traditional dish.