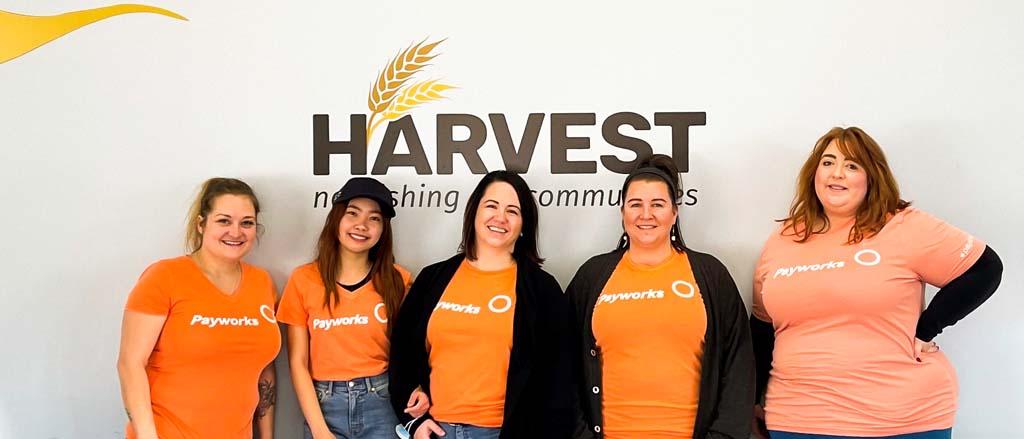 Sharing the gift of time: PIF Day dispatches from our team
Apr 22, 2023
Pay It Forward Payworks
While each of our lives and circumstances are different, if there's one thing almost all of us wish we had more of, it's definitely time!
And when a resource is that scarce, it's all the more impressive and heartwarming when someone chooses to give some of it away - a choice that hundreds of Payworks employees have made with smiles on their faces since the day we opened our doors, and particularly since the 2015 inception of our Pay it Forward (PIF) Day program.
This week was National Volunteer Week, and Global #PayItForward Day is right around the corner on Friday, April 28. Today (and every day!) we extend all of the high fives and gratitude to each of our staff for making our communities a better place.
Here are just a few recent PIF Day stories to warm your heart (and maybe even inspire you to give back as well)!
Providing disaster relief with GlobalMedic
For over 20 years, GlobalMedic has "striven to innovate and evolve, always keeping the goal of delivering the right aid to the right people at the right time at the forefront of our minds." Through GlobalMedic, professional emergency workers are supported by volunteers like Payworks' own Sharon Ramnarace and Victoria Irwin in providing "disaster relief and life-saving humanitarian aid."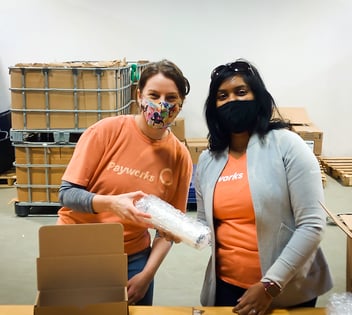 Photo: Victoria (left) and Sharon (right) packing Rainfresh water filtration systems at GlobalMedic's Etobicoke, ON headquarters
If this sounds familiar to you - you've got a great memory! Victoria is a longtime GlobalMedic supporter, who returned to their Etobicoke, ON headquarters in early 2023 with fellow Implementation Specialist Sharon in tow to make an impact together.
Sharon and Victoria spent two half-days at GlobalMedic. Their first visit was spent "weighing, sealing and packaging over 500 packages of chickpeas" for GlobalMedic's domestic food program, which helps provide nutritious meals to food-insecure Canadians.
The second half-day was spent packing Rainfresh ceramic water filters and accessories, which help GlobalMedic deliver community water purification systems to hospitals, schools and shelters all over the world.
"Overall, this was a wonderful experience," says Sharon. "We look forward to volunteering with GlobalMedic in the future to hopefully get exposed to more of the programs they offer to help people across the globe."
Supporting some of Manitoba's brightest stars at the 2023 Canada Winter Games
From February 17 - March 7, 2023, Payworks Social Media and Content Specialist Amanda Lefley brought her prairie pride to the East Coast as a Team Manitoba volunteer for the 2023 Canada Winter Games - an event that "brings together 3,600 athletes, managers and coaches, across 20 different sports, for the largest multi-sport event in the country."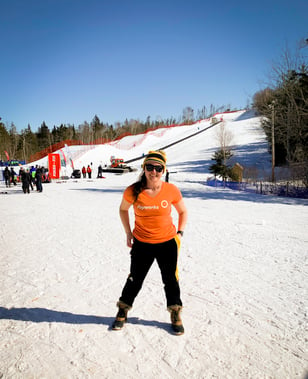 Photo: On behalf of Team Manitoba, Amanda brought her natural prairie immunity to the cold to the East Coast for the 2023 Canada Winter Games
Using a mix of vacation time, personal days and her two PIF days, Amanda brought her unique skills to the Games, volunteering to run their social media accounts throughout the event to keep families, friends and fans back home in the loop.
"For the duration of the Games, I captured video and photo content to post on Team Manitoba's Facebook, Twitter, Instagram and TikTok channels," says Amanda. "Over the course of 19 days, I attended 17 sports in-person to interview athletes and take photos and videos of competition - often from some of the best seats in the house!"
While hearing the Canadian anthem during the opening and closing ceremonies and seeing some sports in-person for the first time ever were highlights for Amanda, sharing in the joy of athletes after they won their medals was particularly special. "And this exceptional experience was made even better by the group of volunteers I worked alongside," she adds. "I met a lot of new people that were such a supportive bunch and made the experience all the more special for everyone."
Helping feed our community with Harvest Manitoba
Time and time again, Payworks team members are drawn to share their time and talents with Harvest Manitoba. Given Harvest Manitoba's commitment to collect and share 12 million pounds of food each year with more than 90,000 Manitobans via 360 food banks and agencies in every region of the province, it's not difficult to see why!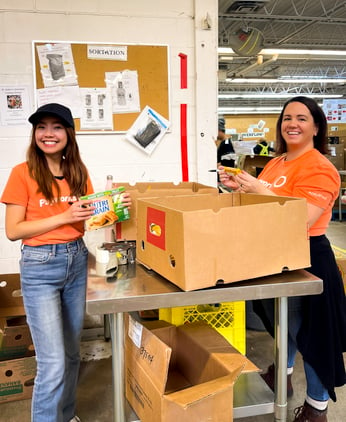 Photo: Ruth (left) and Shannon (right) ensuring all food is sorted properly
In late 2022, several members of our Implementation team spent a PIF Day helping to sort and package food donations - an experience they collectively described as "amazing!!" after the day was done.
"It was such a great experience, and so very humbling to learn about the stats in our province when it comes to food banks and those in need," they share. "The staff was excellent, and so kind. We love that the company we work for allows this opportunity for its employees!"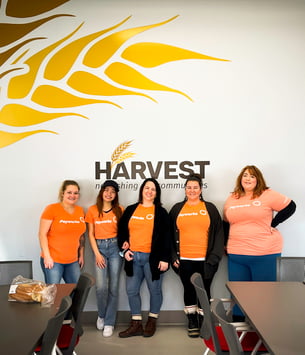 Photo: These five members of our Implementation team described their PIF Day experience as "amazing!!".