Members of Development Department shine as Harvest Stars
Mar 05, 2022
Pay It Forward Payworks
This past November, thirteen members of Payworks' Development department became Harvest Manitoba stars by spending their Pay it Forward (PIF) Day volunteering at the organization (formerly known as Winnipeg Harvest).
As the fourth-largest food distributor of its kind in Canada, Harvest Manitoba collects and shares 11 million pounds of healthy and nutritious food with hungry Manitobans each year, but couldn't do so without the support of community volunteers.
"I wanted my PIF time to be as valuable as possible and have heard so many good things about Harvest Manitoba, and knew of the presence and impact they make on our local communities," said Manager, Quality Assurance Chris Robinson when asked what motivated him to give back to this organization. "It was wonderful to see the impact that we can make in our communities with just a few hours of volunteer work. It left me feeling more positive about life and the direction that the world is heading. I definitely plan to go back."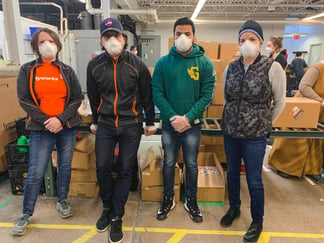 The Payworks squad rolled up their sleeves to help with numerous aspects of receiving, organizing and sorting food donations at Harvest Manitoba. Software Developer Matt Smidt explained that there was lots to do, as Harvest Manitoba was stretched particularly thin at that time due to a growing number of food bank users.
"The experience showed me how important this service is to the community and how much of a need there is for it," said Matt. "Just a couple hours of your time can help out an organization like this. The staff members there were very upbeat and awesome to work with. It was also great to see some of my coworkers in-person again and work alongside them in a different environment that allowed us to give back to the community. The experience was great and I want to go back again in the future."
Software Developer Tina Hernando - for whom this was her first-ever PIF Day! - echoed Matt's sentiments.
"The highlight for me was seeing the facility and meeting all of the workers and volunteers in their element," said Tina. "I've seen Harvest Manitoba's logo on different collection bins, and it seemed like a great place to do my first PIF Day. I was tasked with checking donations for quality – mostly large dents and expiry dates – for all the food that other volunteers would later sort. It's great to know how easy it is to sign up and volunteer at Harvest Manitoba – they always welcome volunteers."
Not only did the Payworks squad roll up their sleeves to help with food donations at Harvest Manitoba's warehouse; they were also on site when a CBC crew arrived to film some interviews for a news story. Learn more about Harvest Manitoba and see if you can spot some of Payworks' Harvest Stars by watching the video here: https://www.cbc.ca/news/canada/manitoba/manitoba-harvest-food-bank-report-1.6267507.
"We saw how Harvest Manitoba manages the food bank and we were able to contribute with the sorting and organization of the food items," said Quality Assurance Analyst Amarjeet Sharma. "It always feels great to give back to the community, and the day was great."