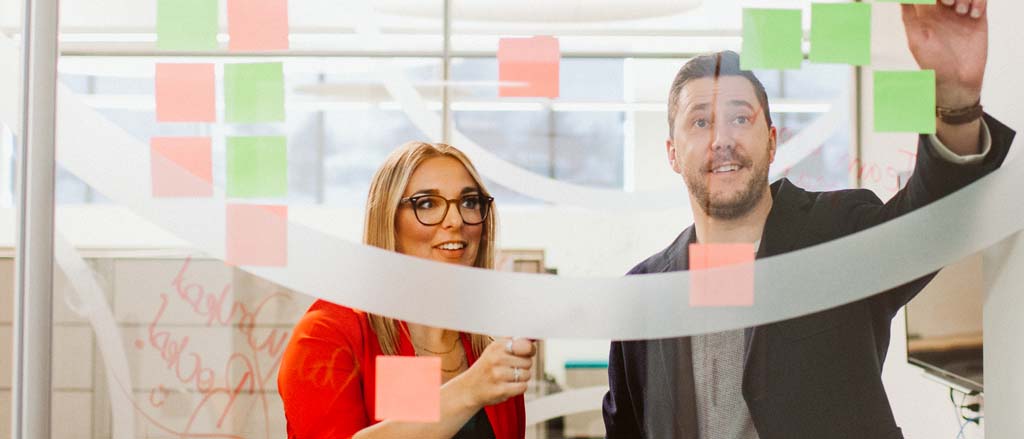 Human-centric leadership: what is it, why it matters, and how to take action
Oct 16, 2023
Resources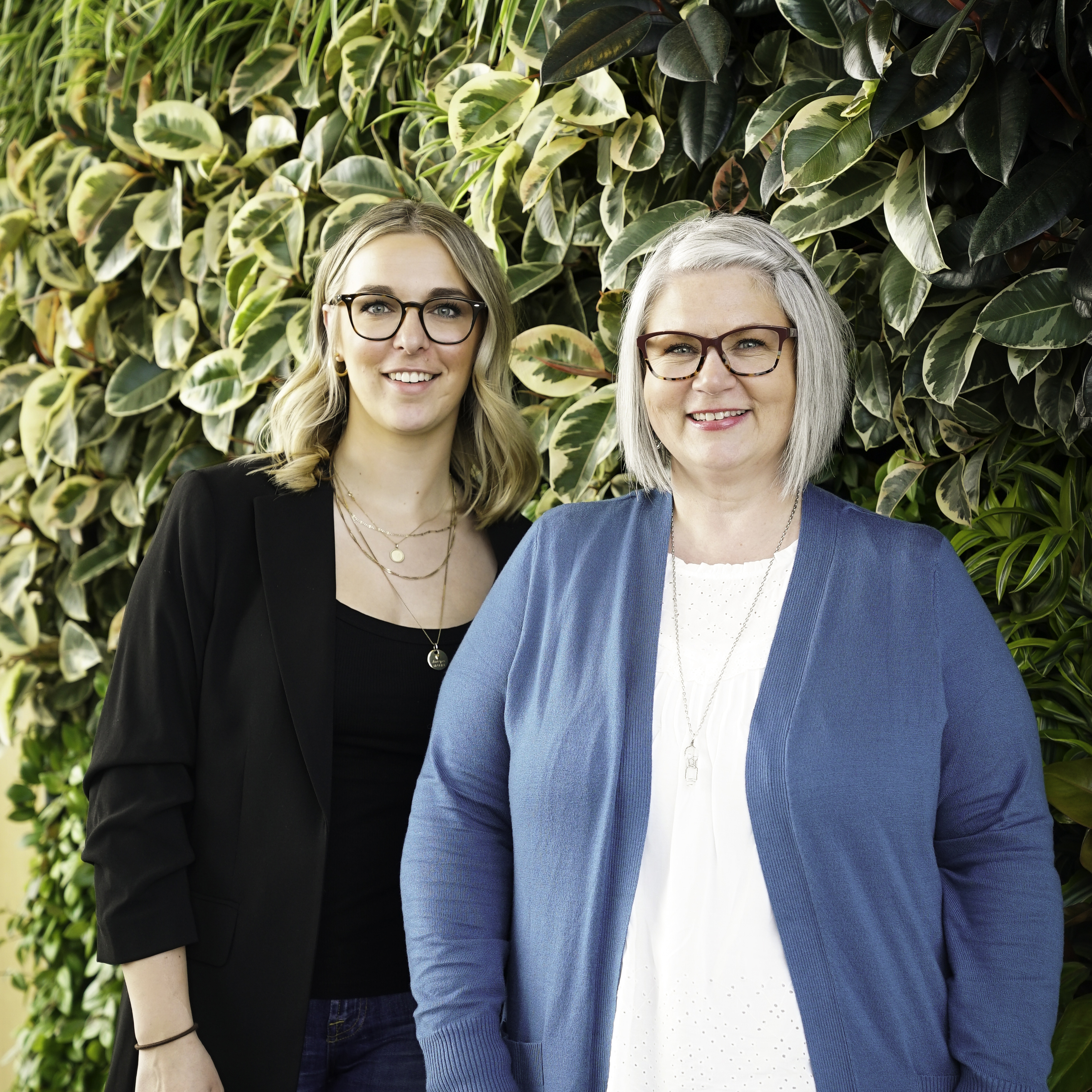 Trina Huntley and Maddison Kowalczuk
Payworks Learning and Development Team As members of our Human Resources team, Trina and Maddison have played pivotal roles in the development and implementation of our Learning and Development strategy. Trina has dedicated her career towards formalizing guidance and support around learning, development and coaching that grows employee engagement and performance. Maddison specializes in making meaningful connections with clients and staff, and is energized by guiding and witnessing their learning.
Trina et Maddison, membres de l'équipe de l'apprentissage et du développement de Payworks, ont joué des rôles centraux dans l'élaboration et la mise en place de notre stratégie d'apprentissage et de développement. Trina a consacré sa carrière à la concrétisation de l'orientation et du soutien en matière d'apprentissage, de développement et d'accompagnement, afin d'accroître l'engagement et les performances des employés. Maddison est spécialisée dans la création de liens significatifs avec la clientèle et le personnel. Elle se sent comblée de pouvoir guider leurs apprentissages et constater leurs progrès.
Today's leadership climate is one of incredible transformation – business activities are becoming automated, the gig economy and virtual marketplaces are becoming the new standard, and corporate social responsibility is a market expectation, not an option. Leaders are at the forefront of this change through how they choose to show up for their organizations and their teams.
With that in mind, let's explore the key attributes required to become an effective leader in today's fast-changing business environment - otherwise known as human-centric leadership.
What's human-centric leadership…
Human-centric leadership is a management style where people are the priority. Essentially, it's about putting people first and treating humans as – well – humans. This means recognizing both their struggles and contributions, holding space for gratitude and flexibility, and making these practices a part of the overall company culture.
It's important to understand what human-centric leadership means because historically, there's been a popular notion that people should – at all costs – separate their personal lives from their professional lives. The problem with that type of management style is that it doesn't account for the fact that we are one single human and emotions aren't on a switch. Life is full of complexities, and it's inevitable that parts of our personal lives will bleed into our professional lives, and vice versa. This is especially true now, and how could it not be, when for many people our homes are also our offices!
A recent Gartner, Inc. survey of more than 230 Human Resources (HR) leaders discovered that 90% of respondents believe that, to succeed in today's work environment, leaders must focus on the human aspects of leadership. However, another Gartner survey of nearly 3,400 employees found that only 29% reported their leader as a human-centric leader.
"A leader is anyone who takes responsibility for finding the potential in people and processes and has the courage to develop that potential. Leadership is not about titles or the corner office. It's about the willingness to step up, put yourself out there, and lean into courage." – Brené Brown, Dare to Lead.
According to Gartner research, human-centric leadership is comprised of three key components:
Authenticity: Leading authentically means acting with purpose and enabling true self-expression for both leaders and your team. Create a safe environment for others and be yourself! Human-centered leaders' words are backed up by their actions, and they care about their team's wellbeing, both personal and professional.
Empathy: Listen to others' perspectives, account for your own bias and privilege, and reflect on the life circumstances of your employees. Express care and concern, and take concrete actions to improve the employee experience. It's about showing genuine care, respect, and concern for employees' overall wellbeing.
Adaptability: Understand that "one size fits all" is a myth! Ensure that members of your team get the support that fits their unique needs and empower them to feel heard.
… and what are the benefits?
Gartner reported that new employee expectations are impacting employee retention and attraction, indicated by the fact that 82% of employees surveyed said that it's important for their organization to see them as a person, not just an employee. Gartner's research also found a 37% increase in the number of employees reporting high engagement who report to a human-centric leader compared to those who do not consider their leader to be human-centric. That means organizations who have human-centric leadership will have teams with less turnover, higher engagement scores, and a better well-being.
Although these qualities may have been important for good leadership in the past, in today's market they're non-negotiable… particularly when competing for new talent.
The role of a leader
Leaders play a critical role in fostering a human-centric culture within their organization. They set the tone for entire teams through their actions, behaviors, and values. To build trust and loyalty, and in turn improve engagement and productivity, leaders have to prioritize the needs and well-being of their people. The alternative can be an atmosphere of fear and mistrust, which can lower morale, cause high turnover rates, and decrease productivity. After all, we've likely all heard the common saying "you don't quit jobs, you quit bosses."
Great leaders can tap into many powerful values to guide their decisions and lives. Key values that drive effective leadership include integrity, authenticity, trust, empathy, humility, and many more.
Historically, there's been an unfortunate pattern of wearing "burnout" as a badge of honour and of glamorizing being overworked. Leaders can combat this by being a good role model in self-care, and recognizing when their team members may also be struggling to prioritize a healthy work/life balance. This means understanding what people want and what they need to show up as their best selves by truly listening to employees and viewing them as a whole person, rather than just a worker.
To become an optimally effective leader, it's also critical to embrace:
Self-awareness: Recognize your strengths and areas of opportunity. Be vulnerable and honest, and show up as your authentic self. By connecting with your emotions and feelings, you'll be able to communicate your feelings to your team, regardless of whether those feelings are positive or negative in nature.
A growth mindset: Maintain a desire for knowledge and embrace learning for continuous development.
Continuous learning: Stay current with industry trends and emerging technologies, and ensure your leadership approach remains relevant. Human-centred leaders understand that learning is constant, intentional, and strategic.
Feedback: Embrace opportunities for self-reflection and growth, and in doing so lead a culture of continuous improvement. Human-centered leaders love feedback – constantly ask for feedback to improve, and give constructive feedback that allows people to develop and grow. And don't forget to thank and acknowledge!
How to put human-centric leadership into action
Putting human-centric leadership into action can be summarized in three steps – but the actions within are on a grand scale!
Engage in meaningful conversations with others: This helps others reach towards their optimal performance in a way that builds trust and enhances working relationships. Recognize that each person has unique life experiences, prior knowledge, and personal perspectives – which all contribute to their motivations. If you're able to uncover and connect with what's meaningful for each team member, you can identify and tune into those key motivators. That cultivates, supports, and sustains a higher level of engagement by making meaningful connections between motivators and tasks.
Nurture a positive environment: When people feel valued, like they have a purpose, that they share common goals with others, and that they're in a safe environment, they're usually doing their best. That also contributes to being motivated, engaged, and performing optimally. A great way to provide feedback that helps nurture this type of atmosphere is to not only thank employees for their contributions, but also to let them know why it matters and what impact/value it brings to the organization.
Understand situations from other people's perspectives: Observe and ask questions to uncover the true meaning behind behaviours, and make sure to recognize the absence of understanding. Good leaders don't assume they know everything or create a false narrative. Ultimately, people want to be heard, feel understood and cared for, and to be taken seriously.
Leadership is also about looking inward or "internal self-awareness," which is all about how well someone can control and manage their own inward emotions. One of the ways to do that is through emotional regulation: the ability to take a step back and a deep breath, and to process your emotions before reacting to them. This is especially important for leaders in the workplace, as it can help to improve engagement and productivity by recognizing how they and their team members are both feeling, communicating effectively, and coming to faster resolutions to conflicts. A great resource for those who want to explore more about emotional regulation is "The Language of Emotions" by Kara McLaren, which explores what your feelings are trying to tell you, and Brené Brown's "Atlas of the Heart" which explores 87 emotions and experiences that define what it means to be human.
Whether you're a leader who's mentoring someone in the early stages of their career or you're wanting to support your colleagues in new ways, it's essential to challenge yourself to continually find new opportunities to provide human-centric leadership. To start, recognize and embrace the full humanity of the people around you! Celebrate empathy and foster trust within your working relationships and among your team by approaching conversations with humility. And remember to stay agile: the world of work is changing rapidly, and leaders play a pivotal role in keeping up.
Enjoyed these insights from our talented team? Subscribe to theWorks to get more HR insights delivered straight to your inbox: https://www.payworks.ca/landing-pages/campaigns/subscribe-to-theworks-blog.