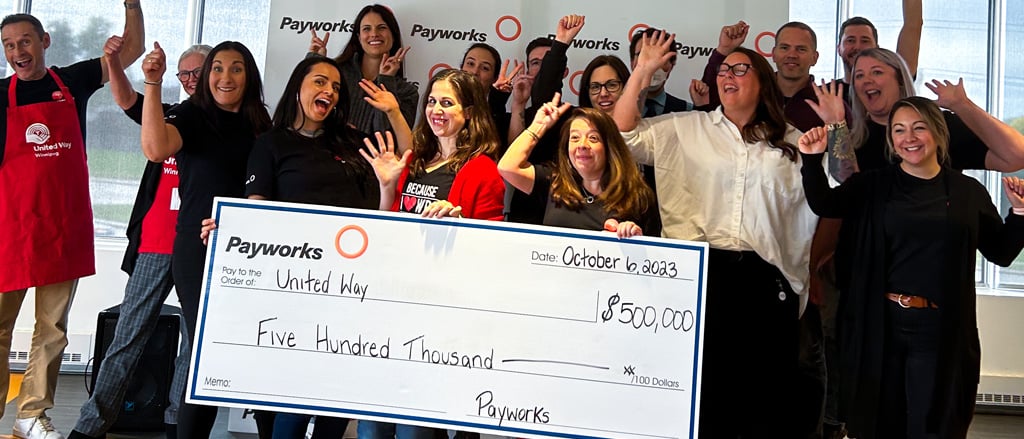 Half a million reasons to smile: we raised $500K for United Way
Nov 03, 2023
Culture Payworks
Payworks' national United Way Workplace Campaign reached new heights and an incredibly significant milestone this year! We're thrilled to announce that our employees from coast to coast donated an astounding total of $500,000.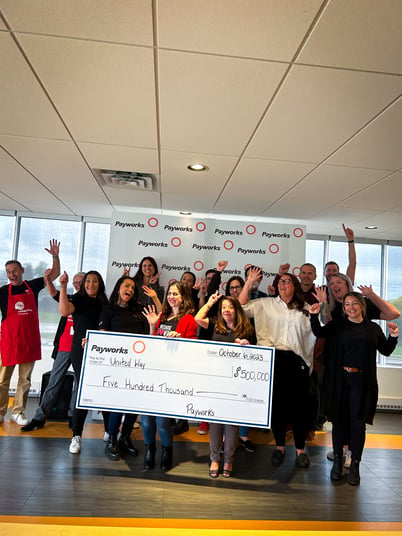 Photo: Payworks' employee-led United Way Workplace Campaign committee had a lot to celebrate this year.
"It's honestly almost unbelievable," said Payworks' United Way Employee Committee Co-Chair Leanne Jones. "The response to the campaign this year just blew me away! There were so many highlights to choose from that showed our collective spirit across the country. All I can do is be thankful. The support provided by United Way is really there for anyone who needs it, and we never know when in our life we'll be that person in need."
The total funds raised are dispersed to local United Way organizations from British Columbia to Nova Scotia – supporting the same communities where our employees live and work. The Payworks United Way Workplace Campaign's grand total of $500,000 includes the funds raised through our campaign efforts in all our offices across Canada, in addition to the company corporate match of up to $5,000 per employee.
"My main highlight was the participation percentages of our workplace campaign," said Payworks' United Way Employee Committee Co-Chair Kyle Desjardins. "We achieved 75% participation in Winnipeg and 66% in our regional offices and that is amazing. It really speaks to the people we have at Payworks. There are so many agencies and people tirelessly working every day to do as much as they can to help others, and they couldn't do that without these donations to support all of the various programs."
Payworks' 2023 company-wide campaign took place from September 11-22. Throughout that time, our teams gathered virtually and in-person to learn more about how United Way and United Way Agencies bring a positive impact and change in our communities.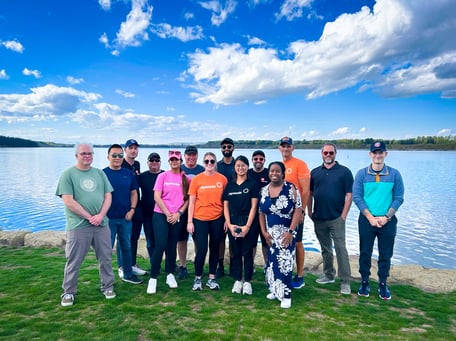 Photo: The Payworks team in Calgary enjoyed a picturesque walk during the 2023 Walk This Way event.
We started this year's campaign by participating in United Way Winnipeg's Walk This Way event. Payworks was one of the event's five sponsors committed to donating a total of $80,000 if the collective number of kilometers tracked reached or exceeded 150,000. Needless to say, there were some "big shoes to fill" to surpass that lofty goal! No surprises here - of course, the Payworks team banded together all across the country to contribute. Together, the Payworks team travelled an average distance of 45.52 kms and clocked a total of 8,916,899 steps.
"I love how this event keeps me and my family active – and the friendly competition with Johnston Group too," said Payworks' Vice President, Human Resources Jennifer Johnston. "It's such a great way to start off the United Way Campaign."
Yes, last year we began a friendly competition with our partners at Johnston Group: whichever team walked further would be treated by the other to a delicious lunch. We came out the victor in 2022. This year… well, competition was steep! We were proud of our results, but Johnston Group came out on top this year, which means it's our turn to host lunch. It was heartwarming to see our community contribute to the collective goal and surpassing that 150,000 km benchmark [insert cheering noise here!!].
Payworks also hosted an event at Investors Group Field's Pinnacle Club for our Head Office staff to learn more about the great work United Way Winnipeg does in our communities. We were honoured to meet Rhonda Elias-Penner, Executive Director from Thrive Community Support Circle and present them with a donation of $5,000 to help fund the free services and group programming, counselling and crisis support, thrift shop and childcare centre they provide to their community. We also heard from Michael Richardson, United Way Winnipeg's President and CEO and from Doug Pollard and Kristie Pearson, United Way Winnipeg's 2023 Campaign Co-Chairs.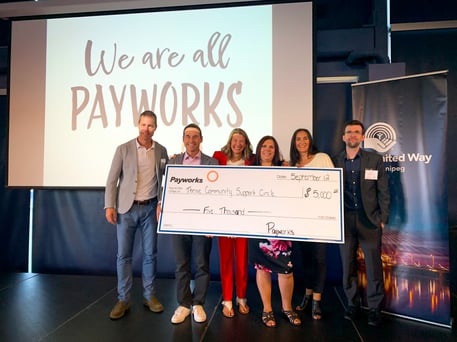 Photo: Payworks' President & CEO JP Perron and Payworks' United Way Employee Committee Co-Chairs Leanne Jones and Kyle Desjardins with Doug Pollard and Kristie Pearson, United Way Winnipeg's 2023 Campaign Co-Chairs, and Rhonda Elias-Penner, Executive Director of Thrive Community Support Circle.
There was no shortage of things to do and attend during the two weeks of our campaign. Our employees in offices from Victoria to Halifax experienced virtual Agency Tours and heard from Impact Speakers – some of the most powerful events that take place during our workplace campaign, according to our staff.
"It makes a difference in just being more informed and aware," said Jennifer. "The fact that we have so many people participate in these events, they learn more about the agencies and the impact their work has on people's lives."
There were also some fun games and tasty treats to be had (of course!). Five of our offices hosted United Way Workplace Campaign lunches. Our team in Winnipeg enjoyed an outdoor barbecue, while there was pizza lunch in Montréal and Toronto, deli catering in Calgary, and home-cooked brisket in BC.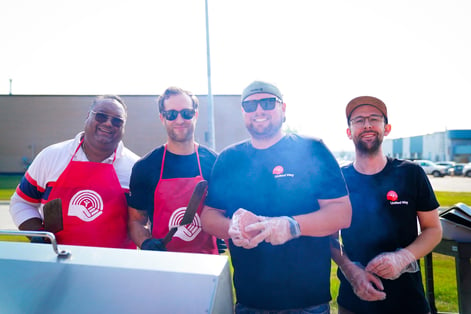 Photo: Members of Payworks' United Way Employee Committee cooking lunch on a barbeque at our Head Office.
We thank every member of the Payworks team for their generosity and commitment to their communities… and can't wait to see what we can do together next year!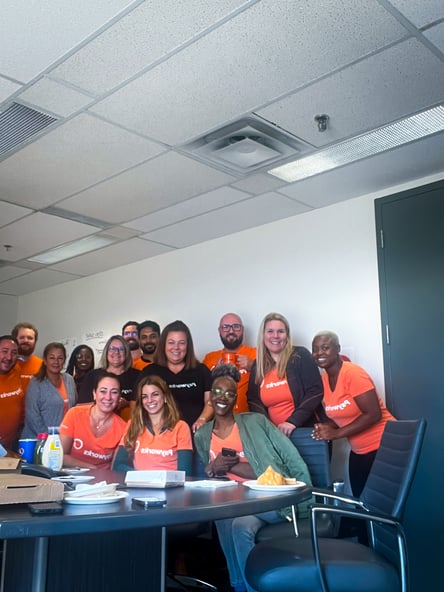 Photo: Members of our Montréal Team enjoying a pizza lunch.
"Since my first United Way campaign in 2016, I've always loved how much it shows that we're all on the same page in terms of understanding the importance of communities over individuals," said Kyle. "We have an excellent committee that comes together each year to plan, host, and follow-up on our events. The campaign really fills my emotional bucket so to speak, especially this year."
We concluded our National United Way Workplace Campaign on September 22, followed by the "big reveal" party on Friday, October 6. There were thoughtful speeches as we excitedly anticipated prize draws and sat at the edge of our seats waiting for the grand total announcement! Heading into the Canadian Thanksgiving long weekend, we had a lot to be thankful for – any time we reach a milestone like the one set by our 2023 campaign, it wouldn't be possible without each one of our employees who made the choice to offer support.
"I think I'm still blown away by the generosity of this company and our people," said Jennifer about the campaign reaching $500,000. "Not just by the financial number, but also for our participation increasing. The number of people who made a personal decision to give back to their communities is just another incredible reminder of how generous and community-minded our employees are."
But the United Way fun and celebration wasn't over just yet! We were invited by 17 Wing and DND alongside 12 other companies to participate in a United Way Plane Pull event. This was an "airlift" to the past, as the last time the Payworks team hit the tarmac in support of United Way was back in 2019. It was great to be back and we channeled all of the "Top Gun" energy that we could muster to pull both the Herc and Gonzo planes. Our team set no records, but a lot of fun was had!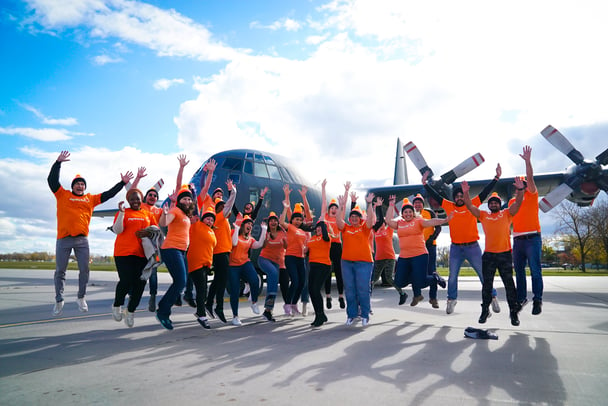 Photo: Payworks 2023 United Way Plane Pull team.
"All engagement makes an impact," says Leanne. "Whether that's a dollar donation, giving volunteer time, or listening to someone's story. Anything we take away from these engagements and pay forward in a conversation or retelling of a story makes an impact to the awareness of the need our communities have. Every conversation and action makes a difference."
To learn the ways in which Payworks and our team pays our good fortune forward, visit: https://www.payworks.ca/about-us/pay-it-forward.