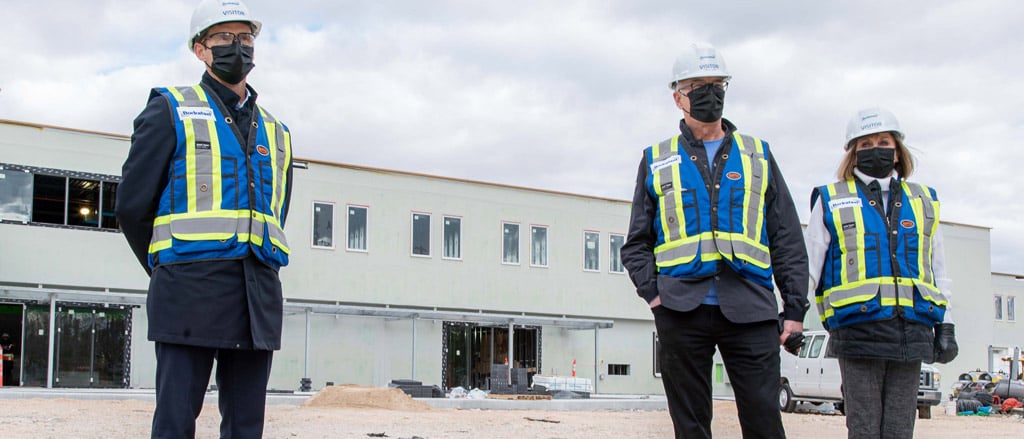 Cultivating hope together: Payworks announces 20th anniversary donation to Bruce Oake Recovery Centre
Oct 13, 2020
Culture Payworks
In celebration of our 20th anniversary – and more specifically, two decades of community support – Payworks is honoured to announce a series of donations to several highly-deserving and impactful Manitoba-based not-for-profit organizations, in addition to maintaining our ongoing national charitable partnerships. To learn more about this commitment, please click here!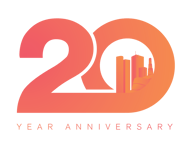 The statistics are bleak. Almost 15 percent of Manitobans are currently experiencing substance addiction. Wait times for treatment can be weeks or even months long, and substance abuse is linked to the deaths of a staggering 47,000 Canadians each year.
But in this darkness is growing a new light of hope: the Bruce Oake Recovery Centre, set to open its doors in May 2021. Developed in and dedicated to the memory of Bruce Oake, the Centre is busily preparing to operate as "a long-term, residential treatment centre for adult males suffering from drug and alcohol addiction."
Not only will the 32,000 sq. ft. Centre significantly reduce potentially-fatal treatment wait times by serving hundreds of residents each year; it's modeled after a Calgary-based recovery centre with a success rate of more than double the industry averages.
This registered not-for-profit has set out to raise $16 million in order to start changing lives, and Payworks is honoured to contribute $500,000 towards this goal as part of our 20th anniversary donations.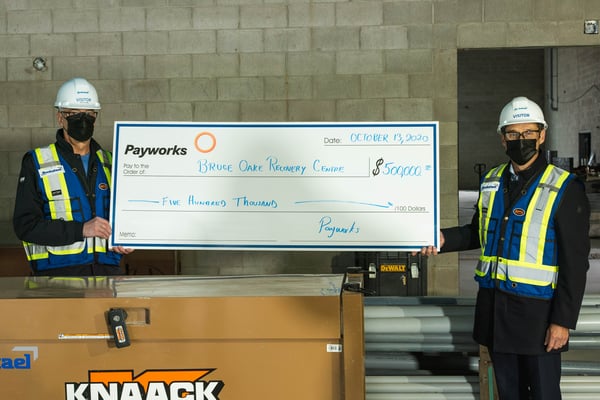 "This building would not even be under construction if not for kind, caring and compassionate corporate citizens like Payworks, which was the first major Manitoba company to come to the table when we kicked off our capital fundraising campaign," shared Bruce Oake Recovery Centre co-founder Scott Oake at the October 13, 2020 donation announcement. "There's an acute demand for services like what the Centre will provide and which are really the only way for addicts to get their sobriety and their lives back. The money and the commitment from Payworks really got our capital campaign started so we can begin the process of saving lives, and we shall be forever grateful for that."
As an organization, Payworks recognizes the incredible impact that can be made in an individual's life by cultivating a network of support. In keeping with these values, we're pleased to share that our donation to the Centre will be primarily leveraged to create the Residents' Lounge, a safe space for residents to connect and heal together.
Interior Designer Stephanie Champagne of MMP Architects shares that the Residents' Lounge has been designed to feel as welcoming as a living room at home.
"The space will be filled with natural light, cozy furniture and tables where residents can enjoy activities and conversations together," says Stephanie. "It's the opposite of institutional; it's going to be a warm, inviting and peaceful space where the residents can feel comfortable."
Riley Walz was a close friend of Bruce Oake who underscores the crucial importance of effective treatment for not only the residents, but also their broader circle of support – their families and friends.
"I'm truly grateful for the help that I got through treatment programs, and I think that other people should really understand… what it's like to lose somebody," says Riley. "People need places like this; people need these centres to get better, to get back to their families, and for their families to have them back and not have to lose a loved one."
While construction is still in progress, there's a buzz of energy on the job site as the build moves closer to completion.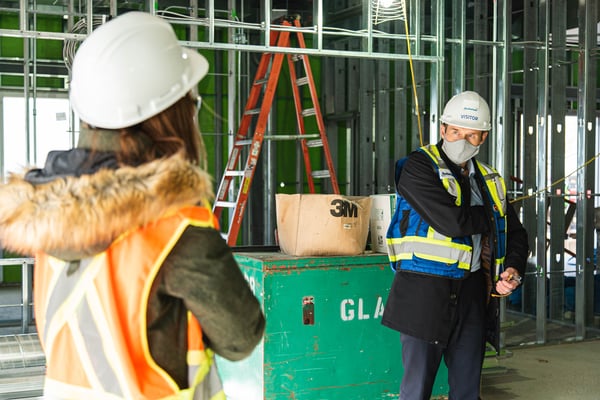 "The Bruce Oake Recovery Centre is going to save lives; there's no question in anybody's mind that that's going to happen," says Carmine Militano, Senior Vice President at project general contractor Bockstael. "It's going to make a real difference for the community at large and specifically for people who are among the most vulnerable in our population. There's a palpable energy on site where you'll see that everybody who's working on the site, they're invested. It's the spirit of stewardship."

"Part of our philosophy of giving back for our 20th anniversary meant looking broadly at the full spectrum of how we could really make a difference in society," says Payworks President and CEO JP Perron. "The impact of addiction extends much broader than just the individual, to friends and family and colleagues. For every single one of those whose lives are turned around as a result of this Centre, any contribution that each of us can offer is so worth it. Every little bit helps in making a difference."
To learn more about the Bruce Oake Recovery Centre or make a donation of your own, please visit bruceoakerecoverycentre.ca.