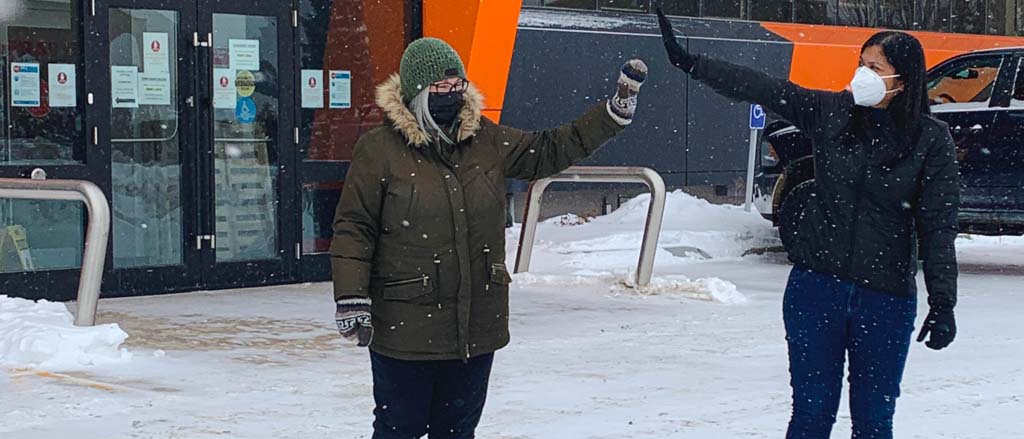 That's worth celebrating!
Feb 19, 2022
Culture Payworks
(L-R) Payworks Employee Campaign Co-Chairs Trina Huntley and Dee dela Cruz.
What a lovely way to start 2022 – celebrating unity and hope with United Way Winnipeg during their virtual Celebration evening on January 27, 2022.
United Way Winnipeg's annual citywide campaign raises stable funding for the critical work United Way agencies do in Winnipeg every day, and the total raised for 2021 was $20.7 million. Year after year, the Celebration is a heartwarming reflection on the past year and reminder of the dedicated, caring workplaces and individuals who've shown unwavering community spirit and compassion for our shared communities.
Payworks is honoured to have been recognized at this year's Celebration with both an Employee Campaign Chair (ECC) Award and the 2021 Campaign Chair's Award.
The ECC Award is given to ECCs for exceptional leadership in the planning and execution of workplace campaign activities.
"This was my first year as an ECC, and I'm humbled by the honour! I extend immense gratitude to my Co-Chair Dee (dela Cruz) for the guidance and leadership she afforded me pre-campaign, during our campaign and even after our wrap-up occurred," said Trina Huntley, Payworks Employee Campaign Co-Chair. "This has been a wonderful learning opportunity for me personally and I'm truly grateful to have been part of this journey with Dee by my side, and the support of our wonderful Payworks United Way Committee. I feel so connected to our community through United Way and it's a great honour to receive this award alongside Dee."
Photo courtesy of United Way Winnipeg.
This year marks Payworks' tenth time receiving the Campaign Chair's Award, having previously been awarded it in 2011 and each year from 2013-2020. This distinction recognizes strong campaign growth, leadership and commitment to United Way's vision. While we're humbled to receive these accolades, they're truly a testament to our people, who continue to amaze and inspire us with their driven purpose of "doing right by people".
"It's always an honour when Payworks receives this award," said Dee dela Cruz, Payworks Employee Campaign Co-Chair. "This year, we were one of four organizations to be presented with the award, and I think the fact that it's the tenth time we've received it is indicative of the strong commitment Payworks has for United Way. This award is for every single person at Payworks that has supported United Way – either through donation dollars, time, or talents, to help strengthen our communities."
This past year, this support primarily took the form of $400,757 in donations during our 2021 United Way Workplace Campaign. Last year was the second time Payworks hosted a completely virtual Campaign, spanning over two weeks and including several events planned and hosted by the 33 members of Payworks' employee-driven United Way Committee. To learn more about the 2021 Campaign, please click here: https://blog.payworks.ca/the-big-reveal-payworks-2021-united-way-workplace-campaign-results.
The Celebration evening itself has left us feeling inspired and energized as we enter the second month of 2022.
"The highlights for me were hearing stories of how individuals are impacted by the work that agency partners do day-in and day-out, much of which is made possible because of the support they received from United Way," explained Dee.

"The incredible outcome of $20.7 million being raised for our community – well done everyone!" exclaimed Trina. "Hearing the various organizations' successes and other workplace campaign award winners, I'm astonished by the generosity of others and the impact that the United Way continues to have in our community."