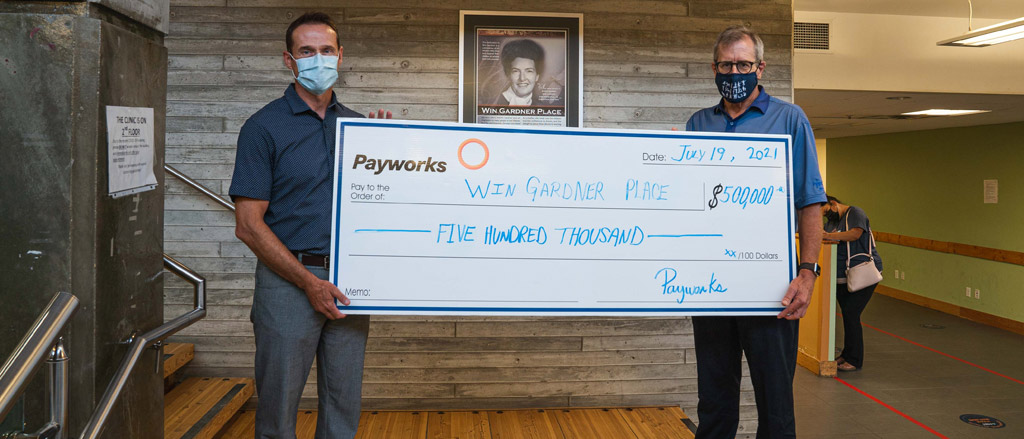 Streamlining access to community support: Win Gardner Place receives 20th anniversary donation
Aug 20, 2021
Culture Payworks
In celebration of our 20th anniversary – and more specifically, two decades of community support – Payworks is honoured to announce a series of donations to several highly-deserving and impactful Manitoba-based not-for-profit organizations, in addition to maintaining our ongoing national charitable partnerships. To learn more about this commitment, please click here!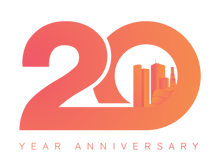 It's just as important for community organizations to make their services accessible as it is to make them available – in fact, it's often those who have the hardest time accessing resources that need them the most!
Thankfully, Win Gardner Place brings together four local community pillars – Ma Mawi Wi Chi Itata (MMW), YMCA-YWCA of Winnipeg, S.P.L.A.S.H. Child Care Inc., and the Winnipeg Regional Health Authority (WRHA) – under one welcoming roof in Winnipeg's North End.
This commitment to accessibility is just one of many reasons Payworks is proud to support Win Gardner Place with a $500,000 donation in recognition of our 20th anniversary.
Serving as "a beacon of hope, inspiration and opportunity for North End residents," Win Gardner Place is easily reached on foot or by bus and provides a unified hub for:
Adult, youth-only and family community drop-ins
Licensed infant and preschool-aged childcare, including an outdoor play yard
Walk-in health care, provided by Registered Nurses and Nurse Practitioners
A community commons kitchen and café
Family supplies – hot meals, Winnipeg Transit tickets, baby items and food kits for those in need
Workshops on money management, parenting and more
A skate park, indoor play structure, climbing wall and gym to keep youth active all year long
Volunteer opportunities – a chance to give back
In 2019, over 25,000 youth accessed programming at Win Gardner Place, over 4,000 patients leveraged the care of its WRHA clinic and almost 3,500 community members accessed MMW's on-site emergency care services. But like most organizations, those at Win Gardner Place had to abruptly pivot and adjust their offerings – or cancel them altogether – when the COVID-19 pandemic struck.
With the goal of finding new ways to serve their community in the meantime, the team at Win Gardner Place got creative and connected with the provincial health authority. Win Gardner Place was established as an Urban Indigenous Vaccination Centre this past spring – offering life-saving resources in a familiar, trusted environment to community members disproportionately impacted by COVID-19.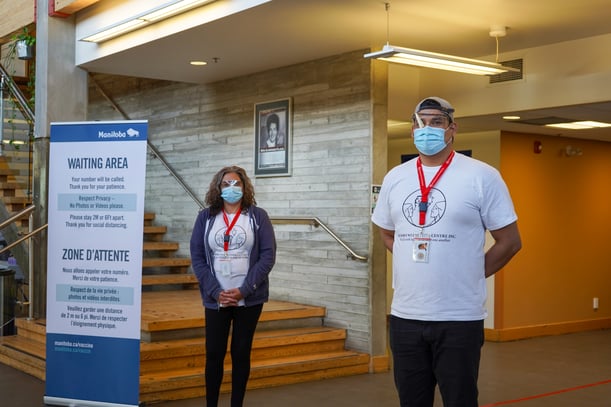 Photo courtesy of Ma Mawi Wi Chi Itata Centre.
As far as their hopes for the future, the goal of the team at Win Gardner Place is simple – "to continue offering a safe place where all people feel welcome and can improve their physical, mental and emotional well-being," says Kent Paterson, President and Chief Executive Officer of YMCA-YWCA of Winnipeg. "The impacts of the pandemic were severe, and the need for connection will be even greater coming out of this. We're very grateful to donors like Payworks that allow us to continue offering these life-changing supports!"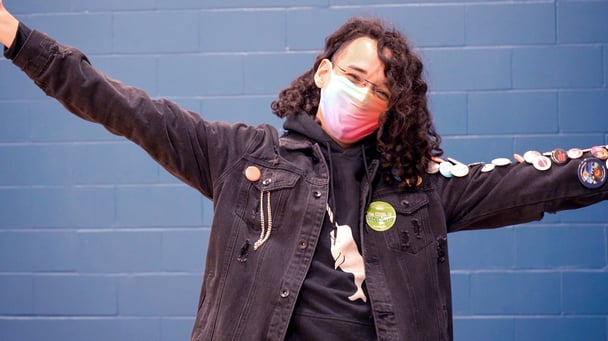 Photo courtesy of Ma Mawi Wi Chi Itata Centre.
"All of us at Payworks are inspired by those at Win Gardner Place who offer critical resources where they're needed most," says JP Perron, Payworks President and CEO. "We're grateful for their efforts to serve community members who were particularly impacted by the COVID-19 pandemic and its restrictions, and proud to support them in re-establishing these supports as we all move into the new 'new normal.'"
To learn more about Win Gardner Place or make a donation of your own, please visit https://www.wingardnerplace.ca/.