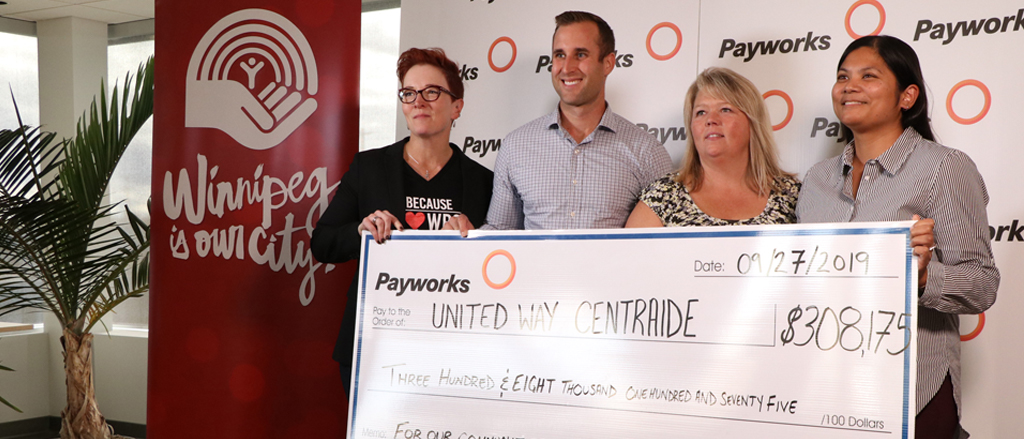 Raising more than $300K for United Way
Oct 04, 2019
Pay It Forward
--- Payworks
---
We recently wrapped up our most successful United Way Workplace Campaign yet!
This marked the year that Payworks staff from across the country made an investment that broke the $300,000 mark - a total of $308,175, 112% of our national $275,000 goal. A remarkable milestone made possible by all of the our extremely generous employees, which will make a direct impact in the communities where they live, work and raise their families. The grand total includes the funds raised through the Payworks Winnipeg campaign, all of the workplace campaigns in our regional offices, as well as the company corporate match of up to $5,000 per employee.
"The results of our 2019 campaign is simply another example of Payworks' staff Doing Right by People," said Dee dela Cruz, 2019 Co-Employee Campaign Chair at Payworks. "One of the key components of our United Way campaign at Payworks has always been education. We try to provide staff with different opportunities to learn more about United Way and to hear and see the impacts of their donations. When the results came in and showed that we surpassed the $300,000 mark, it was a truly remarkable moment. It's indicative that staff believe in the work that United Way and its agency partners do for our communities. I'm so proud and thankful to be part of an organization with such strong corporate social responsibility and to work alongside such caring and generous people!"
As a preamble to all things United Way, our employees in Winnipeg had the opportunity to embark on a United Way Agency Tour on three separate occasions in the month of August. These tours provide employees with a unique opportunity to see the kind of impact United Way agencies have in the City of Winnipeg. This year, the tours included the YMCA-YWCA North Youth Centre and Community Outreach, the Immigrant Centre, and ImagineAbility.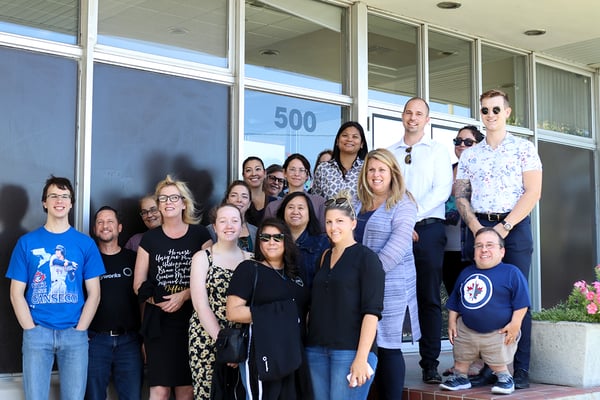 This year's National United Way Workplace Campaign was top-notch, with an exciting two weeks of activities which officially kicked off September 12 with a pancake breakfast in our Winnipeg, Montreal, Toronto, and Maple Ridge offices. That was followed by a speaker's panel based out of our Winnipeg location. JP Perron, President & CEO of Payworks; Kathy Knudsen, Vice President of Community Impact at United Way Winnipeg; and guest speakers Ray Houssin and Sarah Houghton were broadcasted across the country as they discussed the impact that United Way has in all of our communities.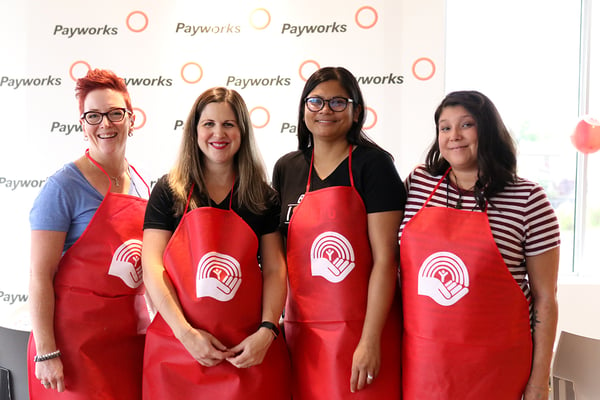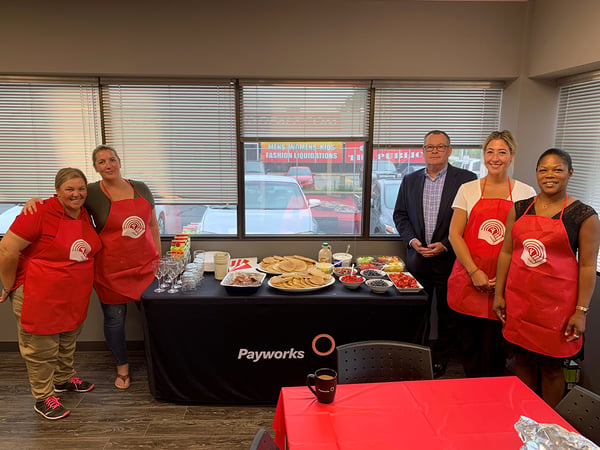 The following day, 20 Payworks employees participated in United Way Winnipeg's Plane Pull and Campaign Kickoff event - where they actually pulled an airplane across 20 feet of tarmac. For the fourth consecutive year, our crew was the event's Top Fundraising Team having raised more than $9,000 for United Way Winnipeg. While they didn't take home the top prize for pulling the plane the fastest, there were Payworks employees who did take home prizes for their placement in the top five individual fundraisers.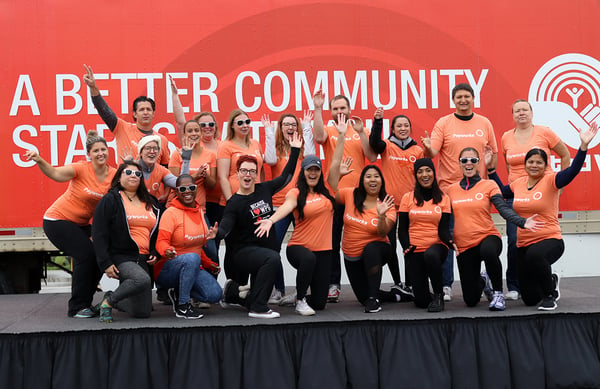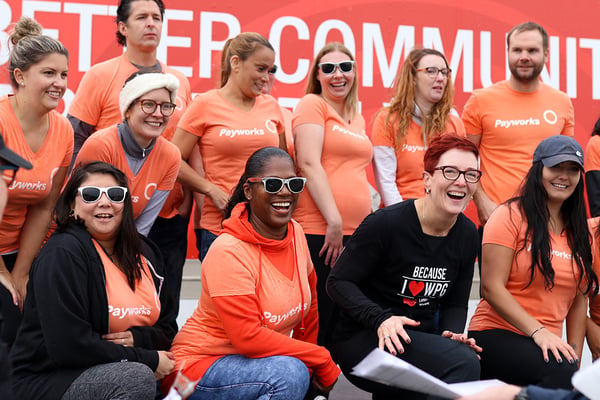 Other events throughout our United Way Workplace Campaign included four United Way Winnipeg Impact Speakers who visited our Winnipeg office and told their empowering stories; a barbecue lunch hosted by our Winnipeg GenNext chapter; a company-wide participation in the Make the Month day initiative; as well as a special edition of the DeLuca's cappuccino coffee cart - because we love giving back... a latte!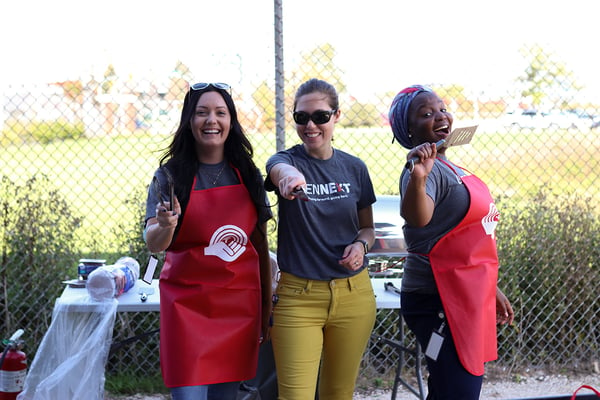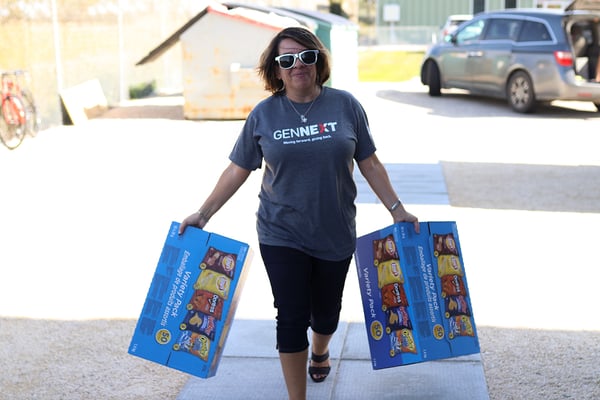 "Thank you to all who supported the campaign and to every employee who took a few minutes out of their day to learn more about the United Way-funded agencies and the vital work being done to support everyone in our communities," said Barb Gamey, co-founder of Payworks.
Thank you to all Payworks employees for participating in the 2019 campaign and for supporting our communities through the United Way.
To see more photos from our 2019 United Way Workplace Campaign visit our Facebook page. You can also follow along on social media to see how we continue to Pay it Forward throughout the year.