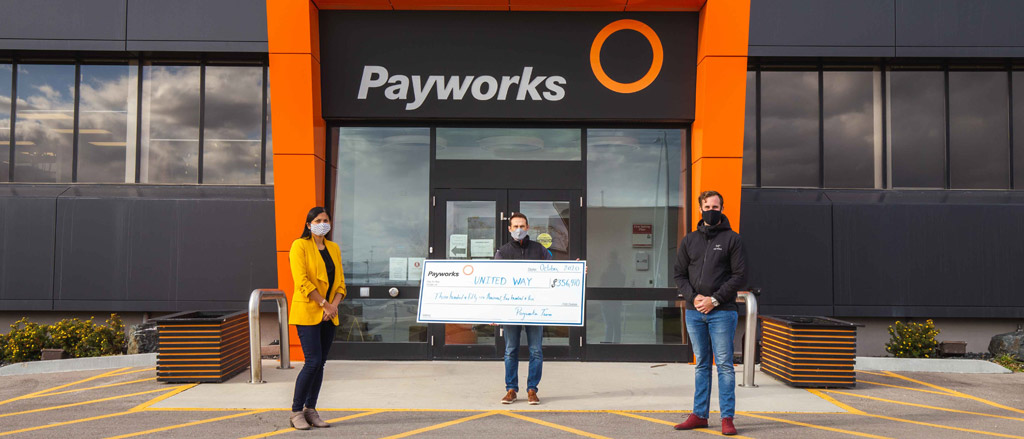 Celebrating the extraordinary we found in 2020 with United Way
Jan 29, 2021
Pay It Forward Payworks
The global events that unfolded in early 2020 brought each of us a lot of uncertainty, and that ambiguity has remained as our communities continue to navigate the effects of the COVID-19 pandemic. The ways in which we go about our day-to-day lives have transformed; everything from the way we work to how we pick up our groceries to our connections with family and friends have required flexibility and creativity. But whatever comes our way and however we're impacted, our dedication towards caring for our communities and those within them hasn't wavered.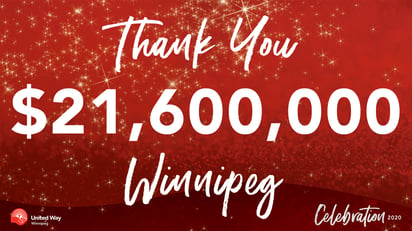 United Way Winnipeg's annual Campaign Celebration event was the embodiment of those foundational community values. Held virtually this year on January 28, this event announced the results of the citywide campaign, which raises stable funding for the critical work United Way agencies do in Winnipeg every day. The total raised for 2020 was $21,600,000 - a heartwarming display of the community spirit and compassion that thrives where we live, work and raise our families. The support for these agencies (alongside the turning of the calendar to 2021) brings with it "hopes and dreams for better days ahead for ourselves, our families and friends, and our community."
"You may not know today that you might need community tomorrow, and isn't it wonderful that if and when we do, community will be there," said Connie Walker, President and CEO of United Way Winnipeg.
"Watching last night's celebration, I took the opportunity to stop, exhale and truly celebrate what we've accomplished," said Payworks Vice President of HR Nicole Stewart. "Last night's announcement of the incredible achievement of $21,600,000 evoked grand emotions of gratitude and hope for the future of my province and for Canada, as we rally to recover towards a bright future for our communities."
The comradery that exists in Manitoba, the most charitable giving province in our country, has shone through in a somber year of challenges. Nothing stopped our workplaces and community from coming together in whatever ways they could to rally for one another. Together with United Way, Payworks celebrated the many achievements of the amazing organizations that held workplace campaigns and truly did unite for our communities when they needed the most support. Each of us reached this remarkable achievement together, which makes us proud as an organization to have been founded in Winnipeg and to work alongside and support Canadian businesses and their employees from coast-to-coast every day.
"The total raised for United Way really signifies what an amazing city we live in," said Payworks CRM Manager and United Way committee Employee Campaign Co-Chair (ECC), Trevor MacHutchon. "Even during a challenging year, Winnipeggers found a way to rally together and raise a record amount of money. It was a year that presented us with many things that we couldn't do, but coming together for such an incredible cause was something that we all could do. I feel like we really embraced it."
We're honoured to have been recognized as a Corporate Cornerstone during United Way's Celebration evening. This is a distinction given to foundational allies of United Way Winnipeg who lead by example to create a socially aware culture within their organizations.
"When you take a step back and look at the culture, the care, the compassion and everything that Payworks stands for, it's truly something special," said Trevor.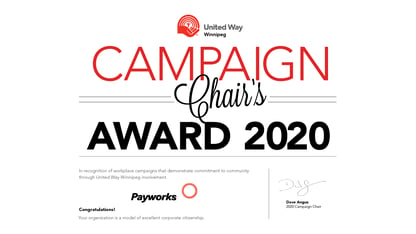 We're humbled to have also been awarded the 2020 Campaign Chair's Award, a distinction that recognizes strong campaign growth, leadership and commitment to United Way's vision. This is the ninth Campaign Chair's Award Payworks has received, having previously been awarded it in 2011 and each year from 2013-2019. These awards couldn't have been achieved without the contributions of our staff. Their extreme generosity and kind hearts inspire us and empower our purpose of "Doing Right by People." Together, they made it possible for Payworks' United Way Workplace Campaign to reach the record-breaking milestone of $356,410.32 in total funds raised.
"At the close of our workplace campaign, I was inspired by the contributions made by our team," said Nicole. "Payworks staff from all across the country invested their time to learn more about the needs in our communities, and they chose to invest their money in donating to the United Way. Feeling a sense of pride when it comes to our Payworks workforce is not something new to me. It's something I feel often when it comes to our team."
"The most challenging – but also special – thing this year was the element of the virtual campaign. We really united as a company," said Trevor. "It wasn't about east versus west, first floor versus the third floor or second floor; it was all of us coming together for our cities and for each other. I believe it brought us closer as individuals and as a company. The total we raised exemplifies what individual people can do when they come together and show up for a great cause."
Congratulations to every organization who participated in United Way workplace campaigns this past year. No matter what contribution was made and how major or minor it may have felt, the support when our community needed it most certainly didn't go unrecognized. In a year that has been anything but ordinary, you found a way to be extraordinary.