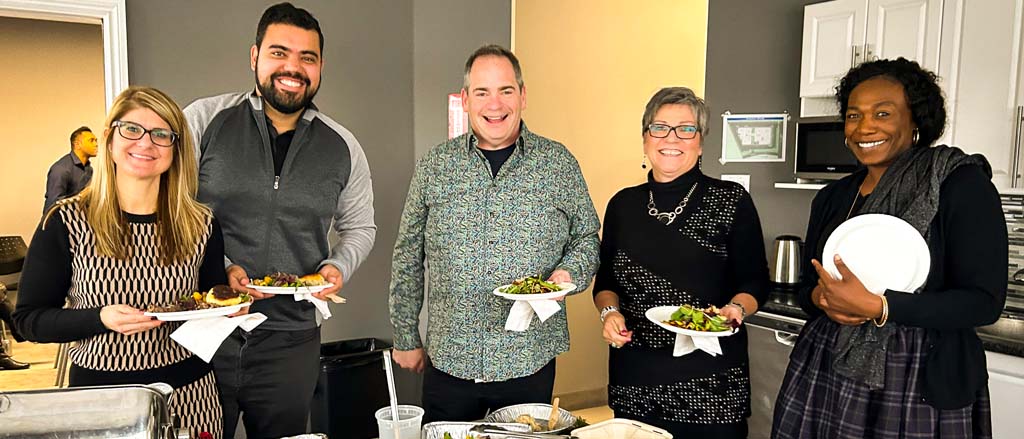 Celebrating Indigenous cooking and culture with Chef Shawn Adler
Jun 09, 2023
Culture Payworks
This June, we're recognizing National Indigenous History Month (NIHM) all month long! We've got education and celebration on deck, but wanted to start NIHM off by taking a look back at a delicious opportunity our Toronto team enjoyed back in March: lunch with Chef Shawn Adler.
If "Chef Shawn's" name sounds familiar, you're not alone - in addition to his time as a guest chef on HGTV's Wall of Chefs, he's also an entrepreneur, speaker, instructor, television content creator and owner of The Flying Chestnut Kitchen. Despite his busy schedule, he found time to nourish both the minds and bellies of 40+ Payworks staff, visiting our office to share a meal, personal stories, and information and practical tips on traditional Indigenous practices for sourcing and preparing food.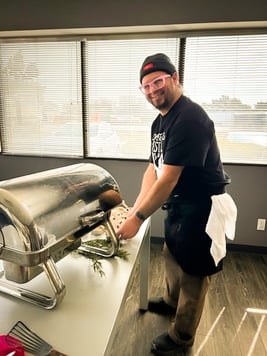 Photo: Chef Shawn Adler at Payworks' Toronto office.
Each of the two sessions kicked off with videos from Chef Shawn's CBC Life series Forage, where he "teaches us how to source in-season ingredients [from] our own backyards and sustainably forage them, before turning them into a delicious dish we can make and devour in our own kitchens."
He also shared his own journey and experiences growing up Anishinaabe in Orangeville, ON, and challenged our staff to consider the nuances of what "cultural food" really means in the context of colonization. Through his many roles, he serves as an advocate for reigniting traditional knowledge and embracing Indigenous culture to nourish his community.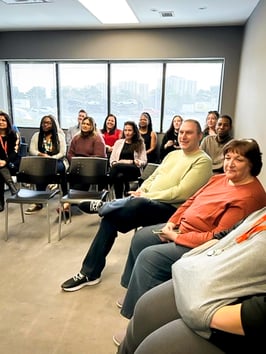 Photo: Payworks team members gathered to meet, learn from and enjoy a meal with Chef Shawn.
Our staff was not only engrossed in Chef Shawn's presentation; they were delighted by the meal he prepared, which included:
Salad with apple-honey vinaigrette
Bannock with sumac butter
Bison and sage meatloaf with cedar jus
Three Sisters Sauté with parsnips and dandelion
Wild rice and mushroom pilaf
Wild blueberry crumble
…and even a choice of Sweet Grass or Cedar soda!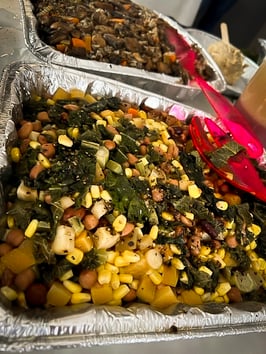 Photo: Three Sisters Sauté was just one of many tasty options on Chef Shawn's table.
All staff in attendance were left with a fresh perspective and renewed energy with which to tackle the remainder of the day.
"It was such a pleasure meeting Chef Shawn and hearing him speak about his culture and experiences," said Implementation Specialist Victoria Irwin. "Not only was the food amazing, but he was so genuine and open, answering our questions and sharing his journey on how he got to where he is today. I'm so grateful to the DEIB Committee for organizing this opportunity for us, which I'm sure will have a lasting impact on our team!"

"Thank you so much for pulling this together," shared Client Service Representative Sarah Le Bar. "I had such a wonderful time getting a better understanding of Indigenous food and culture. I want to thank Chef Shawn Adler for providing awesome food and sharing knowledge on his heritage and what it means to him."