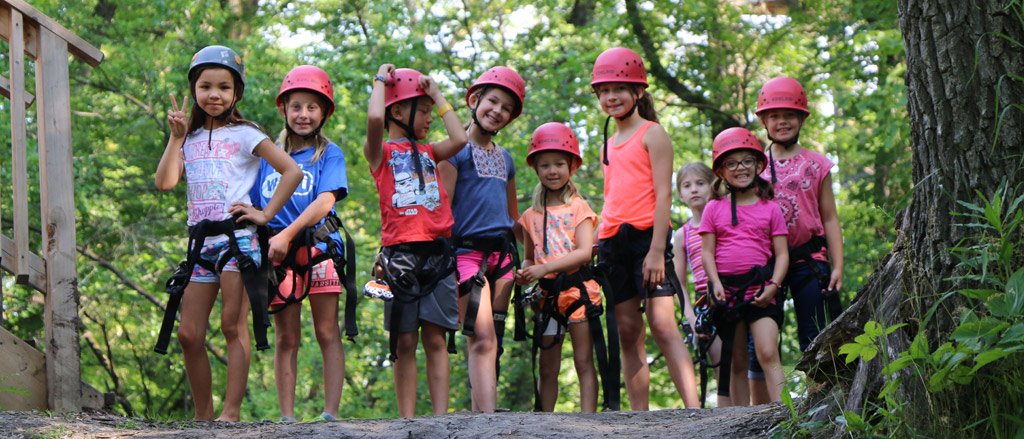 Celebrating diversity, inclusion and belonging with Camp Manitou for our 20th anniversary
Jul 23, 2021
Culture Payworks
Photo courtesy of Camp Manitou.
In celebration of our 20th anniversary – and more specifically, two decades of community support – Payworks is honoured to announce a series of donations to several highly-deserving and impactful Manitoba-based not-for-profit organizations, in addition to maintaining our ongoing national charitable partnerships. To learn more about this commitment, please click here!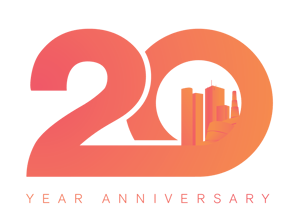 Think back to your favourite childhood summer memories. Whether your summers were spent at a cottage or campsite, a day program, the playground down the street or even just your own backyard, there are a few elements that are likely the same: the fresh air, the friendships and the freedom!
Located just outside of Winnipeg, Camp Manitou offers "meaningful opportunities for outdoor learning and adventure" that set the stage for all young members of our community to build lifelong connections and summer memories of their own. Camp Manitou "celebrates diversity, inclusion and belonging, and strives to make camp accessible to all Manitoba youth by removing physical and socioeconomic barriers so that more kids can benefit from the personal growth of the camp experience."
With a focus on fostering community, leadership and citizenship and cultivating resiliency and self-esteem, Camp Manitou has been significantly impacting our community across all seasons and for generations – since 1930, in fact! And as they close out their 90th anniversary, Payworks is proud to celebrate our 20th with a $100,000 donation towards their ongoing capital campaign.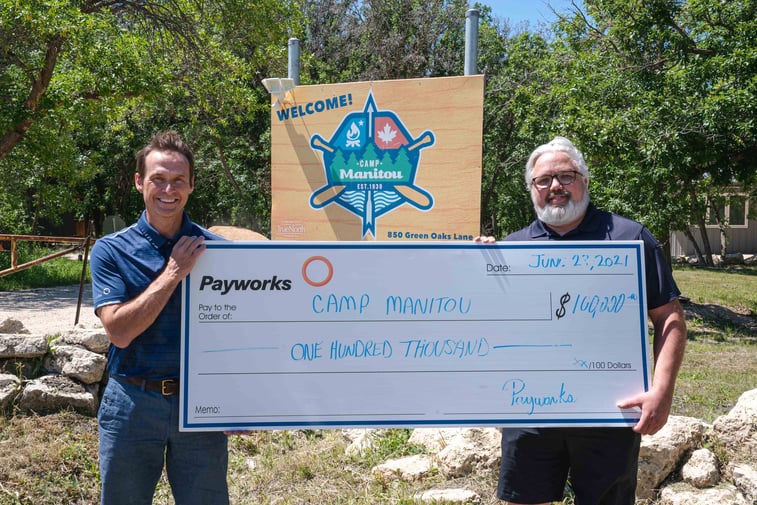 Photo: Payworks President & CEO JP Perron with True North Youth Foundation's Executive Director Dwayne Green.
Payworks' donation will be leveraged to develop The Summit, the spectacular peak of the camp's new mountain bike course. The Summit will provide not only a view across all 11 acres, but also a true sense of accomplishment for those campers who make it to Camp Manitou's highest point. Designed to serve campers in the 12-15 age range – a group with unique needs and for whom the stakes of having a safe and engaging place to spend the summer are high – this offering will round out a diverse array of outdoor summer activities, including swimming, archery, fishing and the ultra-popular low ropes course, climbing wall and zipline.
"Having community champions like Payworks join us in supporting youth shows them that a broader community really cares for them and wants them to succeed," says Dwayne Green, Executive Director of the True North Youth Foundation (TNYF). "Without the support of companies like Payworks, we are not able to impact as many youth in Manitoba."
TNYF assumed operational responsibility for Camp Manitou in 2014, but this is far from their only community initiative. In fact, Payworks is honoured to have partnered with TNYF since 2018 in support of their Winnipeg Jets Hockey Academy (WJHA), providing an average of 20 staff volunteers each school year to provide both on- and off-ice coaching and support.
"Each of the True North Youth Foundation's three core programs (WJHA, Camp Manitou, and Project 11) have a different focus, but ultimately all strive to help youth achieve their ultimate physical, social, emotional and intellectual potential," says Murray Cobb, Director of the WJHA. "Whether through sponsorship dollars or quality time spent with the youngest members of our community, corporate partners like Payworks play a critical role in all of TNYF's programming initiatives and allow us to expand the scope of our impact in truly significant ways."

"At a recent Town Hall sessions with staff, we put out a survey and asked what community initiatives they were most interested in Payworks supporting – and over half selected 'children and youth,'" says JP Perron, President and CEO of Payworks. "We know that organizations like Camp Manitou are not only meaningful to our staff, but also to the community. The work they do is so exemplary and so needed, and can be really life-changing – whether it's the time the kids spend in the outdoors, the friendships they build or the mentorship they experience."
For a look at this incredible space and to find out more about why Payworks selected Camp Manitou as a recipient of our 20th anniversary donations, please check out the video below!
To learn more about Camp Manitou or make a donation of your own, please visit campmanitou.mb.ca.