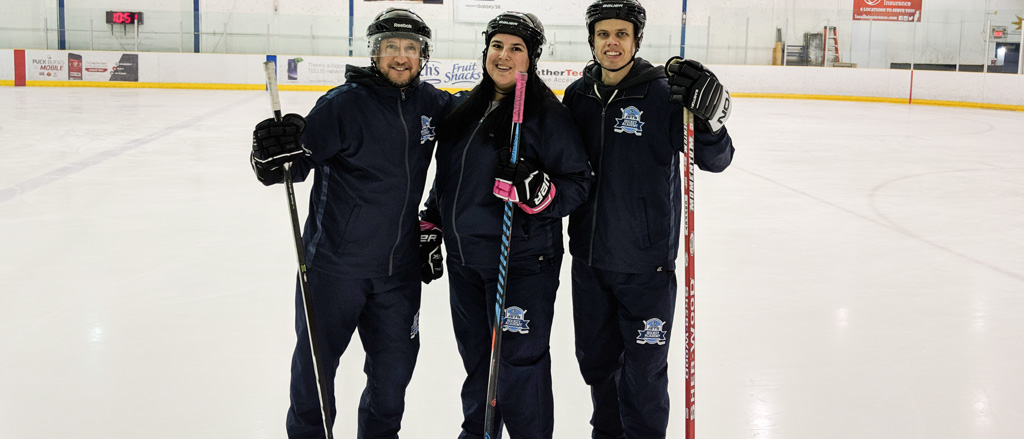 Lacing up their skates to support the Winnipeg Jets Hockey Academy
Apr 25, 2019
Pay It Forward Payworks
Some of the most rewarding volunteer opportunities Payworks staff are involved in are initiatives that have grown out of one of our employee's desire to give back or get involved with an organization within the community. The 23 individuals who volunteer for the True North Youth Foundation's Living Philanthropy Program is such a case.
Chief Innovation Officer, Kevin Sokolowski attended the Winnipeg Jets Gala Dinner at the company-sponsored table back in November. Throughout the course of the evening it was mentioned during the speeches that organizations were needed to further support the Living Philanthropy Program – where local businesses adopt a class from the Winnipeg Jets Hockey Academy (WJHA) and assist with weekly on-ice sessions for 25 weeks. This year, there are approximately 700 student athletes in the WJHA program coming from 20 different schools across three different school divisions in Winnipeg.
"More than coaching hockey, this approach builds relationships and fosters connections, allowing organizations to grow with their classes and provide consistent support and mentorship through their years in the WJHA until high school graduation," reads the True North Youth Foundation website.
After Kevin heard the need for local businesses to adopt a class, he talked to Payworks Director, Quality Willie Malcolm about the program. Together, they approached their colleagues to see if there was enough interest to Pay it Forward to this organization. In a matter of three days Willie and Kevin recruited enough Payworks volunteers to not only adopt one WJHA class, but two – meaning there would be two classes sizes of 25 children from at-risk schools who would receive 60-minute ice sessions every week supported by the staff at Payworks.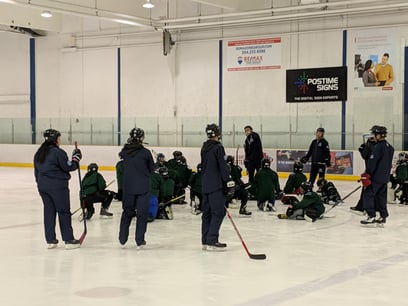 "I believe the value is significant to everyone involved. It provides kids with the opportunity to play hockey and learn great skills that can be used in all areas of life – teamwork, communication, and goal setting. For the Payworks volunteers, it allows us to give back to the community and make a positive impact with the kids over the course of the season. It's also a great team building opportunity within our own volunteer group," said Willie.
Fellow volunteer Implementation Specialist, Alanna Lackey says she has loved every minute of her time so far with the Living Philanthropy skates because any program that can bring together both the community and volunteers is an amazing experience to be a part of. She says one of the most rewarding aspects of the program is having the opportunity to watch someone succeed and grow.
"I think the best memory I have is when one of the kids that couldn't stand at the beginning of the year was motoring around and was so excited. He was yelling for us to watch him. He was so excited that he was skating and doing so much better from the beginning of the year," Alanna said. "We as volunteers think the kids are learning from us, but really we are learning from them. Their drive and motivation to keep pushing themselves to try new things is really inspiring."
Product Manager, Steve Bestvater said the smiles he sees every week is the biggest highlight from his volunteer experience so far with the WJHA.
>"I think this program really accents giving children those positive experiences and that is why I love helping out," he said. "With each passing practice, kids are really starting to come out of their shells and show off their personalities. They are really improving their skills which is awesome. I love seeing the kids having such a great time and learning so much."
Since the group of 23 Payworkers started helping out on-ice back in November, our volunteer coaches have also noticed the participant's skills improving.
"It has been amazing to see the rapid improvement of those that had not skated much or at all in the past, and the development overall from all of the players," said Operations' Kevin Yaworski. "These skates have also provided a large confidence boost to the participants as well which has been very noticeable."

"My favourite part is coming back every week and seeing how much each child has advanced," added Client Service Representative, Kayla Robinson. "Seeing the kids that have never skated prior to this program and who were struggling on the first day, compared to now they are whizzing around the ice and taking shots. I absolutely love this program. It's great to be a part of something that is assisting children to try a sport that they otherwise may not have been able to."
Sales Consultant, Peter Taylor echoed Steve's remarks.
"The value of this program is enormous and first-class," said Peter. "The program makes me proud of Winnipeg, Payworks volunteers, the True North Foundation, and also the kids themselves. The program gives kids a chance to learn a sport they may otherwise never experience and through that they experience teamwork, respect, kindness, competition, skill development, and the value of hard work and overcoming failure. Seeing the kid's weekly improvements and also how their confidence builds as the program progress is the biggest highlight for me."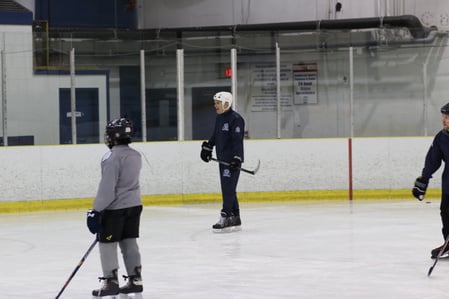 The Living Philanthropy skates are rewarding for the WJHA students but also for the participating organizations' volunteers who are making an impact in a child's life. In the 2018-2019 hockey season, Payworks staff will have volunteered an estimated 575 hours to the WJHA through this program. Other community leaders who have committed to making the same contribution through the Living Philanthropy skates include Birchwood Automotive Group, True North Sports and Entertainment, Winnipeg Police Services, New Flyer, among others.
For more information about the Living Philanthropy program, email tnyf@tnse.com or call Winnipeg Jets Hockey Academy Director Murray Cobb at 204-926-5583.