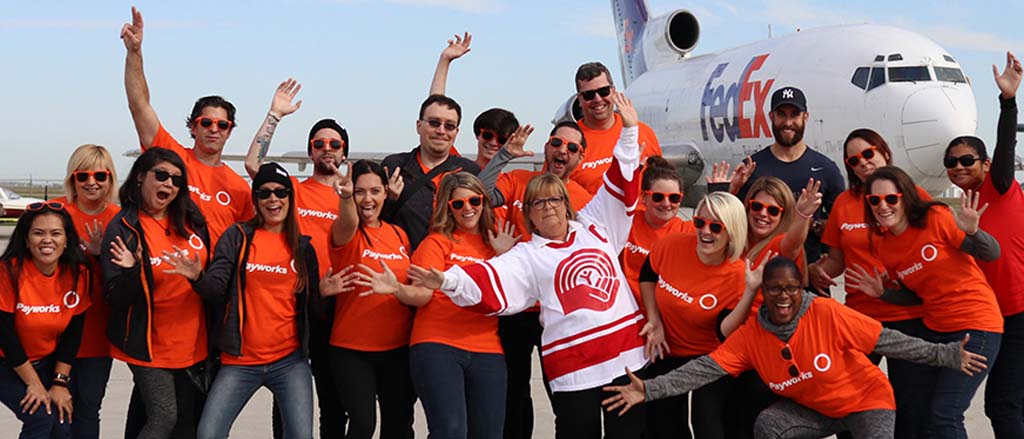 When it comes to great people, there's always room for one more
Jan 27, 2023
Culture Payworks
Across the country, our team includes client support pros, product creators and designers, finance gurus, and so many more – even the writer who's typing these very words right now!
Since entrepreneur Barb Gamey founded Payworks in 2000, we've grown to include 10 offices and more than 450 employees from coast to coast. We're honoured to be recognized as a Canada Best Managed Companies Platinum Member, HR Reporter Readers' Choice for Payroll Management Solutions, one of Manitoba's Top Employers for 2021 and 2022, and one of Canada's Top Small and Medium Employers for 2021. But more than the accolades on the shelf, we're most proud to have a workplace community you'll want to be a part of.
Payworks is 100% Canadian owned and operated, and we provide a workplace culture where doing right by people – our clients, our colleagues, and our communities – is our purpose. But don't take our word for it; hear from our employees themselves…
Our people dish on our workplace culture
We know how well engagement with culture and community pair! This unbeatable combo is one aspect of our day-to-day operations that our employees value the most. We're all about helping each other, putting our clients first, and committing to serve our shared communities from coast-to-coast.
Spilling the tea on what our coworkers are REALLY like
What you need to know about the people that work here: they're fantastic. They're the driving reason why our colleagues want to come to work; they're supportive, approachable, and positive.
Plus, the perks are great
What's your favourite work perk? Is it free coffee, flexibility, or a Costco membership? How about paid days off to volunteer? At Payworks, the perks aren't good… they're great!
Invest in your future
In addition to the fun workplace culture (and food!), there are exciting challenges, problem solving and growth opportunities – and all of the other things that come with developing an engaging, fulfilling career. Get ready to feel goosebumps as Payworks staff answer the question of why they choose to share their time and talent with us.
Learn about opportunities to join our growing Canadian tech company and see why our people choose to invest their time and talent here. Apply today: https://www.payworks.ca/about-us/careers.