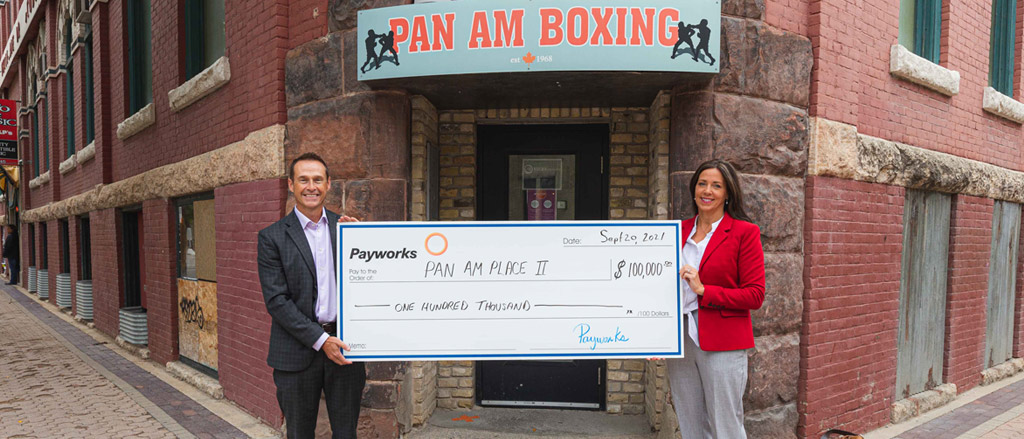 Supporting holistic health at Pan Am Place 2 in recognition of our 20th anniversary
Oct 04, 2021
Culture Payworks
Photo: Payworks President & CEO JP Perron with Susan Black, a Director of Pan Am Place.
In celebration of our 20th anniversary – and more specifically, two decades of community support – Payworks is honoured to announce a series of donations to several highly-deserving and impactful Manitoba-based not-for-profit organizations, in addition to maintaining our ongoing national charitable partnerships. Learn more about this commitment.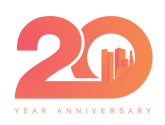 You might not think of an uppercut to the chin as a typical icebreaker… but at Pan Am Boxing Club, it can be the first step towards lifelong connection.
Established in 1968, this co-ed gym brings together – and equalizes – Winnipeggers of all ages, backgrounds, careers and personal experiences. As Pan Am Boxing Club Director and Trainer Susan Black says, "nobody knows who's who but they're all training together, sweating together, and supporting each other."
For some, these community connections can change their lives forever. Inspired by this impact, the organization opened their first transitional housing program in 2013 to provide participants with the same discipline, structure and healthy living of the boxing club 24 hours a day.
Pan Am Place "is a registered charity helping homeless and at-risk young men ages 18-29 become independent members of society. In exchange for housing, food, and educational and occupational resources, residents are required to participate in fitness routines and perform a minimum number of volunteer hours each week."
The "improved self-esteem, strengthened social skills and reduced stress and aggression" seen in Pan Am Place's residents has been remarkable over the past almost-decade; so much so that the team has now set their sights on a new project – Pan Am Place 2: transitional housing for homeless and at-risk young women.
Payworks is honoured to be an early supporter of the Pan Am Place 2 initiative with a $100,000 donation as part of our 20th anniversary celebrations.
The 5,000 sq. ft. Pan Am Place 2 facility will be located a stone's throw from both Pan Am Place and the Pan Am Boxing Club and include 25-30 private bedrooms, along with a communal recreational space, kitchen and resource area for counselling.
The "house rules" of Pan Am Place 2 will likely mirror those of Pan Am Place – but are also likely to evolve as time goes on.
"When we started Pan Am Place, we had all sorts of ideas about the rules, but they've actually changed a fair bit from when we started," shares Susan, who is also a Director of Pan Am Place. "What will absolutely remain core to Pan Am Place 2 is the fitness component. Boxing is actually the complete opposite of just swinging punches at each other – it takes phenomenal discipline and training to compete, and it oddly takes the fight out of you because it's such a tough, humbling sport. It also teaches invaluable life skills about how to pick yourself back up when you fall and to persevere through difficult moments."
Photo: Pan Am Boxing Club's Female Beginner Boxing program (courtesy of Pan Am Boxing Club).
"All of us at Payworks recognize the holistic impact of supporting wellness in our communities – whether it's physical, mental or otherwise – and are thrilled to lend a hand in bringing the Pan Am Place team's exciting new vision to life," says JP Perron, President and CEO of Payworks. "We commend them for their leadership in improving the lives of some of the most vulnerable members of our community by shaping a positive path that's rooted in health of all kinds."

"Quite honestly, we couldn't move Pan Am Place 2 forward without Payworks' support," says Susan. "It's the most significant corporate donation we've ever had, and we're just beyond overwhelmed and grateful for this faith in what we're hoping to bring to the community. From all of us at Pan Am Place – thank you!"
To learn more about Pan Am Place 2 or to make a donation of your own, please contact Susan at sblack@fhblack.com.