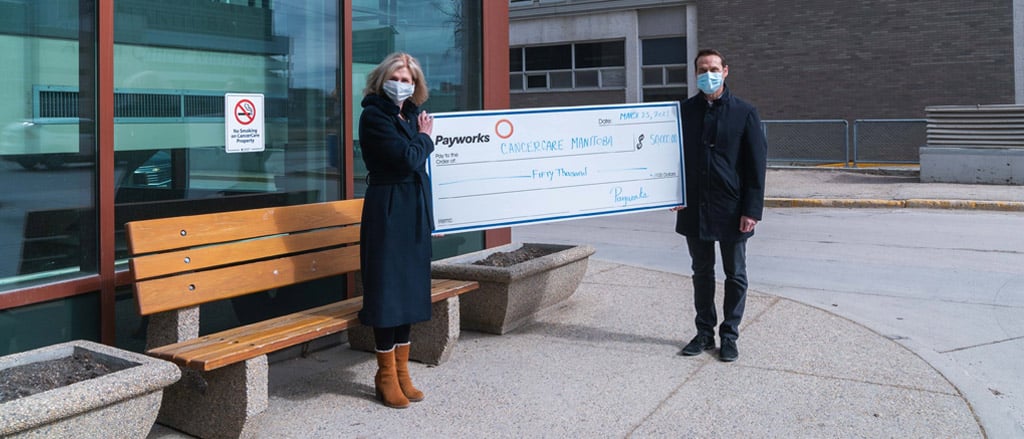 "More tomorrows together": 20th anniversary support for CancerCare Manitoba
Apr 12, 2021
Culture Payworks
In celebration of our 20th anniversary – and more specifically, two decades of community support – Payworks is honoured to announce a series of donations to several highly-deserving and impactful Manitoba-based not-for-profit organizations, in addition to maintaining our ongoing national charitable partnerships. Learn more about this commitment!
It's a rare Canadian whose life hasn't been indirectly or even directly touched by cancer. But thanks to countless researchers, medical practitioners and support teams across the country, both the prognosis and experience of a cancer diagnosis is improving every day.
Like Payworks, it's been 20 years since CancerCare Manitoba Foundation opened its doors. In that time, they've helped hundreds of thousands of Manitobans navigate cancer education, screening, treatment and care, as well as leading highly-impactful research initiatives that promise "more tomorrows together."
Payworks is honoured to support this research with a $50,000 donation to CancerCare Manitoba Foundation, as part of our 20th anniversary donation series. This contribution will be used to fund some of the groundbreaking breast cancer research that CancerCare Manitoba is undertaking, such as a recent partnership with the Mayo Clinic in Minnesota on the GENetic Risk Estimation (GENRE) study.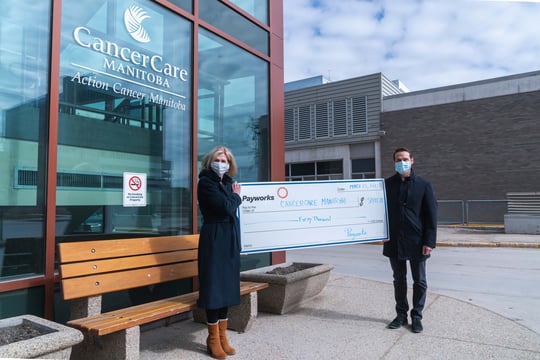 Photo: Patti Smith, President and CEO of CancerCare Manitoba Foundation with Payworks President & CEO JP Perron outside of the CancerCare Manitoba building in downtown Winnipeg.
"The traditional way to evaluate breast cancer risk is to assess clinical risk factors such as age, family history, age at first pregnancy and menopause," says Dr. Julian Kim, CancerCare Manitoba Radiation Oncologist and co-principal investigator of the GENRE study. "Through a genetic test using a woman's blood, we can now more accurately predict breast cancer risk and empower women to make choices to reduce their risk."

"CancerCare Manitoba Foundation would like to sincerely thank Payworks for their ongoing support, including sponsorship of annual fundraising initiatives, individual employee donations and of course this generous major gift on our shared 20th anniversary," says Patti Smith, President and CEO of CancerCare Manitoba Foundation. "Every dollar stays in the province to serve the over 7,000 Manitobans that face a new cancer diagnosis each year. We know there's no shortage of need in our community – especially right now – and are humbled by Payworks' trust in us as stewards of meaningful, impactful community support."

"One of the goals of our 20th anniversary donation series is to support initiatives that are particularly close to our employees' hearts," says JP Perron, President and CEO of Payworks. "CancerCare Manitoba and the Foundation do so much good in our community, and make such a critical impact on so many individuals and their loved ones. We appreciate their dedication and are inspired by their commitment to building a healthier, stronger Manitoba."
To learn more about the critical work undertaken by CancerCare Manitoba Foundation or to make a donation of your own, please visit https://www.cancercarefdn.mb.ca/.