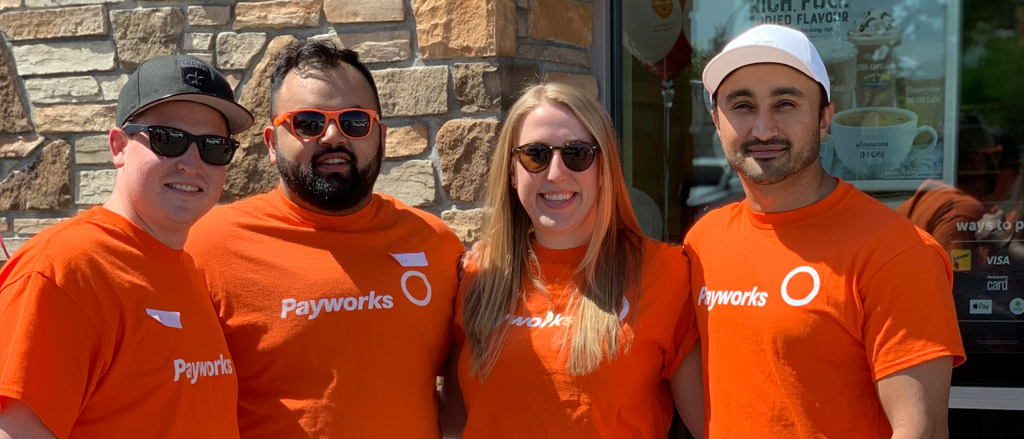 May 10, 2019
Pay It Forward
--- Payworks
---
There were 38 Payworks staff who volunteered in support of Ronald McDonald House Charities (RMHC) of Canada from coast-to-coast for McHappy Day on Wednesday, May 8.
On McHappy Day, McDonald's donates $1 from every Big Mac, Happy Meal, and hot McCafé beverage sold to local RMHC and other local children's charities. Since 1977, McHappy Day has raised more than $67 million. Payworks employees have volunteered at McHappy Day events across Canada since 2014 and many were excited to have the opportunity to step behind the counter once again this year. Payworks Head Office and National Service Centre in Winnipeg also did their part, by purchasing in excess of 200 Big Macs for lunch (what a delicious way to Pay it Forward!)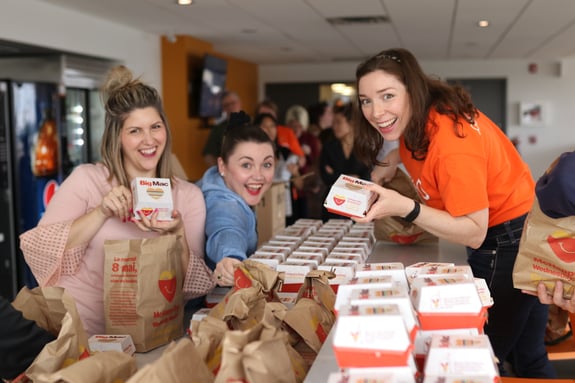 Throughout the day our volunteers pitched in behind the counter, taking orders in the drive-thru, serving up coffee orders, collecting donations, as well as selling McHappy Day merchandise. Funds raised throughout the day help to support our National Partner RMHC, the organization that supports Ronald McDonald Houses across the country and their programs. Payworks had volunteers in Victoria and Vancouver, as well as Winnipeg, Toronto, Niagara Falls, St-Laurent, and Bridgewater. McDonald's patrons could've been served by one of our volunteers in 12 different McDonald's Restaurants locations this past McHappy Day.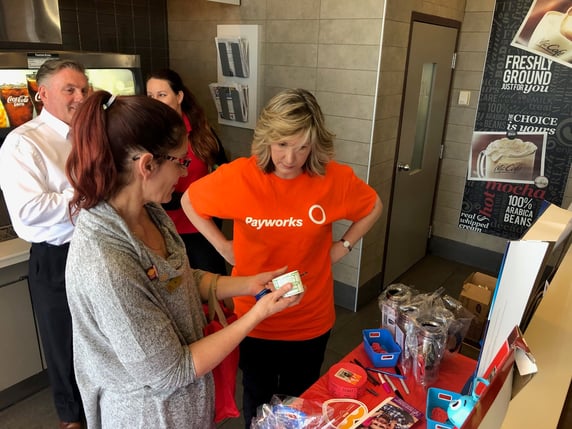 Ontario Sales Representatives Cindy Tarasow, Jason McHattie and Steve Chretien spent the day at McDonald's in Niagara Falls. They collected a lot of donations walking through the restaurant's drive-thru.
"We had a great experience volunteering at McHappy Day," said Steve. "We had a great time selling raffle tickets and collecting donations for a bean bag toss in the drive-thru."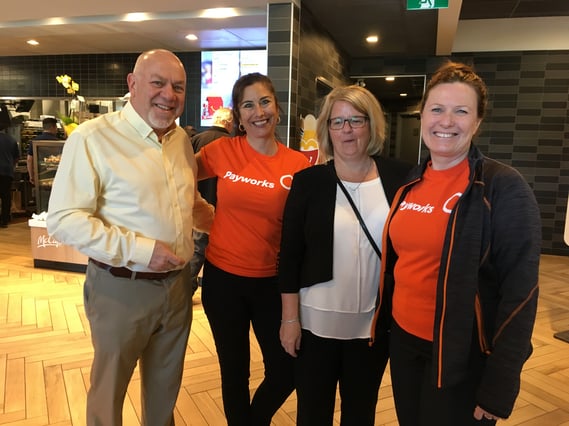 Sales Administrator, Angela Peskett and Area Manager, Glenda Plews volunteered at McDonald's in Victoria handing out orders in the drive-thru.
"There was one couple, grandparents of a little girl who is staying at Ronald McDonald House right now. What an impact that had on me," said Angela. "They had no idea it was McHappy Day and they were very happy and grateful when they went through the drive-thru for lunch and gladly made a donation."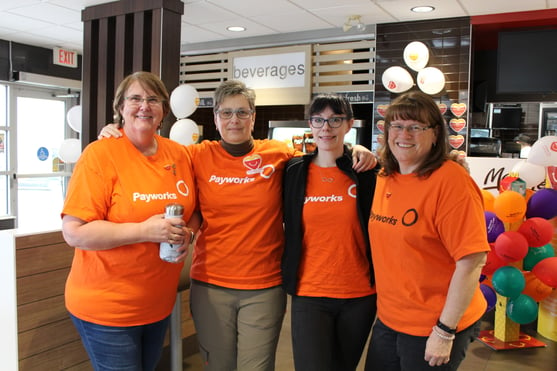 In May 2015 Payworks announced its official National Partnership with RMHC Canada. The 15 Ronald McDonald Houses across the country provide a home away from home for out-of-town families with sick children being treated at a nearby hospital, while the 16 Ronald McDonald Family Rooms provide a caring place for families to rest and recharge, right beside the hospital. Today, the Ronald McDonald Houses and Ronald McDonald Family Rooms support more than 26,000 families from more than 1,800 communities across Canada each year.
Our staff had a very McHappy Day May 8 and they're already looking forward to paying it forward again next year!