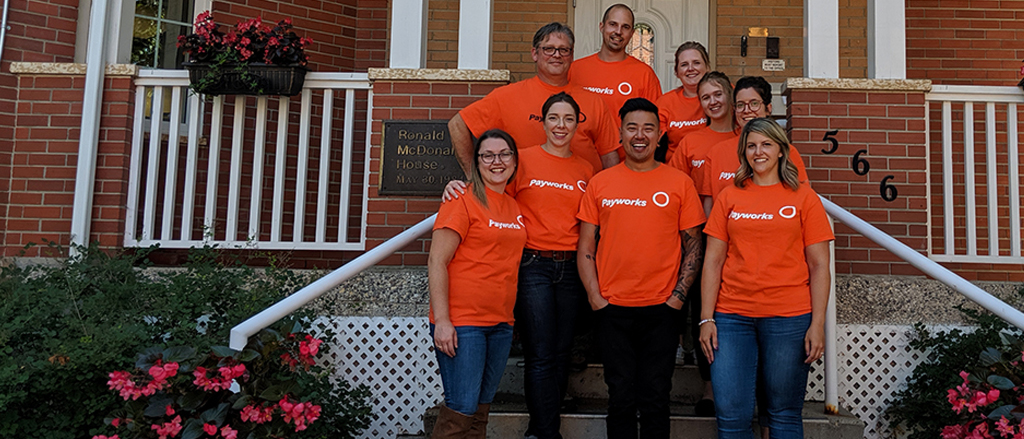 Bringing dinner home for RMHC Manitoba
Aug 17, 2019
Pay It Forward
--- Payworks
---
For many companies, team building is an important component of the corporate culture. There are a variety of ways to engage your department or team in activities that increase motivation and promote cooperation - a team building exercise doesn't have to be 'traditional' in the sense that there are many modern and fun outings a group can partake in to develop and reinforce communication, planning, and problem-solving skills.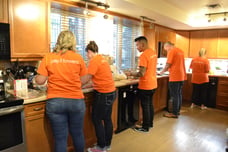 This is the second year that the Payworks Marketing Department has taken the opportunity to Pay it Forward through Ronald McDonald House (RMHC) Manitoba's Home for Dinner program. Not only is this a great way for our company to further support our National Partner Ronald McDonald House Charities® Canada, the everlasting organization that supports Ronald McDonald Houses and their programs in Canada, but it also provides a fun afternoon where a group of Payworkers can work together for a common goal - and what better goal is there than to give back to the community where we live, work and raise our families?!
"This is the second time the Payworks Marketing team has participated in the Home for Dinner program and it just keeps getting better," says Business Development Specialist, Callan Davey.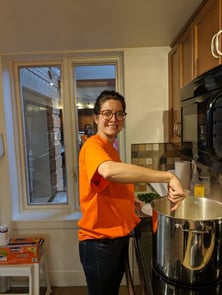 Ronald McDonald Houses across Canada provide a home away from home for out of town families with sick children being treated at a nearby hospital. Home for Dinner is a RMHC program where volunteer groups prepare a home-cooked meal for families staying at their local Ronald McDonald House. The Home for Dinner program is a way for members in the community to further assist these families, because after a long day at the hospital there's nothing more appreciated than a home-cooked meal.
"I'm so grateful to be a part of a team that both advocated for and pays it forward in the community," says Marketing Co-Op, Sarah Graveline. "This experience proved just how collective and unified my co-workers are, as we worked together to create a home-cooked meal. After assisting in the meal prep, I was fortunate to receive a tour of the Ronald McDonald House and the Ronald McDonald Family Room in Winnipeg's HSC Children's Hospital. From this, I had a greater understanding of the significance and impact RMHC has for families with sick children. It was amazing to see how these environments created a home away from home and I'm thankful that families in need are provided with these resources and comfort during such difficult times."
On July 31, eight members of our Marketing Department planned, cooked, and served a delicious meal at Ronald McDonald House Manitoba. The team spent the afternoon chopping veggies, cooking bacon and chicken, simmering soups, baking desserts, and setting the dinner table for guests of RMHC Manitoba. The team prepared a build-your-own sandwich bar complete with a variety of wraps, breads, buns, meats, veggies and sauces to choose from. They also made two soups from scratch, chicken noodle and apple ginger, as well as two salads. They didn't forget about dessert either - there was homemade angel food cake with fresh fruit and whipped topping, of course.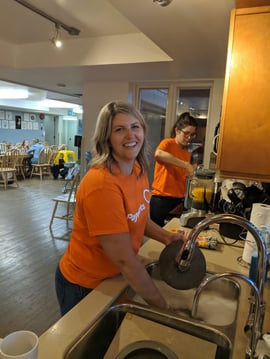 "I love participating in the Home for Dinner event," says Payworks Event Administrator Sara Van Walleghem. "It's a great opportunity to give back to the community. It also allows us as a team to take some time away from the office and get to know our colleagues in a different setting and build on our work relationships. I also love seeing the faces of the families who come down for dinner - knowing that after they've had a long day they can enjoy a home cooked meal."
Overall the afternoon was a great team-building exercise for our Marketing Department, who had a blast making a meal for others.
"I felt the experience was really rewarding," says Payworks Manager, Digital Marketing Randy Muns. "I was able to take a tour of RMHC Manitoba's facilities and it was evident that the RMHC provides an extremely valuable service to those who truly need it."
To learn more about the Home for Dinner program, click here.
"We are always looking for group to prepare a home-cooked meal for our families at the House," reads the RMHC Manitoba's website. "The Home for Dinner Program is a great team building experience and an excellent way to offer our families the opportunity to spend more time together."