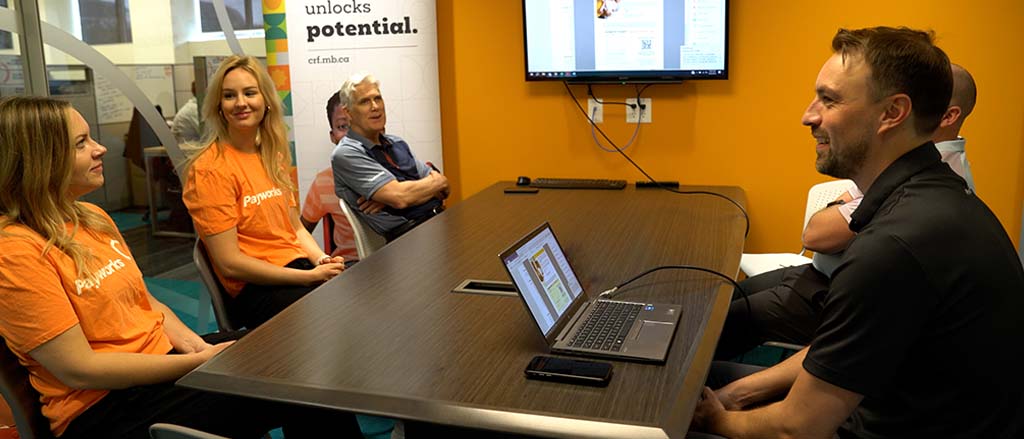 Our Sales Team bands together to Pay it Forward to the CRF
Jul 08, 2023
Pay It Forward Payworks
One wonderful aspect of Payworks' Pay it Forward (PIF) Day employee benefit is that our employees can choose to donate their time and talents to the charitable organizations that mean the most to them.
"PIF Days" allow our staff two paid days off per calendar year to volunteer. They're a great way to support an organization doing impactful work, can be a wonderful team building experience for our departmental groups, offer opportunity for both professional and personal growth, and leave our staff feeling empowered.
At one recent PIF experience, we witnessed how a common cause united a team to use both their time and professional skills for the greater good - in this case, to assist the Children's Rehabilitation Foundation (CRF).
Payworks Manitoba/Saskatchewan Sales Manager Patrick Daniels sits on the CRF board, which is currently trying to raise more than $100,000 under the 25 Bikes Campaign to purchase specialized bikes that give children with physical or developmental disabilities a chance to participate in an active lifestyle.
"Seeing the difference the equipment can make for the children and the smile that it puts on their faces when they get to ride their bikes for the first time is a pretty special feeling," says Patrick.
Not only did Patrick use his PIF Day to support the 25 Bikes Campaign; four of his team members joined in as well. They used their PIF Days and their Sales skills to follow Patrick's lead in supporting a worthwhile cause.
"We called local businesses to see if they would be interested in either donating as individuals or creating a company campaign to raise money and awareness for this cause," explained Sales Consultant Dana Plett.
To learn more about our Winnipeg Sales Team's PIF Day experience, watch the video below:
Since our PIF Day program began in 2015, our staff has clocked more than 3,000 hours of giving back. We're proud to have created a workplace where experiences can be shared and employees are encouraged to Pay it Forward in their own ways. To learn more, visit: https://www.payworks.ca/about-us/pay-it-forward.