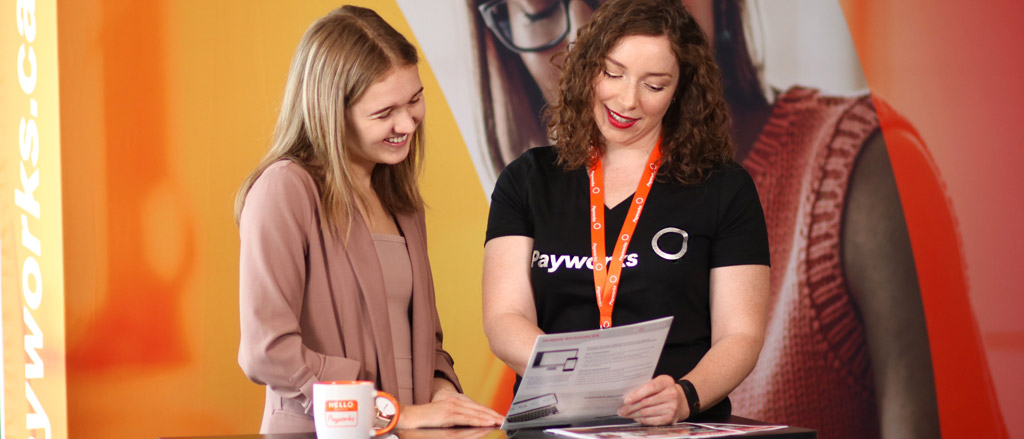 Our debut at HRD's HR Tech Summit
May 27, 2019
Events
--- Payworks
---
We're excited to show off our integrated HR offering along with our suite of workforce management solutions at the HR Tech Summit at the Enercare Centre in Toronto June 18 to 19.
This will be the 3rd Annual HRD HR Tech Summit and it will be Payworks' inaugural year attending this elite event. There will be 1,000 HR Professionals and Technology innovators in attendance, bringing together industry leaders and experts to discuss the latest HR technologies, business tools and strategies. The Tech Summit features keynote presentations, industry panel discussions, a trade-expo, tech talk and tech demo stage, and much more.
Payworks is proud to participate as a Gold Sponsor at the HR Tech Summit. As a part of Payworks' sponsorship, delegates will be able to watch our 20-minute Tech-Demo in the main expo hall presented by our very own Sales Consultant, Cindy Tarasow. Attendees can also learn more about Payworks by visiting our booth where we will be showcasing our integrated workforce management solutions including Workforce Analytics. We understand human resource professionals are being asked to provide timely answers to complex questions, which is why we created a powerful, user-friendly tool to look at your workforce data in a way that allows you to be in full control of the information at your disposal.
Summit delegates are also invited to visit the Payworks booth for the chance to win some cool swag. We'll be doing be doing 10 daily draws as well as a grand prize draw for $500 in gift cards and a $500 donation to the winner's charity of choice.
We'd love to meet you! If you're attending the HR Tech Summit in Toronto please come by the Payworks booth and learn about our integrated HR offering.