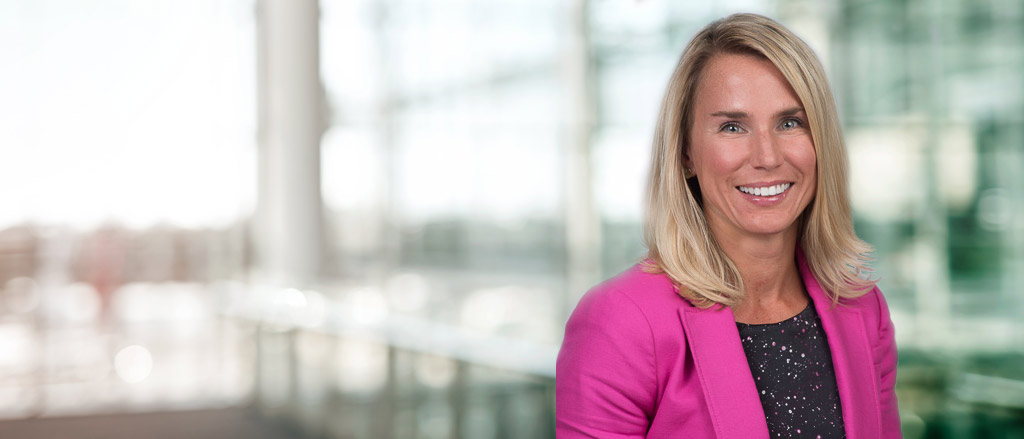 Introducing Jill Baczynsky, our new Director of Corporate Service
Nov 04, 2021
Culture Payworks
While there are all sorts of great reasons to pursue a career in client service, Payworks' new Director of Corporate Service is particularly driven by seeing first-hand the impact a true connection can make.
"For me, service is all about the perspective you gain by building a relationship with your clients, solving issues together and knowing you're making a difference in their lives," says Jill Baczynsky, who joined Payworks in August. "It provides such great clarity into the 'why' of what you're doing each day!"
That "why" – alongside her natural leadership skills and desire to connect with the people around her – motivated Jill's early career switch from financial analysis to client service… and she hasn't looked back in the two decades since then.
After completing her Bachelor of Commerce (Honours) degree at the University of Manitoba, Jill joined a national wealth management firm in her hometown Winnipeg, ultimately spending several years managing a variety of client service groups there. Since then, she's grown her experience through executive-level service and operations roles in the portfolio management industry, all while providing expert, empathetic leadership to her teams.
While the payroll industry is new to her, she's thrilled to join the group that's already in place at Payworks. "There's already a great leadership team in place in Service, and I'm really enjoying working with and learning from them and the Client Service Representatives (CSRs)," Jill shares. "I'm a big believer in empowering our people to always keep learning and letting us know where they want be involved to contribute most, and I see that happening here in a really positive way!"
This alignment in values is part of what inspired Jill to pursue a role at Payworks in the first place. "Like a lot of people in our community, I'd heard a ton of good things about the company – anytime you bring up Payworks, someone has had experience as either an employee or a client, and they have nothing but great stories to share," says Jill. "The idea of 'doing right by people', both internally and externally, is really appealing to me and is what fills my cup, so I felt confident that this would be a match."
Despite being relatively new to Payworks, Jill is already seeing the benefits of the dedicated, one-to-one service model in how clients can count on their CSR to provide guidance and solutions. Jill's own best advice for the upcoming year-end? It's simple: "be prepared! Try to get ahead of the game – whether it's messaging within the Payworks application or direct communication from your CSR, we'll be nudging you to start gathering information before the crunch hits. If you've never handled a year-end before, we're happy to share what you can expect in terms of deadlines, potential challenges and more. After that, all you can do is take it one day at a time… get done what you need to get done today, and we'll do the same thing again tomorrow."
Jill applies this methodical, disciplined approach to all aspects of her life – on the clock or otherwise. Not only did she complete her Human Resources Management Certificate through the University of Manitoba's Continuing Education division and her Masters Certificate in Project Management through the University of Winnipeg; she's also an avid athlete who likes to do "anything and everything active – mountain biking, running, rock climbing, cross-country skiing, hiking, golfing and of course hitting the gym."
Fittingly, Jill describes herself as a "really passionate person – I bring a lot of energy to everything I do, and love to learn from those around me. I'm really excited to be here!"
Jill, we can assure you that the feeling is mutual!