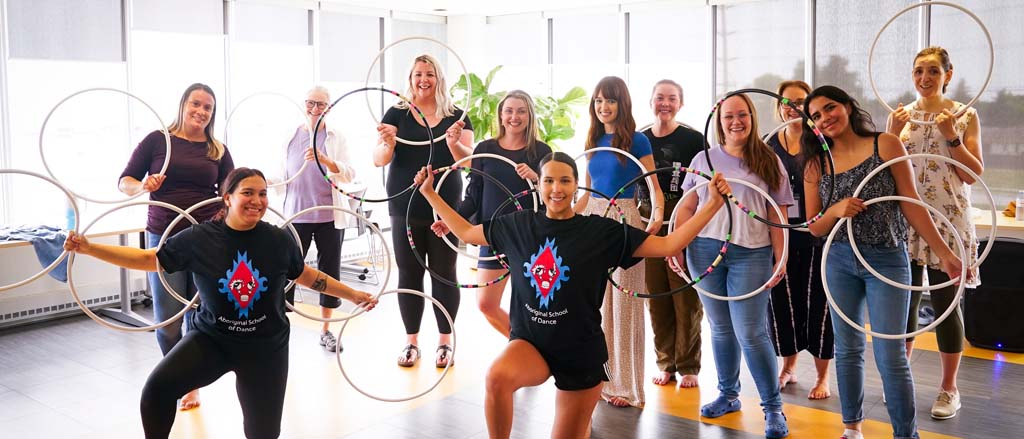 Exploring balance with the Aboriginal School of Dance
Jul 20, 2023
Culture Payworks
Last month, we were pleased to recognize National Indigenous History Month (NIHM) with both education and celebration for our teams from coast to coast.
In addition to the return of Community of Big Hearts for another round of informative and deeply engaging learning, we were delighted to welcome back the Aboriginal School of Dance (ASOD) to lead two more sessions of their Hoop Dancing Workshop - a fan favourite since their first visit to Payworks in 2019!
ASOD is "known for energetic and innovative choreography that provokes an intense emotional experience for audiences of all ages and cultural backgrounds. Training young people as professional performers and providing them with skills to be independent, the Aboriginal School of Dance was built on the traditional values of integrity, respect and community as well as imagination, creativity and most importantly - the purpose: our youth."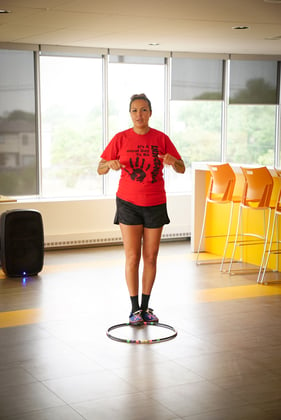 Photo: Aboriginal School of Dance Founder Buffy Handel leading the Hoop Dancing Workshop morning session
ASOD Founder Buffy Handel, joined by longtime-ASOD-students-turned-performers-and-instructors Jada and Phoenix, invited all Payworks participants to engage with each of these values throughout the morning and afternoon sessions.
In addition to the vigorous warmup, competitive games (hoop relay, anyone?), technical skills training and exploration of the universal joy of dance, Buffy and her team built the experience on understanding the "why" of this beautiful and deeply-rooted form of expression. From the integration and explanation of ceremonial songs and hoop movements to describing the critical nature of balance - in both dance and life - each participant left with not only some new skills, but also a greater empathy and understanding for what Buffy described as "our cultural practices and endurance."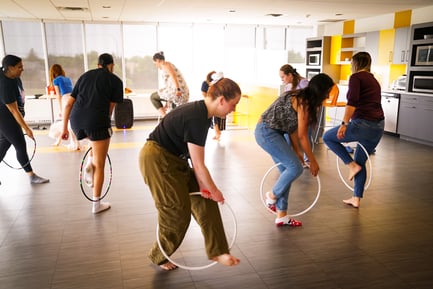 Photo: Payworks staff getting familiar with the hoop
Buffy also spoke to the importance of moving with intention outside of dance - right down to taking each step in a way that communicates a calm energy to your community. She described the accountability that each of us have to identify our gifts and use them to find our role and place in the world - whether it's building connections, serving as a mentor and leader, holding each other accountable, or otherwise. Regardless of what those gifts are, she encouraged us to "be unapologetic about who you are" and to "always keep your eyes and ears open - otherwise, you just might miss something out of life."
By the time the workshops were over, participants were flushed with both exertion and elation over this incredibly unique experience!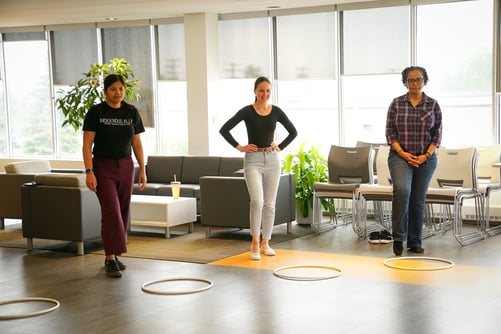 Photo: Hanna (centre) and friends awaiting instructions on how to lift the loop - hands-free!
"I really enjoyed the dancing practice with the hoop and the conversation that we had during the workshop," says Quality Assurance Analyst Hanna Zoricheva. "I had a feeling of meditation and relaxation, which was great, and the music was amazing for this activity - it accompanied the mood and supported each movement! I didn't expect an explanation of the deep meaning for each movement in the dance. For me, such explanations and conversation broadens one's horizons."

Partnership Marketing Manager Doug Coombs agrees. "Hoop dancing is a fun workout, and it was interesting to learn that each 'dance move' has a spiritual meaning, while the whole dance tells a story," he says. "I was surprised to learn that it was predominantly men that hoop danced back in the day. I'm grateful to Payworks and our DEIB Team for organizing interactive sessions like hoop dancing and educational seminars so that I continue to learn and grow, with some bonus team-building along the way!"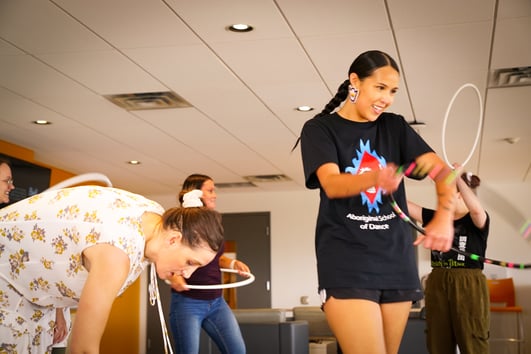 Photo: Phoenix from Aboriginal School of Dance co-leading the Hoop Dancing Workshop afternoon session
"I really enjoyed the energy that the dancers brought to our group - their passion and enthusiasm was great to experience," says Product Analyst Randi Rac. "I learned that hoop dancing is more than just a 'dance' and that there are cultural and spiritual meanings behind the sequence of steps, hoop moves and routines. This was a very impactful and beautiful insight into Indigenous culture!"