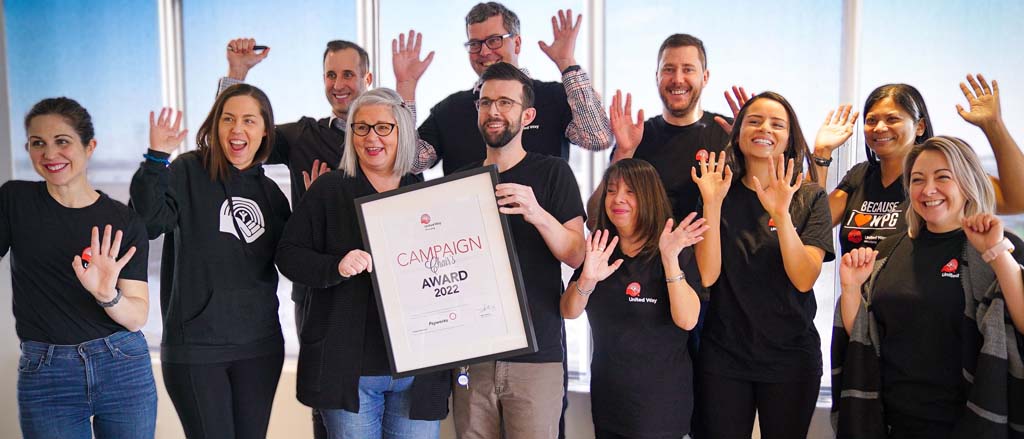 Celebration 2022 and the generosity experienced with United Way
Mar 07, 2023
Culture Payworks
We felt all the feels on January 25, 2023, when United Way Winnipeg hosted their Celebration evening and invited our team to mark the occasion alongside them!
It's always so rewarding to learn more about United Way Winnipeg's annual citywide campaign, which raises stable funding for the work United Way agencies do in Winnipeg every day. This year, we were blown away to find out that the 2022 campaign raised a record-breaking $22.7 million.
"You did it, Winnipeg!" said United Way Winnipeg. "You raised $22.7 million for our community! EVERY dollar makes such a difference. Thank you for changing lives with your incredible kindness and generosity!"

"I was definitely excited to see that clearly there are many people in Winnipeg as excited to make a difference as Payworks is," said Payworks United Way Committee Co-Chair Kyle Desjardins.
Photo: The Payworks crew enjoying the photo booth at United Way Winnipeg's Celebration 2022 evening on January 25, 2023.
When we ask our staff how they feel attending the annual Celebration evening, one of the words hear most often is "honoured." It's a heartwarming experience to be in attendance, and to feel the inspiration and positive momentum fostered by the caring workplaces and individuals who show compassion to others and support our local communities.
"It was really great to be able to come together in-person as a community for one night to celebrate the success of United Way Winnipeg's campaign," shared Payworks United Way Committee Co-Chair Trina Huntley. "It felt like for one night, in one room, all of Winnipeg was united. The energy in the room was electric! I loved hearing all the speeches, the impact speaker and, of course, the big reveal!"
Payworks is honoured (there's that word again!) to have been recognized at this year's Celebration, receiving both the 2022 Campaign Chair's Award and the Campaign Cornerstones recognition.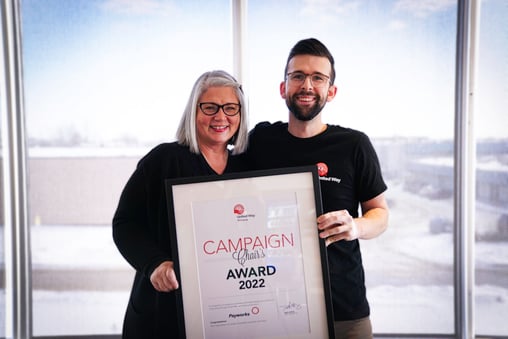 Photo: Payworks United Way Committee Co-Chairs Trina Huntley and Kyle Desjardins.
This year marks Payworks' eleventh time receiving the Campaign Chair's Award, having previously been awarded it in 2011 and each year from 2013-2021. This distinction recognizes strong campaign growth, leadership and commitment to United Way's vision. This achievement wouldn't have been possible without the volunteerism and dedication of our United Way Workplace Committee co-chairs, our employee-led United Way Committee, and our wonderful, caring employees.
"The Campaign Chair Award is the highest level of recognition an organization can receive from United Way Winnipeg, and Payworks was one of only four recipients of the award this year," explained Trina. "Payworks shared this honor with three other organizations – Birchwood, James Richardson & Sons, Limited (JRSL and affiliates) and Manitoba Blue Cross - and we congratulate our peers in this recognition."
The Campaign Cornerstones distinction is given to companies who demonstrate continuous strong and loyal support to building stronger communities, which makes us so proud of each of our employees across the country for creating a workplace culture of caring.
"Payworks was recognized along with 14 other organizations as Campaign Cornerstones," said Trina. "The generosity displayed by my fellow employees and for standing up and doing right by our communities is woven into our workplace culture. We all want our communities to be a little kinder, more inclusive and more resilient. All of us belong here, and all of us have a role in making our communities a better place."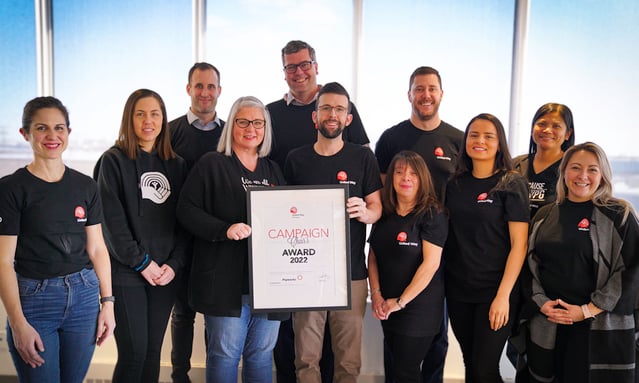 Photo: Eleven members of Payworks' 39-member, employee-led United Way Workplace Committee.
This past year, Payworks' National United Way Workplace campaign kicked off in September, with many events hosted by our 39-member, employee-led United Way Workplace Committee. Together, our coast-to-coast team raised a collective $447,527 in donations for United Way chapters across Canada. To learn more about our 2022 Campaign, visit: https://blog.payworks.ca/united-way-workplace-campaign-the-2022-results-are-in.
Year after year, the United Way Winnipeg Celebration evening leaves us feeling encouraged, inspired, and – most of all – grateful. It was the perfect way to kick off 2023.
"I'm really looking forward to our 2023 United Way Workplace Campaign and all the difference we can make this coming year," said Trina.