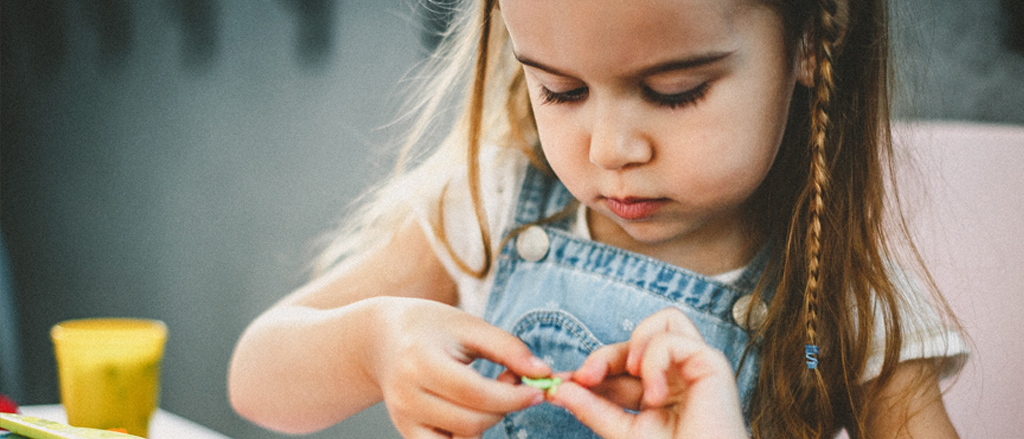 Stephen shows we're "Better Together" when paying it forward
Feb 28, 2020
Pay It Forward
--- Payworks
---
There were families smiling and laughing among the games and rides. It was a beautiful day, and the smell of barbecue filled the air while up-beat tunes kept a pulse over the crowd. This was the setting where Payworks Nova Scotia Sales Consultant Stephen McKellar used his fourth Pay it Forward Day.
On August 15, Stephen volunteered at the 25th Annual Children's Fun Fair alongside his entire family. The event was co-hosted by the Better Together Family Resource Centre and the South Shore Family Resource Association (SSFRA) in Nova Scotia. Stephen was first introduced to the Better Together Family Resource Centre six years ago, when the organization chose to partner with Payworks to pay their employees. In fact, Better Together was Stephen's first-ever client that he brought on board when he started as a Sales Consultant. Ever since, he and his family have taken part in many of the programs and playgroups that the centre offers, and give back to the organization whenever they can.
"I'm extremely grateful for all that the Resource Centre does for our family and the community as a whole," explained Stephen. "It's a real blessing to have a paid day off dedicated volunteering and I'm thankful for the opportunity to give back to the organization that provides so much for our family. I'm very lucky to be able to spread this kind of positivity throughout the community and it makes me so proud to be a part of the Payworks team."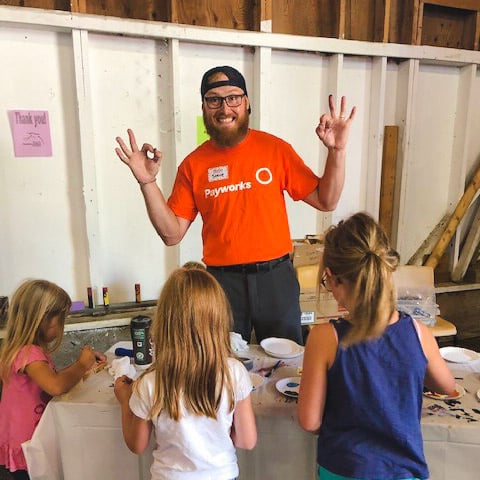 The Family Fun Day Stephen volunteered at had many activity stations and exciting things to take part in - such as barrel train rides, face painting, gymnastic performances, and visits from individuals from the local police and fire departments. A free lunch is always provided to all attendees and served by the local members of government and the town/municipal offices, in addition to various craft stations where participants could make and take home their creations.
In years past Stephen has volunteered for a lot of the craft-centered activities, everything from wood block painting to clothespin airplane making. He's also assisted with the setup and take down of the event. This year, Stephen was back at the wood block painting station for his Pay it Forward Day.
"It's one of my favourites," he smiled.
He explained that the kids go nuts over this particular craft and it warms his heart to see how happy and proud the kids are when they finish painting their blocks.
"The kids creativity is always inspiring and their energy is infectious," he said. "It always makes for a great time."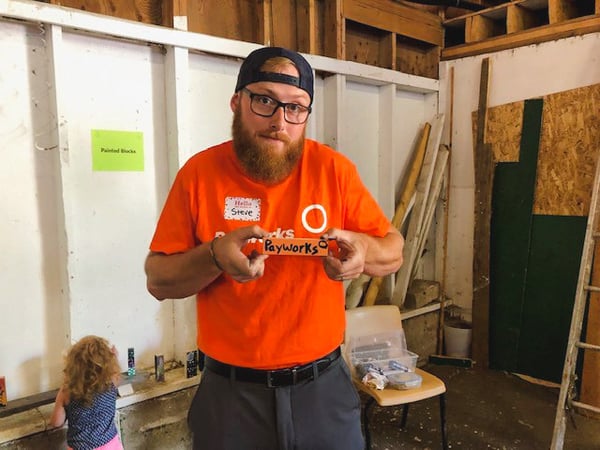 Stephen loves to give back to both the SSFRA and the Better Together Resource Centre because he enjoys being a part of their acts of good will, and specifically loves being involved year-after-year at the Family Fun Day. He said he and his family first got involved six years ago and they have no plans of stopping now.
The SSFRA provides free programming to families with children from prenatal ages up to those 18+. Programs vary from site-to-site and are divided into child-focused, parent-focused, family focused and community-focused activities. The majority of the programming is delivered at the four Family Resource Centers in the province, with outreach programs in locations in surrounding counties. The Better Together Family Resource Centre provides free support and services to all families within Lunenburg County, including free on-site childcare. The organization offers a variety of programs, all of which have been developed in response to community requests.