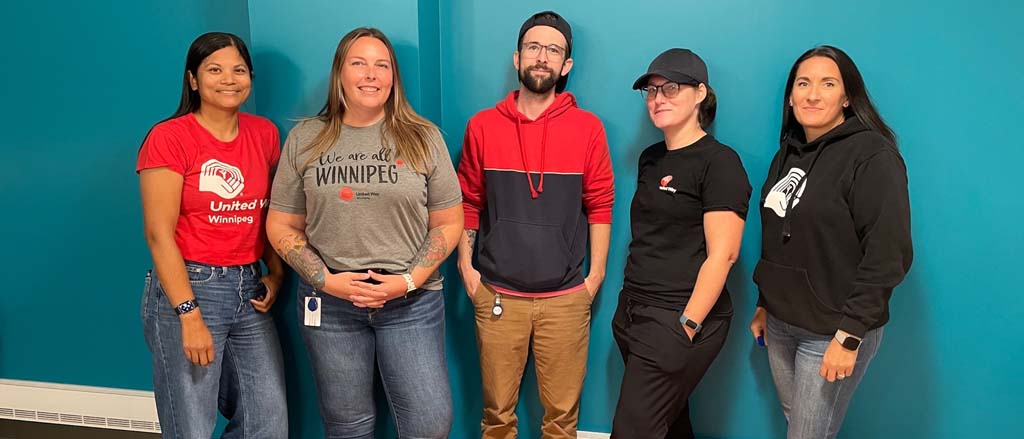 Fresh start, new perspective: the United Way Sponsored Executive experience
Nov 13, 2022
Pay It Forward Payworks
There's something about the transition from summer to fall that calls for a fresh start.
As adults, our "back to school" days may be (mostly) over. But for employees of Payworks and other organizations across Winnipeg, a change in routine - with the opportunity to directly serve our home community, no less - can be found each autumn through the United Way Sponsored Executives (UWSE) program.
To facilitate United Way Winnipeg's annual fundraising campaign, "employees from the public and private sectors are loaned by their employer for a 16-week period to help with the campaign… as effective and efficient fundraisers."
Payworks is thrilled to have offered the UWSE opportunity to members of our own team every year since 2015. We caught up with two 2021 participants and one who's currently wrapping up her 2022 UWSE term to learn more about their experiences with the program.
Read on to find out what drew them to the opportunity, what it was like to transition into such a different day-to-day routine, and why they'd recommend becoming a UWSE to anyone who's interested!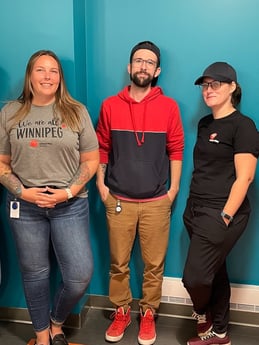 What initially drew you to the UWSE opportunity?
Kyle Desjardins - Manager, IT Operations (UWSE: August to November 2021): I was looking to find a way to better help my community and use my experience with our campaigns to help other workplaces. The leadership course offered through the University of Manitoba was a bonus!
Melissa Celere - Team Leader, Major Accounts (UWSE: August to November 2021): I wanted to participate in something that felt very "Payworks"… and to put myself into the position to have to practice my public speaking.
Melissa Willard - Tech Lead, Quality Assurance (UWSE: September to December 2022): For me, it was all about the opportunity to give back to the community.
Photo: Payworks former and current United Way Sponsored Executives Melissa Willard, Kyle Desjardins, and Melissa Celere
How did you find the transition into the program?
KD: The transition into the program actually helped identify a few knowledge gaps on my team and allowed us to create a huge amount of documentation. And once I became engaged in the program itself, it was fairly easy, as the team at United Way gives you a ton of training when you begin!
MC: My transition into the program was great! On the Payworks side, my team was temporarily reassigned, so I knew they were supported. On the United Way side, there was structured training, and all of the other sponsored executives were all equally enthusiastic and happy to be there.
MW: The transition out of my regular routine was tough, but worth it. I was completely changing my life for a few months, and going into a new situation is scary! I'm enjoying my time as a UWSE, and am also looking forward to coming back to catch up on life at Payworks soon.
What did/does your day-to-day look like as a UWSE?
KD: It was quite a mix: hopping on meetings with workplaces, travelling to sites to assist with in-person events, facilitating ambassador training, helping other sponsored executives with any events or prep work they may have… there were always lots of opportunities to help out.
MC: I would check in with my accounts, complete takeaways and get back to my accounts in a timely manner; I would attend live and virtual events; I interviewed a couple of people from United Way agencies during events. Sometimes it was as simple as driving to the office to meet with other SEs to help with tasks like folding pamphlets!
MW: The day-to-day as a UWSE is constantly changing. Some days I'm answering emails and phone calls; others I'm bouncing from account to account, attending meetings and events.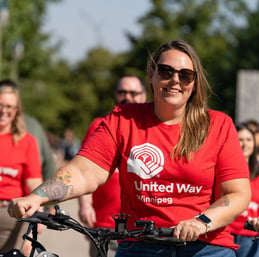 What were/are your favourite parts of being a UWSE?
KD: Getting to meet all the other Sponsored Executives and United Way staff, as well as getting a ton of great ideas for our own campaign for when I was back to work! [editor's note: Kyle served as Payworks' United Way Employee Campaign Co-Chair in 2022]
MC: The group of people I met, learning what the other side of the campaign looks like, and getting a closer look at what the United Way does for our community.
Photo: Melissa Willard on the move in support of United Way Winnipeg's 2022 campaign
MW: My favourite part so far is the people I've been able to meet! So many amazing folks are Sponsored Executives this year, everyone at United Way Winnipeg is incredible, all the Employee Campaign Chairs I've worked with are awesome, and the speakers I've met and the people at the agency partners are awe-inspiring.
Were/are there any aspects of the UWSE experience that you were surprised by or not expecting?
KD: I wasn't expecting just how much day-to-day work is put in by all of the full time staff at United Way all year round. There are many different moving pieces to each campaign, and they're all rock stars for getting everything done, year after year.
MC: I was a bit surprised by how closely aligned this position was to my experience with customer service! I had been expecting a bigger learning curve, but felt like I hit the ground running.
MW: I'm mostly surprised by myself and what I've learned I'm capable of through this.
How has the UWSE experience changed you or your perspective, if at all?
KD: It really opened my eyes to just how many people from all walks of life really come together to help out our communities. Obviously I knew there were lots of people making a difference, but the sheer number of employers/staff that contribute across Winnipeg is staggering.
MC: I'm more aware of my surroundings, seeing things I never noticed before out and about in the community.
MW: I've learned so much about United Way Winnipeg and the agencies it supports. It's definitely changed my perspective as a whole, and seeing the need in our city has made me want to give more in order to help out.
Last question! What advice would you give to anyone else looking to pursue the UWSE experience?
KD: You should just go for it! There will never be a "perfect time" for you to step away from your role for a few months, so when the opportunity presents itself to you, take it.
MC: There are many people at Payworks who can share their experience as UWSE - reach out to any of us and ask for a chat! Each of us has had a different experience and participated for different reasons.
MW: Just do it. It seems scary, you think you can't leave your team for three months, and all the other excuses you can come up with not to do it… but the experience is incredible and so worth the initial discomfort that comes with making a change.