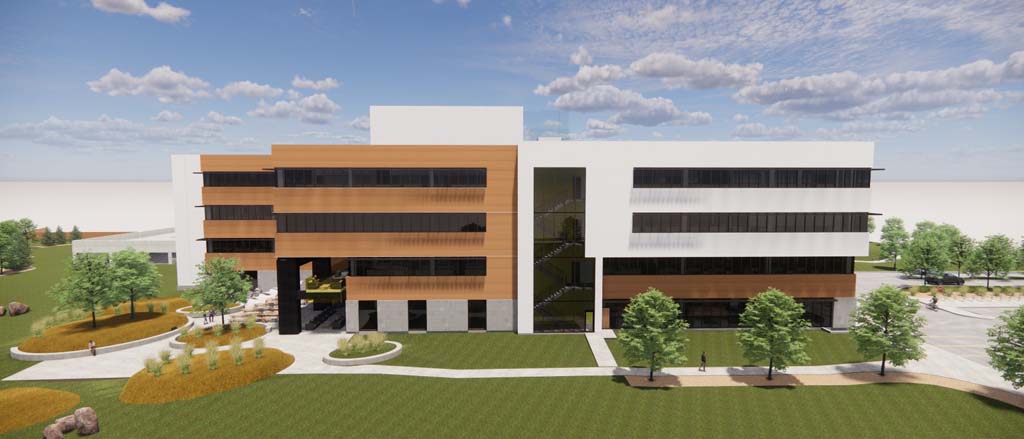 Payworks' new headquarters: building a safe and welcoming space for all
Jul 28, 2022
Culture Payworks
Design Renderings by MMP Architects
In just a few short weeks, a new addition to the South Winnipeg horizon will begin taking shape. Over on Payworks Way in the growing community of South Pointe, the foundation is being poured for Payworks' brand-new 94,000 sq. ft. headquarters, where doors are projected to open in 2024.
Payworks is proud to have been founded in Winnipeg in 2001, and has been headquartered there ever since. This new space allows us to deepen both our investment and our long-term roots in the city's south end.
While the need for a larger space to house our rapidly-growing team has been in the works since 2019, the COVID-19 pandemic evolved the intention behind the new building - most specifically around health and safety for all employees.
"What's really shifted is how the square footage will be used," says Barb Gamey, Payworks Co-Founder. "To provide additional personal space and room within communal areas, we're adding more space for meetings and gatherings. However, with our flexible work policy now in place, we expect it'll be quite rare to have 100% of the Winnipeg team in the building all at once. And with safety and health as top priority, we'll have lots of options to assure everyone's comfort."
Not only has our space been designed with these forward-thinking and functional goals at the forefront; its light-filled, warm and modern aesthetic is sure to delight our team and the surrounding community alike.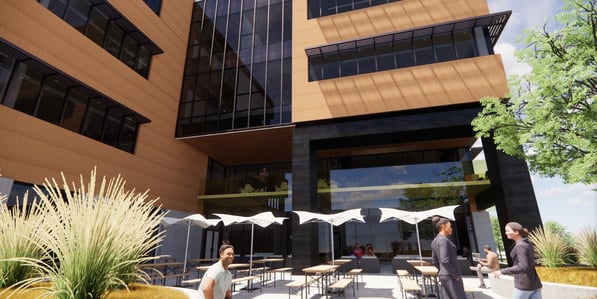 Photo: Design Renderings by MMP Architects.

"We've worked with our architect to ensure the design of Payworks' new headquarters was thoughtfully crafted to complement the community," says Mike Penman, Chief Operating Officer. "From building connections with active transportation routes and prioritizing good stewardship of the land, to leveraging styles and materials in harmony with the surrounding neighbourhood, this site will be a positive addition and set the stage for future growth."
Set on eight acres of commercial land in South Pointe, the office building and adjacent parking structure will only take up a small fraction of the available space. The remaining acres will be devoted to cultivating a beautiful and sustainable environment for all to enjoy (even the local wildlife!). Payworks has engaged award-winning environmental consultants Native Plant Solutions for guidance on flora, walking paths, retention ponds and other elements that will bring a calm and peaceful outdoor haven to our corner of the neighbourhood.
This communal outdoor space will be just one of the ways we look forward to getting to know our new neighbours! From initiating community cleanup efforts during our Pay it Forward days to the $2.2 million we invested in Manitoba organizations in celebration of our 20th anniversary to this past year's record-breaking United Way campaign participation, each member of our team has always strived to serve as champions for the places we call home from coast-to-coast.
"Ultimately, Winnipeg is our home, and we're committed to making it healthier, stronger and more inclusive in the decades to come," says JP Perron, President and CEO. "Every decision we make is with this future in mind. We're so pleased to continue deepening our roots in this city that's embraced us from day one."
Stay tuned for more updates on our new home as construction progresses!