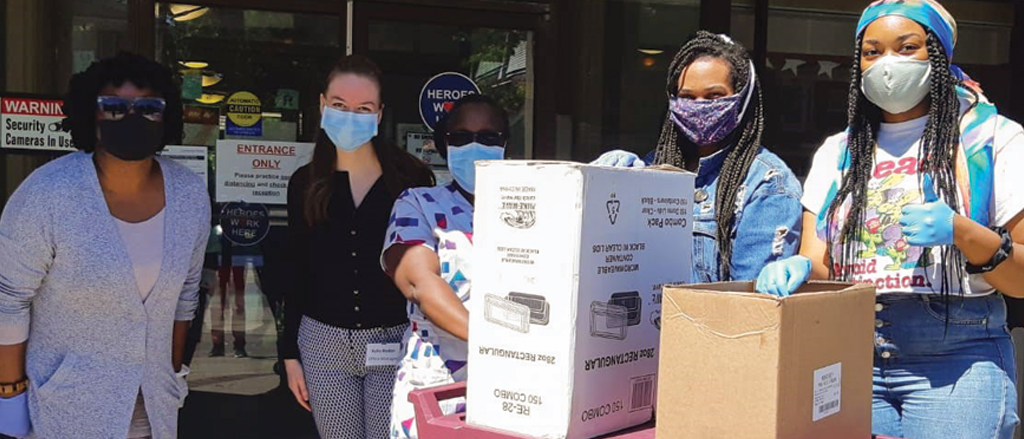 Taking a day to give back to our front-line workers
Sep 26, 2020
Pay It Forward
--- Payworks
---
The COVID-19 pandemic has changed many aspects of our lives, including how we Pay it Forward. While still in accordance with social distancing measures, Payworks Client Service Representative Dominique McDonald displayed that there are still ways that we can volunteer our time and make a meaningful contribution within our community.
On June 12, Dominique volunteered alongside members of her youth group Vzion Chorale in Toronto. She has been involved in a number of fundraising efforts with this group over the past two years, including food drives to benefit the homeless, community forums, and volunteer days at local nursing homes. Most recently, members of the group collaborated to give back to the essential workers in their community.
"When this initiative was talked about among our group, I knew I wanted to get involved," she said. "We organized an initiative to show our support and appreciation to the nurses, doctors, and personal support workers on the front lines. We collected donations through a GoFund Me page and then used the proceeds to provide lunches for these hospital and long-term care workers on the COVID-19 floors."

"As someone who has family members that are front-line workers, I definitely felt the need to show my appreciation during this pandemic to the nurses and healthcare professionals who are sacrificing themselves for the good of their communities. I think any opportunity we have to appreciate them should be taken."
Dominique personally visited Vermont Square long-term care home to deliver lunch to their staff, which was provided by local Toronto favourite Caribbean Queen. She used her Payworks paid day off to volunteer to pick up approximately 45 lunches from the restaurant and drop them off at Vermont Square.
"We packed our cars and delivered the lunches along with thank you cards for each nurse," she explained. "Once we drove to the long-term care home, we set up shop outside the doors for social distancing protocol. We weren't able to go inside for safety reasons, but we did get to see the smiling faces of the nurses as they began to line up. The highlight of my experience was speaking with one of the nurses as we were leaving. She was extremely grateful for what we had organized and told me, 'It's nice to feel appreciated by our community, especially in such dark times.'"
Dominique concluded her Pay it Forward Day by knowing that she made someone else's life a little better by showing an act of kindness.
"It was a chance to make someone else's day," she said. "Often times it doesn't have to be a grand gesture, that's the beauty of it. It's a great reminder that no person is an island and we can all benefit from a little kindness."