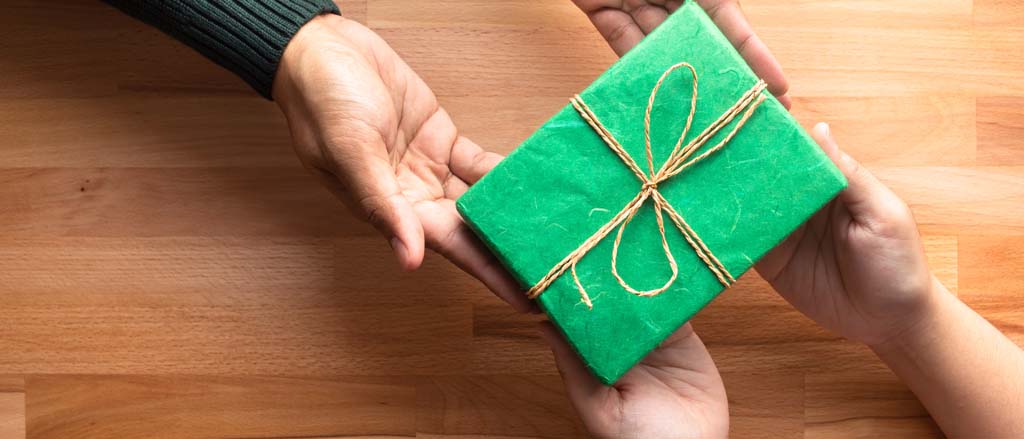 Staff return to volunteer for an all-time fave initiative
Mar 19, 2022
Pay It Forward Payworks
After almost two years of social distancing, three Payworks staff members were thrilled to spend their Pay it Forward (PIF) Day wrapping presents in support of the St. Amant Foundation this past holiday season.
For many years, St. Amant has hosted an annual volunteer-driven gift-wrapping and coat check station at Winnipeg's St. Vital Mall during the holiday season, with proceeds supporting St. Amant's wide array of programs and services for Manitobans with developmental disabilities and autism and their families.
In 2021, this initiative raised $5,700 in just four days! And while the station could only run for a few days due to tightened health restrictions, Payworks staff were thankful to use their PIF Days to volunteer when they were needed.
"We had to miss out on our annual Christmas present wrapping last year due to health restrictions in Manitoba, so we were extra excited to be able to participate again this year," explained Product Analyst Monique Pelletier, for whom 2021 marked her fifth time volunteering at this event. "The mall was definitely quieter than usual, but we still were able to help lots of people get their presents wrapped up for their loved ones. It helps me get into the holiday spirit, especially when most other activities have been curtailed. To be able to do that while helping a valuable charity and to make others' holidays a bit brighter by giving nicely wrapped gifts just makes me happy."

"This was my second time volunteering at this event and we were the first group of volunteers this year," explained Product Manager Lori Watson. "We helped them set up and I distributed some tent cards to all the businesses so they could inform their customers that gift wrapping was available in the mall. It was so nice to be out and talking to people – everyone was in good spirits and it was just a great feeling. I enjoy gift wrapping, so I was happy to be able to do it and benefit a community organization."
This past year was Product Manager Selena Benic's third time volunteering at St. Amant's gift wrap and coat check station, and she echoed her teammates in saying that this volunteer initiative sparks some holiday spirit.
"This year was extra special as we've been working remotely - it felt good to be together with my coworkers that I usually only see on Zoom calls most days," explained Selena. "Every year, this has been a nice way to get together with a few team members around the holiday season and take some stress off of others that are trying to get those special gifts ready for their loved ones, all while raising money for an important organization."