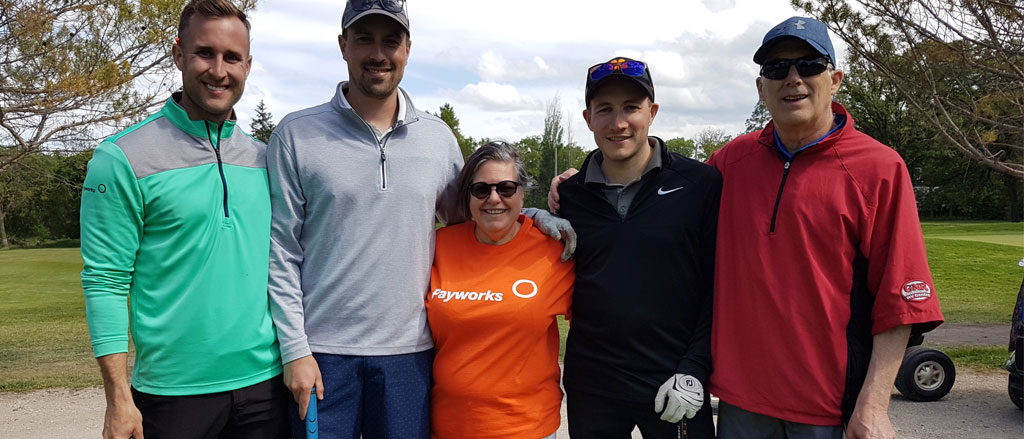 Aug 24, 2019
Pay It Forward
--- Payworks
---
Rachel Wolman aced her Pay it Forward (PIF) day while volunteering at the Winnipeg Harvest Lee Newton Memorial Golf Tournament June 11.
In support of Winnipeg Harvest Inc., the St. Boniface Golf Club was host to the day-long event.Winnipeg Harvest is a non-profit organization with the goal of ending hunger and providing training opportunities to help end the cycle of poverty. As a food distribution centre, they are reliant on food, time, and monetary donations to continue to provide for those in need.
Inspired by her partner's experiences with the organization, Payworks Technical Writer decided this tournament would be the ideal way to spend her paid day off to volunteer. Rachel was also drawn to cash in her Pay it Forward Day because of the event's call-out for volunteers. As Rachel puts it, "I did not choose this as my PIF Day, it chose me!"
Rachel spent her day running the event's putting contest, observing the participants and recording the golfer's scores. On her participant list, four names in particular stood out. Payworks Sales Consultants Patrick Daniels, Jeff Zielinski, Peter Taylor, and CRM Manager Trevor MacHutchon were in attendance as well.
"The highlight of my day was spending a few moments with the Payworks team," said Rachel. "It felt like I was visiting with family."
Rachel's Pay it Forward Day proved to be a memorable experience. While it was her first time volunteering with Winnipeg Harvest Inc., she noted that she would certainly be back to help out.
"It's remarkable and powerful, the energy comes from volunteering," explained Rachel. "Volunteering is one of the most humbling experiences."