A star is born! Paying it Forward through dance with Easter Seals
Dec 07, 2019
Pay It Forward
--- Payworks
---
When a cause is extra close to their hearts, supporters can often be willing to venture well outside their comfort zones to help raise awareness of the organization and the important work it does in the community.
This was very much the case for Payworks' Toronto-based Sales Consultant Brenda Newcombe, who recently strapped on her dancing shoes - at first reluctantly, and then enthusiastically! – at October's "Dancing with the Easter Seals Stars" event in support of Easter Seals Ontario.
Easter Seals has spent almost a century "providing support for children and youth with physical disabilities, offering programs that allow kids to experience freedom, independence and a sense of accomplishment."
Brenda became involved with Easter Seals after attending their Corporate Day at Camp for her 2019 Pay it Forward (PIF) day. The benefits of the opportunities provided by Easter Seals were immediately clear, as she says that it was "incredible to watch these kids be completely at ease, trusting and confident to step outside their comfort zone."
Over the course of her PIF day, Brenda learned more about Easter Seals Ontario's wide breadth of creative fundraising initiatives from Susan Smith, one of their Regional Directors. Susan asked Brenda for a favour: now that she had a first-hand look at Easter Seals' impact in the community, would she be willing to participate in the upcoming "Dancing with the Easter Seals Stars" evening?
"I'm embarrassed to say that I didn't even let her finish her sentence before I said 'no thanks,'" says Brenda. "I explained that I wasn't a dancer and the thought of it scared me, but Susan asked me again and again, and before the day was over, she had me. I have many generous people in my circle and I knew without a doubt that I could raise a lot of money for the kids – that's where my 'dance' moves would come in!"
In preparation to put her best foot (or feet) forward, Brenda spent 10 hours training with professional dancer Bernie Park, who she describes as "so patient and an absolute blast" and who would be her partner at the event itself. Together, they selected and learned a quick-step Charleston and a Rumba for their two routines.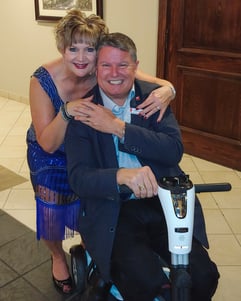 "There were many sleepless nights, and my hips and feet were so sore. But I was committed even though I was still scared. I didn't want to let Bernie or the kids down," Brenda recalls. "I kept the kids from that camp front and centre in my mind. Remembering them being out of their comfort zones at camp reminded me that I needed to get out of mine to help them. I practiced at home every chance I got. I knew the routines in my mind and ran through them mentally on my commute to and from work every day. On training days, I was razor-focused with Bernie."
Brenda's commitment to Easter Seals impressed and inspired her family, friends, colleagues and professional network, who together donated $5,500 by the time the big night rolled around on October 25.
Dancing with the Easter Seals Stars included a cocktail reception, a five-course meal, a silent and live auction, and of course dancing for all in attendance. In the spirit of the event, the dancing pairs were not judged or scored, but there was a prize awarded to those who raised the most funds for Easter Seals. The "judges" also picked a winning pair of the night. "It was not me or Bernie," Brenda laughs.
Brenda can no longer claim "rookie" status and is therefore ineligible to dance again, but plans to continue supporting Dancing with the Easter Seals Stars by recruiting future dancers with her own story of success and personal growth. Payworks congratulates Brenda for embracing the opportunity to step (or dance) outside the box and try something new, all in service of her community!