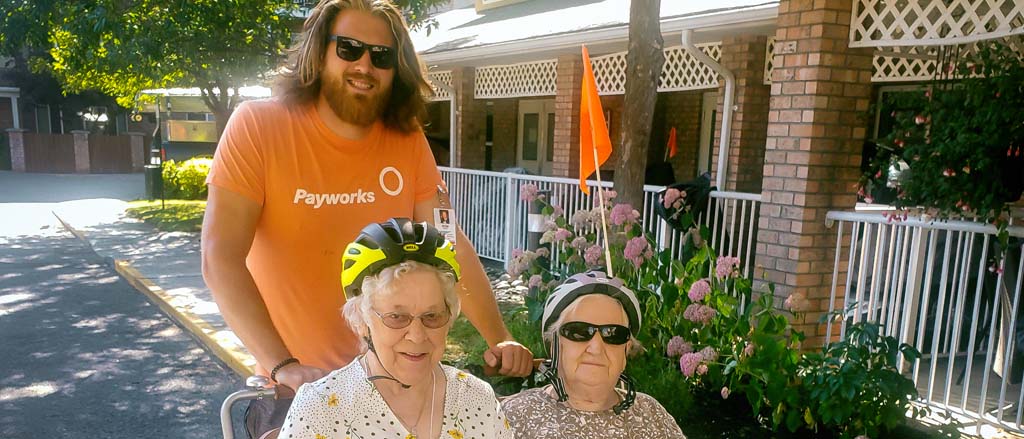 Paying it Forward as the "pilot" of a trishaw bicycle
Oct 29, 2022
Pay It Forward Payworks
For two hours each Wednesday morning over the past few months, Payworks Sales Consultant Jesse Aldridge has switched gears and become a "pilot."
By volunteering with Cycling Without Age Kelowna, he provides trips around the city for members of a local retirement village via a trishaw – a three-wheeled e-bike that can accommodate up to two passengers.
"It's a great opportunity for the residents to reminisce about the city," explains Jesse. "And to get out of the village and wave at the many onlookers!"
According to their website, "Cycling Without Age is a movement started in 2012 by Ole Kassow. Ole wanted to help the elders get back on their bicycles, but he had to find a solution to their limited mobility. The answer was a trishaw and he started offering free bike rides to the local nursing home residents". As of December 2021, Cycling without Age has more than 2,700 chapter locations around the world (including the one in Kelowna). They also have approximately 3,700 trishaws – and counting!
"I actually saw them riding right outside my house and thought that it was a very unique opportunity to give back," Jesse says. "I initially reached out to get involved in the spring of 2020, and was able to start volunteering this year."
Through the program, Jesse can take his passengers anywhere in Kelowna, "whether they want to have a cool ride along the lake or venture through the gardens around the rec centre". He says it's a treat to hear about his passenger's life experiences and the lives they've lead so far. He receives compliments and gratitude from all, as they really enjoy the ride, and that the only complaints thus far are that they can't stay out longer!
Photo: Jesse as the pilot of a Trishaw bicycle for Cycling Without Age.
"I saw it as a win-win, where I'm able to get some much-needed exercise while connecting with the community and enriching the lives of seniors," said Jesse. "The two paid days off to volunteer through Payworks' Pay it Forward program has allowed me to volunteer for 16 two-hour windows throughout the entire summer and be a reliable 'pilot' for the organization. I was able to provide consistent recreational activity for the residents and being able to continue that week after week, I made better connections with the seniors as I became a part of the routine and had regulars."
To learn more about Cycling Without Age, visit https://cyclingwithoutage.org/.