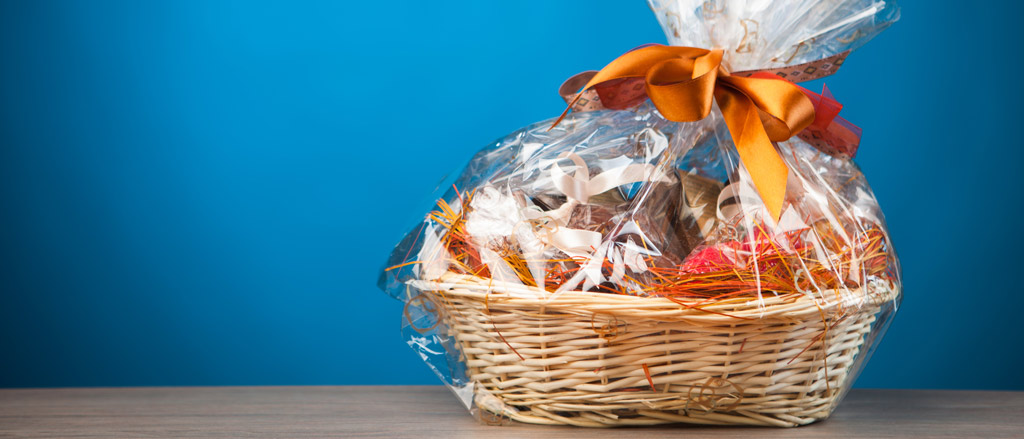 Helping local charitable organizations and their new online events
Dec 19, 2020
Pay It Forward Payworks
Through all of the changes our society has faced within the COVID-19 pandemic, inspiration can be found in the innovation and resiliency we see all around us. The Children's Rehabilitation Foundation of Manitoba (CRF) is one of many organizations that has adapted their traditions to our "new normal" while still serving the community in a crucial way.
The CRF is a charitable organization that supports children and youth with disabilities who access services through the Rehabilitation Centre for Children and SSCY Centre. Their largest annual fundraiser is the A Night of Miracles gala, which was reinvented this year as the online fundraising initiative In Need of Miracles – as CRF says, "the need to come together and support children living with disabilities is greater than ever." Participants could purchase a Halloween Gift Box, with funds raised helping the CRF provide over 200 pieces of specialized equipment to children throughout the year.
Behind the scenes, three Payworks staff used their Pay it Forward (PIF) paid day off to volunteer with the CRF and package those Halloween Gift Boxes for In Need of Miracles. Client Service Representatives Shayleen Martin and Margaret Windsor, and Product Analyst Lori Watson lent a helping hand on October 29, 2020. This volunteer experience was a very special and meaningful for our staff: Shayleen's son Chase has received Speech Therapy and Occupational Therapy services from CRF, and Margaret's close friend has a young daughter with Rett Syndrome who relies on the CRF's programs.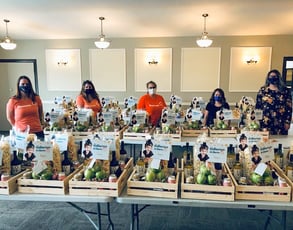 "I chose to use this as my Pay it Forward Day because the Children's Rehabilitation Foundation is close to my heart," Shayleen said. "Just a year ago, they were able to provide our son with a wonderful, brand new Low Rider Trike which he loves and uses so much."
"With October being Rett Syndrome Awareness Month, I thought this would be the perfect chance to volunteer with an organization that impacts the community I've called home for almost 47 years," said Margaret. "My friend does so much to try to bring awareness about Rett Syndrome, and the least I can do is volunteer my time to support this wonderful organization."
"I signed up because I know that charitable organizations have to find creative ways to raise funds during the pandemic, and I wanted to help where I could," explained Lori. "I appreciate these opportunities because it's a way I can give back and also learn more about organizations that help make our city better."
Shayleen, Margaret and Lori helped assemble 100 Halloween Gift Boxes for the In Need of Miracles campaign. Each was filled with two dozen items – goodies such as charcuterie boards (complete with local cheese and honey), wine, fall candles, an at-home caramel apple kit, and much more.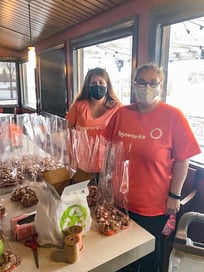 "Our first task was to assemble 100 candy apple bags," explained Margaret. "We finished that part just before lunch, and in the afternoon we assembled 100 amazingly crafted wine glasses as well as a small basket of toothbrushes, tooth paste and floss. These were only two small baskets that went into these boxes, but it took us the rest of the afternoon."
"The best part of the day was not just one thing, it was actually everything," said Shayleen. "Being able to get out of my house and see my co-workers was wonderful. It was great to be able to help and give back to the Children's Rehabilitation Foundation and help make their Halloween Boxes beautiful. This was my first time volunteering with them. It was a lot of fun and I would do it again in a heartbeat."