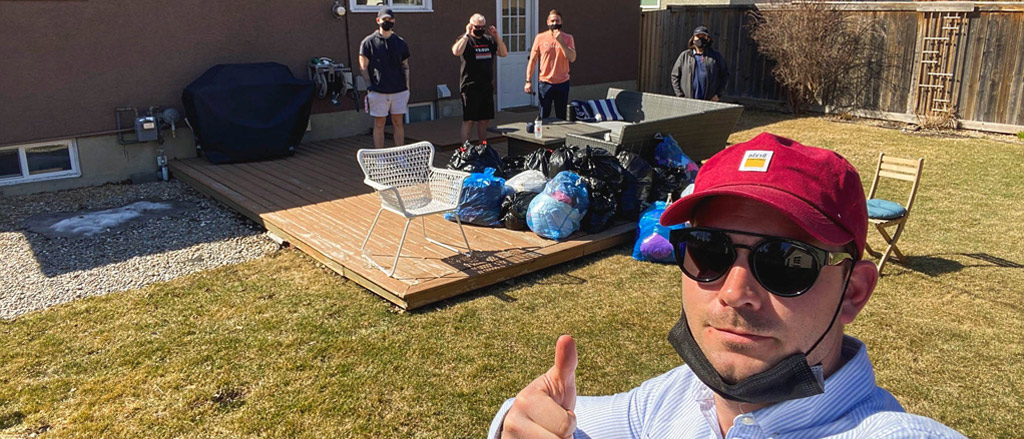 Collecting clothing for Cerebral Palsy Alberta
Jun 27, 2021
Pay It Forward Payworks
While staying home and staying safe, our Calgary Sales Team found a socially-distanced way to Pay it Forward (PIF) to a very deserving non-profit organization: Cerebral Palsy Alberta (CPAA). CPAA offers programs and services that enrich and support the lives of individuals with cerebral palsy and other disabilities in Alberta. This support takes many forms, including collaboration with other organizations "to promote awareness, acceptance and understanding for persons with disabilities to live, learn and work in the community."
There are a number of different ways to give back and support CPAA, including the donation of used items and recyclable items. Through their website, those in the Calgary area can schedule a home pick-up of used items such as clothing, accessories, shoes, bedding, towels, area rugs, and/or drapes.
Since the start of the COVID-19 pandemic, many of us have taken on the project of home organization and decluttering – a concept that sparked Sales Manager Jonathon Murray's idea to coordinate a clothing drive to support CPAA.
"This was the first time our team here in Calgary has volunteered with Cerebral Palsy Alberta; however, it won't be the last," says Sales Consultant Paul Wieler. "The supports and programs they offer are close to our hearts and have directly affected the lives of some of our team members and their families. We were happy to be able to contribute back in the ways that we can with the current restrictions."

"I was able to help out by collecting and donating items from my own household," explains Implementation Specialist Robin Dalziel. "My family has always loved purging out our old or unused items, so we jumped at the chance to participate in this drive. I'm looking forward to more opportunities to join in with the Calgary team on more Pay it Forward Days."
Six members of our Calgary Sales Team joined Jonathon and Paul to help in whatever ways that they could, which resulted in more than 20 bags of clothing donated to CPAA in April. Five of our staff used their Payworks PIF Day, a paid day off to volunteer, to coordinate and arrange in the drop-off of clothing for CPAA. During the week of April 12, Payworks staff picked up clothing from their fellow team members' homes in the Calgary area and dropped the donations off at Jonathon's home, and CPAA did a home pickup of the donation a few days later.
One of the staff members involved was Commercial Accounts Manager Dave Nolan, who says he's grateful to be in a position to help others and expressed how important it is to give back.
"The highlight for me was connecting with our team here in Calgary and feeling good about helping out and giving back to the community," says Dave. "We have a great team that genuinely enjoys working together, and we all believe in giving back to the community – specifically this Pay it Forward opportunity to support Cerebral Palsy Alberta."
Photo: Members of the Payworks' Sales Team in Calgary dropping off clothing donations for CPAA.
"Seeing the amount of clothing collected was the best part," shares Paul. "It was great to have so many people from our team participate and overall being able to see how we were able to come together and support Cerebral Palsy Alberta."
While current COVID-19 restrictions change the ways in which our employees can PIF, Paul explains that using the PIF Day employee benefit, even for half a day or a few hours, rewards everyone involved.
"Taking time out of our busy lives and changing our environment for a morning or afternoon not only takes our minds off of work and personal lives, but more importantly it puts other's needs in front of our own," says Paul. "Our team grows stronger together with these shared experiences and it creates a bond among us as colleagues, and the fact that our community benefits directly from it is really great to be a part of."