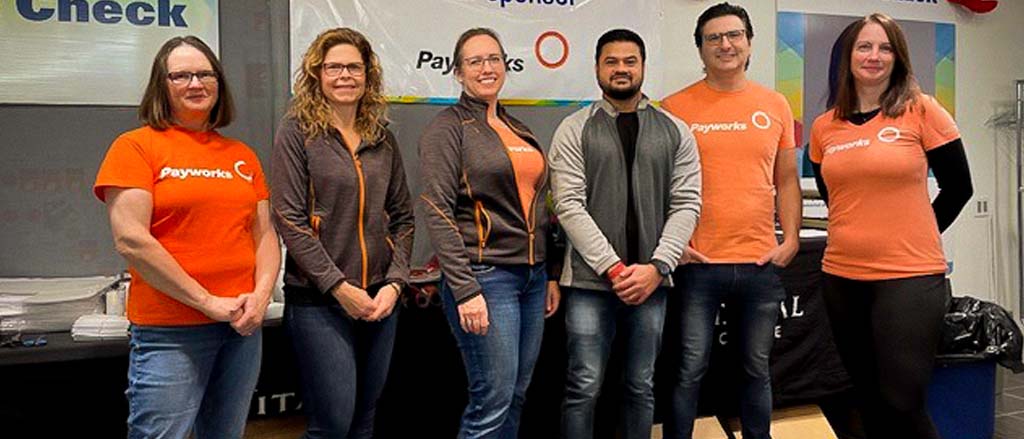 "Wrapping up" 2022 with a meaningful volunteer experience for St.Amant
Apr 29, 2023
Pay It Forward Payworks
This past holiday season, Payworks was proud to be the title sponsor of St.Amant's annual Coat Check and Gift Wrap Fundraising campaign at St. Vital Mall through the month of December in Winnipeg. In addition to our sponsorship, we also sent out a call to our Manitoba-based employees to let them know there were volunteer opportunities available that they could use their two paid days off to Pay it Forward to fulfill if they desired. No surprise to us: we had many generous staff members take us up on the opportunity!
For many years, St.Amant has hosted an annual volunteer-driven gift-wrapping and coat check station, with the proceeds supporting their wide array of programs and services for Manitobans with developmental disabilities and autism and their families. It's heartwarming to know that more than $23,000 was raised in 2022, and those dollars will "purchase adapted bikes and wheelchairs, portable oxygen tanks, plus support accessible camping trips and outings for over 2,200 children and adults with developmental disabilities, autism, and acquired brain injuries." It's no wonder that this volunteer initiative is a fave for some of our employees, with several Payworks staff returning to volunteer time and time again.
One returning volunteer was Product Analyst Monique Pelletier. Alongside teammates (Janice Gross, Ted Cruz, Sharon Heikkinen, Lori Watson, Amarjeet Sharma, Steve Bestvater, Leanne Jones, and Randi Rac) from Payworks' Development, Quality Assurance and Product groups, Monique volunteered on Black Friday (November 25), as well as on December 5.
"On Black Friday, it was very quiet, but we helped out by getting advertising set up around St. Vital Mall for the event and made sure the booth was set up for later shifts," explained Monique. "Lori helped by being the model for instructional videos on how to wrap and how to handle the coat check."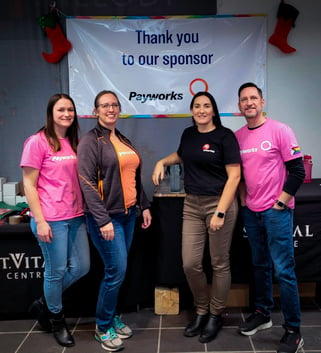 Photo (L-R): Randi, Monique, Leanne and Steve at the gift-wrapping and coat check station at St. Vital Mall.
The number of gifts to wrap increased on their second volunteer day, and one of the customers was so appreciative of the work done, they brought everyone a hot chocolate!
"Spending the day wrapping presents always helps to get me into the Christmas Spirit, especially knowing that our efforts are going to help those who need it," says Monique. "I have friends who have family supported by St.Amant, and know they appreciate our help."
Digital Marketing Specialist Jhoana Duque also volunteered at the gift-wrapping station in early December. She enjoyed her experience and appreciated learning more about St.Amant and the meaningful work they do in the community.
Photo: Jhoana and a freshly wrapped gift, ready to spread some joy.
"Visitors got beautifully wrapped gifts," explained Jhoana, "and I meet new people, St.Amant staff and other volunteers, and I learned more about the organization, including their goals and how they guide and support people with developmental disabilities."
'Twas the day before Christmas Eve when three more volunteers from Payworks' Marketing team took to the gift wrapping station for a busy day that filled their hearts.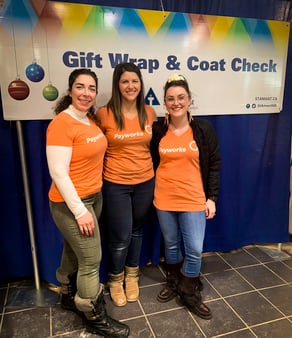 Photo (L-R): Cheryl, Sara and Amanda after a busy gift-wrapping shift on December 23.
"It was a very busy day and the time really flew by," explained Sara Van Walleghem, Corporate Events and Engagement Specialist. "Everyone who brought their gifts to be wrapped was so thankful and pleased with how great their gifts looked. We had one big challenge come our way – someone bought a drivable car for their kid and asked if we could wrap it. Everyone seemed up to the task. This was a great way to get in the holiday spirit for a great cause with my work family."
Shout-out to more Payworks volunteer rock stars who gave back to St.Amant this past December – Client Service Representatives Ashley Smith-Kohanchuk and Tara Meadwell, and Client Relations Specialist Annie Schroder.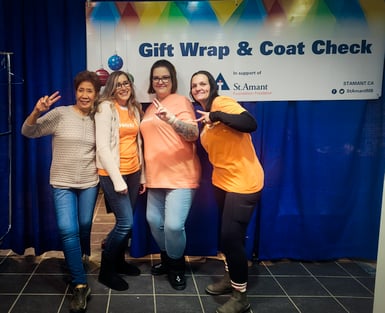 Photo (L-R): The good vibes of spreading holiday cheer!
To learn more about St.Amant, visit: https://stamant.ca/.